| | | |
| --- | --- | --- |
| Market Hall | | Views: 1312 |
| Market Hall early 1900's | | Comments: 9 |
| Photo: Keith Item #: 30605 | | |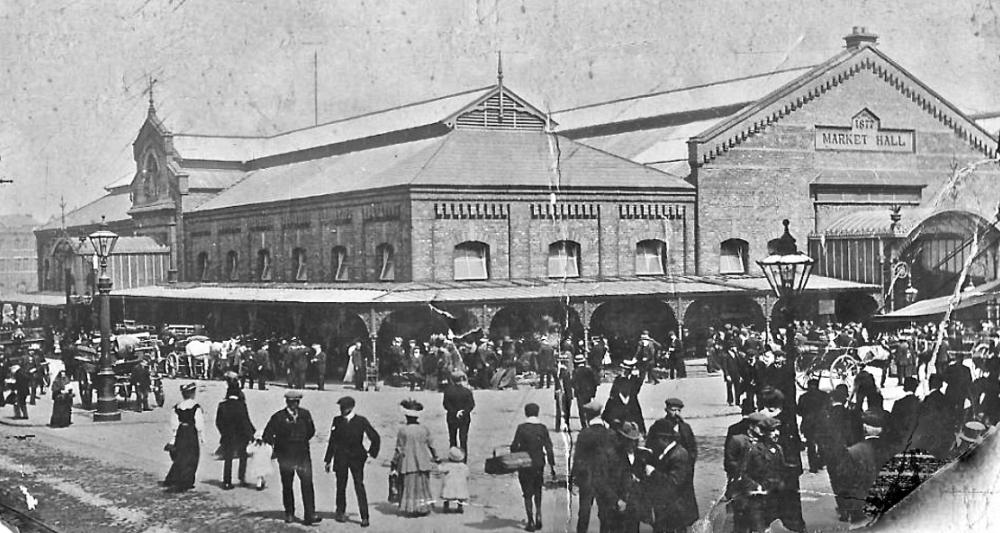 | | | |
| --- | --- | --- |
| | Image scaled down from 1000px to 533px wide | Click here, or click the photo to view original |
| | | |
| --- | --- | --- |
| | Thanks to SherylB for posting this a number of years ago, I have tried to "improve" it slightly. Hope you don't mind SherylB. | |
Comments by bewley, 22nd June 2018
It would still be like this today only for the idiot untrained councillors meddling in affairs they have no knowledge of.
Comments by Helen of Troy, 22nd June 2018
As the song says....You dont know what youve got till its gone.....
Comments by JohnB, 22nd June 2018
O & C Rushton building in the far distance which has two dates 1900 and 1905, perhaps the 1905 date was an extension to the 1900 building.
Comments by Rev David Long, 22nd June 2018

The building might still be there - but I doubt if it would still be patronised as well as it was then. The only reason Wigan Market hasn't flourished is because Wigan folk haven't patronised it enough. The stalls were still there originally - the customers shopped elsewhere, so they closed down....That's not to 'blame' Wigan folk - the world has changed, and they've followed the trends - working all over the place, not just in Wigan; having stretched schedules - so a quick run through the supermarket, parking outside, loading the car straight from the trolley, rather than going from stall to stall on the market, hauling big shopping bags to a remote parking space. Whatever 'The Council' did would have had little effect.
Comments by MikeW, 22nd June 2018
I think it may have survived in some form if Tesco, Sainsbury's Asda etc didn't exist today.
Comments by baker, 23rd June 2018
try sky high rent and rates(council tax), no free parking ,high fees for parkers and a ticket if your 5 mins overdue.
WMBC to blame, after all they "run" the borough.
wmbc ,witless ,blundering,maniac councillors.
bury and blackburn seemed to have survived with their markets.
Comments by Glass half full, 24th June 2018
Glad to see it gone, was a dirty, foul smelling mess.
Comments by Helen of Troy, 25th June 2018
Glass half full, it was not as you describe when I & many others knew it,who made it a dirty mess ??
Comments by Julie, 25th June 2018
Iím with you Helen . It is those smells I remember and treasure . They were part of how it was then . I am sure every true Wigganer remembers or holds memory of the smell of a shop they went to then . But how do you
describe a smell from those days to those in the now ?