| | | |
| --- | --- | --- |
| Atherton | | Views: 1028 |
| Buses at Atherton in 1949 | | Comments: 9 |
| Photo: Chris Heaven Item #: 30604 | | |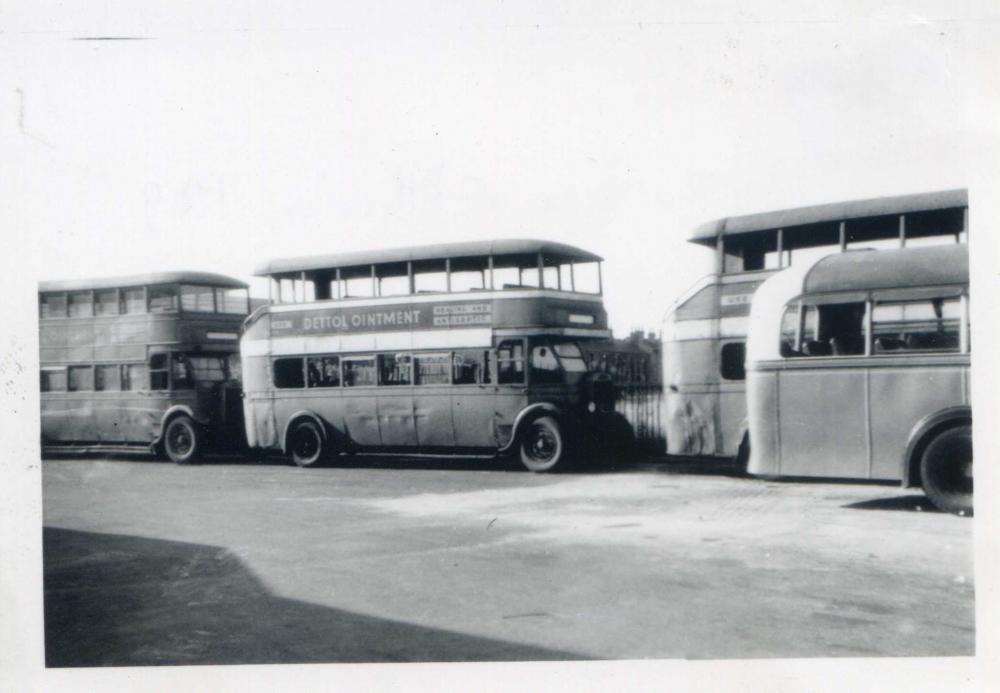 | | | |
| --- | --- | --- |
| | Image scaled down from 1000px to 693px wide | Click here, or click the photo to view original |
| | | |
| --- | --- | --- |
| | The details on the reverse of this old 9 x 6 cms print are: Lancashire United Transport TD1's at Atherton 1949. | |
Comments by JJP, 21st June 2018
Tell you what Chris, if one of these was to pull up at the bus stop today everyone would stand back pretending it wasn't gong to their destination. Strangely though, I still remember buses like these as a small boy in the early 1950s and the sound of pitmen's clogs above my head as they made their way upstairs, smoking allowed up there but signs reminding them that 'spitting' wasn't. like this picture very much, cheers Chris.
Comments by Arthur, 21st June 2018
Some tatty body panels. Tell you what, women bus drivers won't be able to handle these.
Comments by Veronica, 21st June 2018
Arthur I wouldn't be surprised if women did drive these buses during the war when the men were away fighting.
Comments by Ray Smyth, 22nd June 2018
Well said Veronica, Lots of women drove lorries and buses
during World War 2. Some worked in heavy industry to help
produce necessary equipment for the war effort. Thousands
of Spitfire Aircraft were built in Manchester, and many of
them were flown to where they were needed by ladies.
"Hats Off" to everybody that "Got Stuck In"
Comments by Veronica, 22nd June 2018
Only thing though Ray,women didn't get equal pay. When I worked at the ROF during mid sixties to early seventies it was always a bug bear until they did get it in the early seventies I think.
Comments by Ashley, 22nd June 2018
Judging by the amount of "ventilation" upstairs on some of these buses, smoking would be fine. I always remember, as a small boy in the late 1940's, running to catch a bus on a very hot day. I was breathless as I went upstairs, the bus was crowded, and feeling unable to breathe as the smoke was so thick and heavy I was beginning to panic as I gasped for air. Wouldn't have had a problem with these buses.
Comments by Julie, 22nd June 2018
I would love to enjoy a journey on the middle bus , overlooking the last
of the summer wine . If only for one day ..
Comments by JJP, 24th June 2018
Julie, take yourself to Holmfirth and enjoy the bus ride around the 'last of the summer wine' area on the very old fashioned bus that does the tour, you will enjoy it I'm sure.
Comments by Veronica, 24th June 2018
It is a beautiful area - when I was there last my purse was stolen though. I do think the women characters in the series 'Last of The Summer Wine' 'were more comical than the male characters- especially Thora Hird.