| | | |
| --- | --- | --- |
| CRISPIN ARMS | | Views: 1357 |
| Crispin Arms ladies day out c.1951 | | Comments: 4 |
| Photo: Keith Item #: 30588 | | |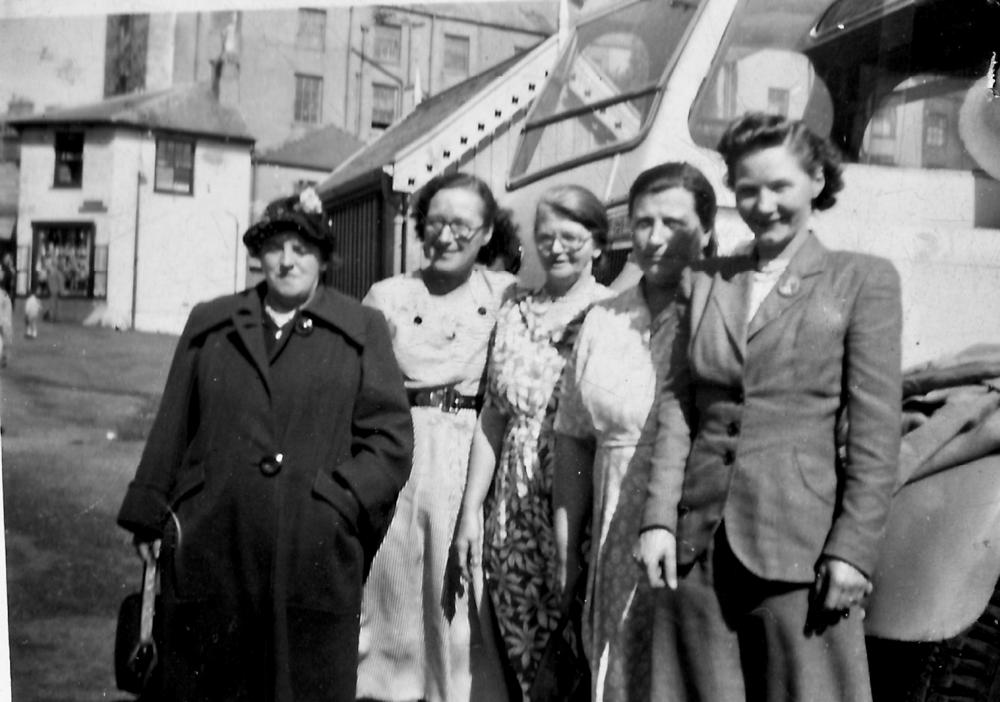 | | | |
| --- | --- | --- |
| | Image scaled down from 1000px to 702px wide | Click here, or click the photo to view original |
A group of ladies from the Crispin Arms, Birkett Bank on a rare day out, in possibly Cleveleys around 1951.
My mother, Phyllis Bowen who was the landlady of the Crispin is on the extreme right, the lady next to her, used to work as a cleaner in the pub at one stage I think, her surname might be Banks but I can't be sure. The lady second in from the left is Mrs Ethel Bibby wife of Norman Bibby, of Clarington Haulage (they had offices opposite the pub) and the coach is possibly theirs. Norman went on to become Wigan RL Chairman many years later.
I'm sorry to say I cannot name the other two ladies but I can say that these ladies certainly deserved a day out by the seaside.
Comments by roy sturgeon, 12th June 2018
bye the crin keith I can see where your ann gets her looks from brill
Comments by irene roberts, 13th June 2018
roy, I haven't heard "by the crin" for YEARS! My Mam used to say that! Lovely pic of 1950s ladies. I love their dresses and would love to own Mrs. Bowen's suit for my for my 1940s events.....she is so pretty and stylish.
Comments by Keith, 13th June 2018
You're not wrong Roy and you raise an interesting point - my mother, sister and I were born and brought up in Wigan and we inherited my mother's auburn hair colouring. My DNA results show I'm 94% Celtic and none of our immediate relatives had this hair colouring at the time, but I've found that my mother's direct maternal antecedents came from Prestatyn, North Wales in the 1760's and my father's line (4 brothers) came from Cork arriving in Fishguard in the 1700's. Very boring stuff to most but interesting on a personal level since it does explain my Celtic DNA result.
Comments by Keith, 13th June 2018
Thank you for your comment Irene, my mother (born in 1919) altered and amended her clothes constantly over the years in small ways but loved doing it. She had worked in a dress/gown shop before becoming a landlady.