| | | |
| --- | --- | --- |
| Shevington | | Views: 1213 |
| Shevington Prefabs Broadriding Rd | | Comments: 7 |
| Photo: Dave Allen Item #: 30499 | | |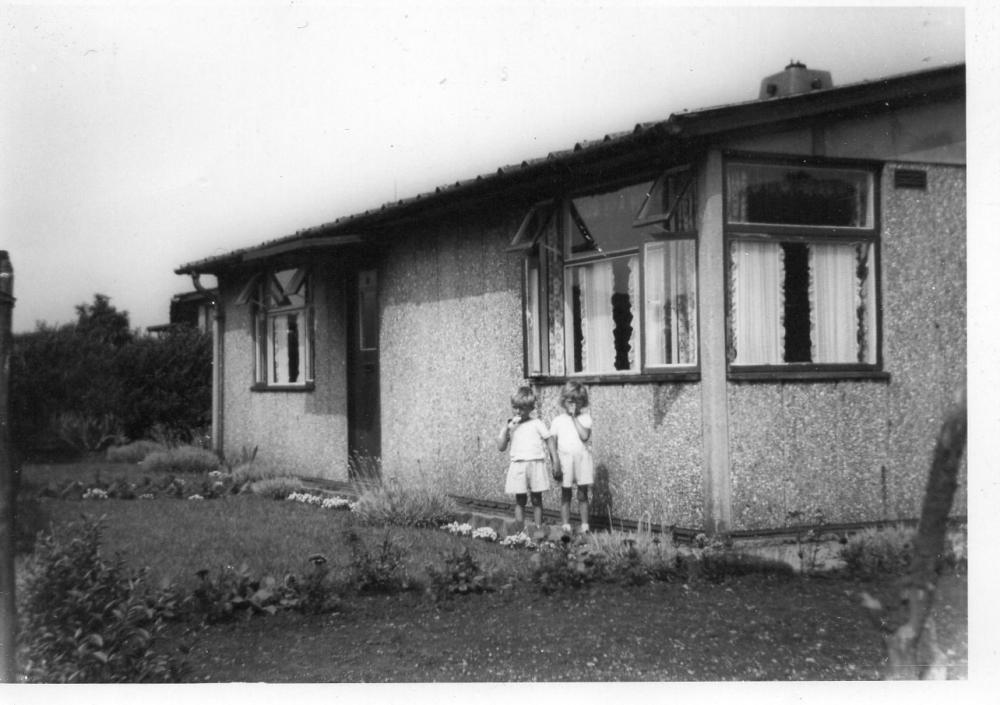 | | | |
| --- | --- | --- |
| | Image scaled down from 1000px to 705px wide | Click here, or click the photo to view original |
Early 1960's. No 14. Home of Ted and Pat Prescott.
Children in photo are Susan and Tony Wilson, who's parents Les and Evelyn lived next door.
Comments by DTease, 7th May 2018
There are quite a few Prefabs still in use in Yorkshire and Lancashire. The people who live in them now will not be the original owners so can only be there from choice. The ones I have seen on my travels all seem to be very well looked after.
Comments by Maureen, 7th May 2018
I'd love to look at the inside of one,there used to be some at the bottom of Beech Hill Lane.
Comments by Albert., 7th May 2018
When I lived in Rochester, Kent, in the sixties, people were very unhappy at being moved out of their prefabs, to be moved into conventional houses. I did not know of anyone that disliked living in their prefab..
Comments by Cyril, 7th May 2018
We lived in one on Davidson Walk in the early 1950s, they were superb for the time as they came fully fitted out with wardrobes, kitchen units complete with a cooker range and fridge and importantly a bath and inside toilet.
Comments by Cyril, 7th May 2018
There was also some prefabs on The Nook at Randalls Corner Shevington Vale, some were privately owned so may still be there.
Comments by Barrie, 10th May 2018
Does anyone remember the prefabs in Standish during the 1950's/60's just off Wigan Road opposite Victoria Crescent? I think they were built on the old mineral railway track that may have fed Victoria Pit. Victoria Crescent was built on the original gully that the old line ran through. As kids we used to cut through this way to Ashfield house/park as our garden backed onto the gully.
Comments by Mr X, 23rd May 2018
The only prefab council houses in Wigan that I know are Bedford/ Sole /Durham Street, Whelley, and also in Hindley and Abram. I don't know the location of any prefab bungalows.