| | | |
| --- | --- | --- |
| Standishgate | | Views: 2280 |
| Standishgate, year unknown. | | Comments: 28 |
| Photo: . Ozymandias . Item #: 30495 | | |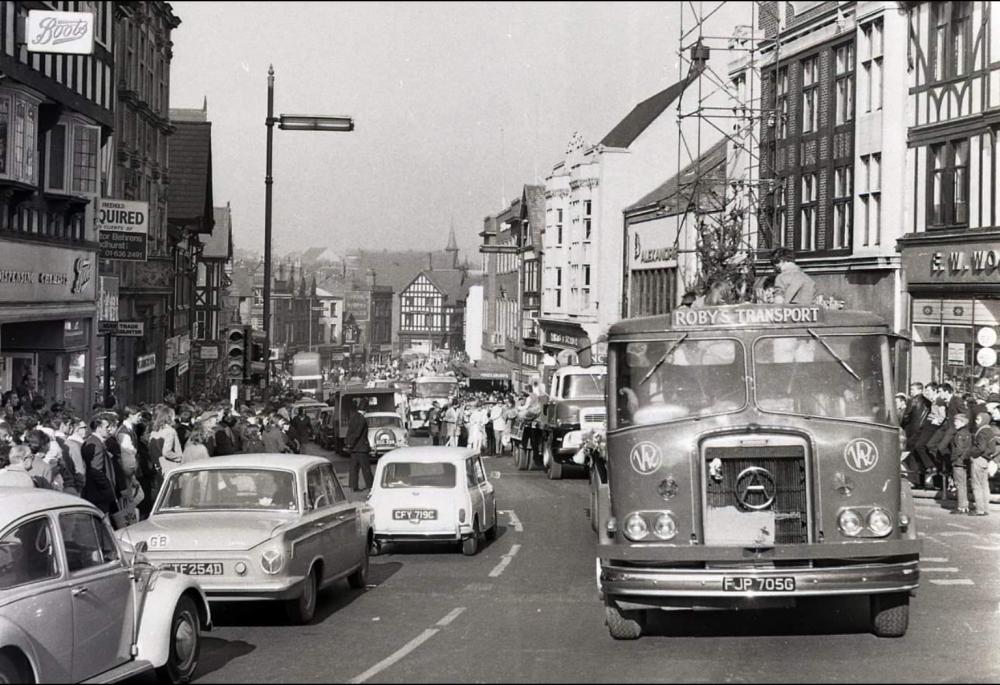 | | | |
| --- | --- | --- |
| | Image scaled down from 1000px to 685px wide | Click here, or click the photo to view original |
| | | |
| --- | --- | --- |
| | Some kind of carnival procession evidently. | |
Comments by irene roberts, 3rd May 2018
The lorry outside Woolworths is a 1969 registration, so the year would have to be '69 or upwards. The Cortina is 1966 and the mini is 1967. (And doesn't Standishgate look busy and bustling?).
Comments by Philip Gormley., 3rd May 2018
I think that I've just spotted a young DTease, wearing his balaclava - bottom right.
Comments by Veronica, 3rd May 2018
Thats how I remember the town centre - really bustling -and bumping into people. I wonder if it was a Saturday - and well spotted Philip the lad in the balaclava but has he got turned down wellies on?
Comments by Veronica, 4th May 2018
No the lad hasn't got turned down wellies on!
Comments by Mick, 4th May 2018
Scaffolding looks like its on the back of the lorry
Comments by Linda Massa, 4th May 2018
And how many of us could be there?
Comments by DTease, 4th May 2018
I wonder if we will ever see Wigan as busy as this again? If this is after 1969 that lad looks a bit too young to be me. It looks a bit too warm a day for a Balacoliva, I wonder if he has a cauliflower ear?
Comments by Ray, 4th May 2018
Registration numbers...G Reg started August 1st 1968, and
ended July 31st 1969.
Comments by Julie, 4th May 2018
It looks a very busy day!
Comments by Philip Gormley., 4th May 2018
The photo shows an obvious 'snap' in the air, and despite the fact that there aren't any Christmas lights on display, perhaps the triffid-like creation set within the scaffolding, is in fact a Christmas Tree?
Comments by B., 4th May 2018
Mini '65 register!
Comments by Stuart, 4th May 2018
The traffic heading up Standishgate are part of a procession. There are people on the back of the first lorry and further down are a group of people walking in the same procession. The crowds are watching all this but Wigan was that busy virtually every Saturday, especially in Spring and Summer (apart from Wigan Fortnight). Could this be Wigan Carnival which usually ended up on Clarington Field, if my memory is still working. My guess at a date would be Summer 1969 or 1970.
Comments by John G, 4th May 2018
The only carnival event that I can think it may be is Easter or Mayday, DTease, I had a female teacher who tried her best to give me a cauliflower ear, every lesson I had with her she'd slap me around the right ear, I had to say something to her, I said Miss can you alternate the slaps so my left ear gets some as well, she gave me one of her sly sarcastic looks and slapped me on the right ear again. One young girl who was in my class suggested that she may like me, I said in that case I hope I don't do something to fall out with her.
Comments by Joseph, 4th May 2018
It was Rag Week 1969.
Comments by Veronica, 4th May 2018
Balaclavas and cauliflower ears seemed quite common in those days. I recall knitting my 4 year old grandson one in blue and white and offered to knit him another one now that he's ten - he declined the offer saying it wasn't 'cool'! Oh for the days when you wore what you were told!
Comments by Mr K, 4th May 2018
More knowledge.
Comments by John G, 4th May 2018
Joseph: Well spotted, I've got to be honest because I lived out in the sticks I wouldn't have thought about that. Joseph what month is this, it's sunny but most people are wrapped up.
Comments by . Ozymandias ., 4th May 2018
The car directly in front of the police officer, ( speaking of police officers, what's happened to Albert I wonder? ), would appear to be an Austin Metropolitan. Back in the days when the manufacturers of breakfast cereal would include a plastic toy in the box of whatever it was they were selling, I became the proud owner of one of these, along with a garage full of other classic models....Going off thread a tad here I know, but I recall that Kellogg's used to give away red plastic models of guardsmen, complete with busbys and a variety of musical instruments. I think I may have collected the entire set of those....I had boxes full of the things....cars, famous ocean going liners, some kind of early Lego type of stuff, all kinds of different things, most of which I can't even remember now..... I'm surprised I never ended up being 25 stone.......I don't know what ultimately became of my vast collection...... Relegated to the dustbin no doubt..Maybe some of you lot remember what I'm rambling on about..... It's just that the photo of the Metro triggered a long dormant memory. Strange how the brain works or what?
Comments by Mr X, 4th May 2018
The year may probably be 1969 as the Atkinson lorry has Wigan registration FJP705G, (the first rear engined Wigan Leyland Atlantean rear engined bus was FJP566G). Also the white Southport registered Mini, CFY719C, and Lancashire registered Ford Cortina, possibly CTF254D.
Comments by Philip Gormley., 4th May 2018
I know what you're on about Ozy. I still have quite a few printed 'Kellogg's inserts' from the 1990's still unopened in small transparent packets: Eggs on cards the thickness of beer mats, World Cup squads, Jokes, Cartoons, Transfers, and a letter from HQ informing me that a particular set, which HQ had sent me, had been issued only in Ireland - I still haven't discovered if that fact allows the set to be regarded as something of a rarity. I remember the small plastic submarines, which when filled with baking soda, rose to the surface. Ahoy!
Comments by DTease, 4th May 2018
I wonder if we could salvage "The Chocolate Bounty" with a packet of Baking Soda from Aldi?
Comments by Joseph, 5th May 2018
I would say it looks about September time, summer sun just clinging on with a winter chill looking over it's shoulder. I can't be sure of course it could just be a cold summer breeze.
Comments by baker, 6th May 2018
wigan rl homecoming from the cup final?
Comments by Albert., 9th May 2018
Didn't Roby's have their road haulage business on Enfield Street, on the right hand side, as you went down, towards Highfield, or am I getting confused with another road haulage business?.
Comments by Ray, 10th May 2018
Albert...Yes, Roby Transport were in Enfield Street, their
depot was at the junction of Enfield Street & Kilshaw Street
Roby Transport became part of Wm.Gaskell of Upholland.
The site is now a car park. Ray.
Comments by Albert., 11th May 2018
Thank you, Ray
Comments by Press man., 23rd May 2018
The year is 1969, Walter Roby's Atkinson is new and it's Wigan students Rag week parade. A great day and weather good.
The photo taken by the Wigan Observer.