| | | |
| --- | --- | --- |
| WALLGATE STATION | | Views: 1600 |
| Demolition | | Comments: 23 |
| Photo: RON HUNT Item #: 30481 | | |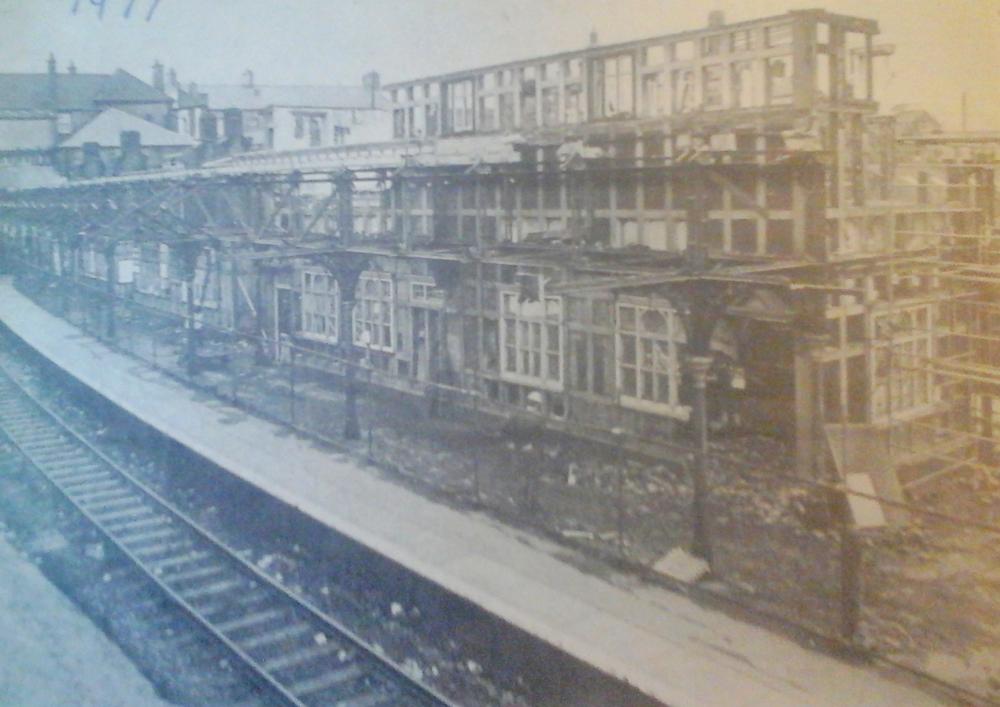 | | | |
| --- | --- | --- |
| | Image scaled down from 1000px to 707px wide | Click here, or click the photo to view original |
| | | |
| --- | --- | --- |
| | Demolition of Wallgate Station in 1977 | |
Comments by Kevan, 26th April 2018
I'm glad I'm not modelling that era, don't think I could reproduce something like that.
Comments by Veronica, 27th April 2018
Can anyone remember what was in those buildings I didn't realise there was so many. I dimly remember a cafe or bar and waiting room and toilets. I wish there was a picture of it all before demolition.
Comments by Mick, 27th April 2018
Veronica - I do remember the waiting room still had gas lighting in the late 1970s.
Comments by Pw, 27th April 2018
It looks like Wigan Central were they fireplaces etc on display on the platform
Comments by Jonno, 27th April 2018
I agree Pw, it also appears to be single track, and, which ever way you look along Wallgate station there aren't any houses /buildings to be seen as there are on here. I definitely don't remember station buildings of that size on Wallgate station.
Comments by Tony, 27th April 2018
Pw its Wigan Wallgate as Ron says in the title.
Comments by A.W., 27th April 2018
It is most definitely Wallgate Station the photo was taken over the wall on King Street West, the building visible on the top of the image are buildings on Wallgate. It is true the old station was a very atmospheric place, it is a great shame it was demolished.
Comments by DaveG, 27th April 2018
Definitely Wallgate station. This picture appeared in the papers when it was being demolished. It shows the eastbound Manchester line. The building is hiding the Southport line
Comments by Mark, 27th April 2018
This is Wigan Wallgate station.
Go to the Places section of this album and click on the Central Station link. The last photo on page 2 of the Central station set shows it being knocked down. Nothing at all like this pic and the surroundings are completely diferent.
Comments by Roy, 27th April 2018
Ron, Tom Walsh put this one on WW 5 years ago.
Comments by Jack, 27th April 2018
Wigan Wallgate. I was working there when it was knocked down and rebiult. I remember one of the other lads working there had a hair brained idea they could save a fortune on demolishing it by burning it down.
Comments by John, 27th April 2018
I remember when we were young on a day trip to Southport with our auntie s she would buy us some Payne's poppets out of the machine on the platform and they would go into the refreshments room for half of Double Dimond,
Comments by John Brown, 27th April 2018
Wierd! I can't remember the station ever being demolished, and then re-built?
Comments by Jack, 27th April 2018
John Brown it was demolished autumn or winter 1977 and then the new station went up.
Comments by Veronica, 27th April 2018
Wasn't there a kiosk at the end nearest to the steps coming on to the station selling newspapers and stuff or am I dreaming that?
Comments by SteveM, 28th April 2018
I remember the station as having a row of single storey rooms and shops under a canopy roof but never as a 3 storey building . https://www.youtube.com/watch?v=-i2w3msEaLk
Comments by DerekB, 28th April 2018
John Brown, I'm with you - if asked I would have sworn it had only been modernised to some degree but never demolished. Obviously I would have been wrong.
Comments by DerekB, 28th April 2018
Veronica, you are not imagining it - there was a kiosk facing the bottom of the steps selling newspapers, magazines etc. Something else I remember from childhood when returning from a trip to Southport was on every riser on the steps going up to street level was a metal plate advertising Stephens Ink. How weird is that?
Comments by Jack, 28th April 2018
Steve M it had upper floors. I should know I worked there.
Comments by Veronica, 28th April 2018
I thought there was Derek- you have a good memory to remember those metal plaques on the steps... What you see now is the usual chewing gum on all the steps!
Comments by Martin, 29th April 2018
Perhaps I can help resolve the debate about this building.
A low level canopy covered the greater part of the platforms at Wigan Wallgate, and this building protruded above the canopy about a third of the way down, very much like the bridge of a ship.
It is clearly visible on pre 1977 aerial photos of this part of the town centre.