| | | |
| --- | --- | --- |
| Clayton Street, Wallgate | | Views: 1426 |
| Coronation Day | | Comments: 13 |
| Photo: RON HUNT Item #: 30459 | | |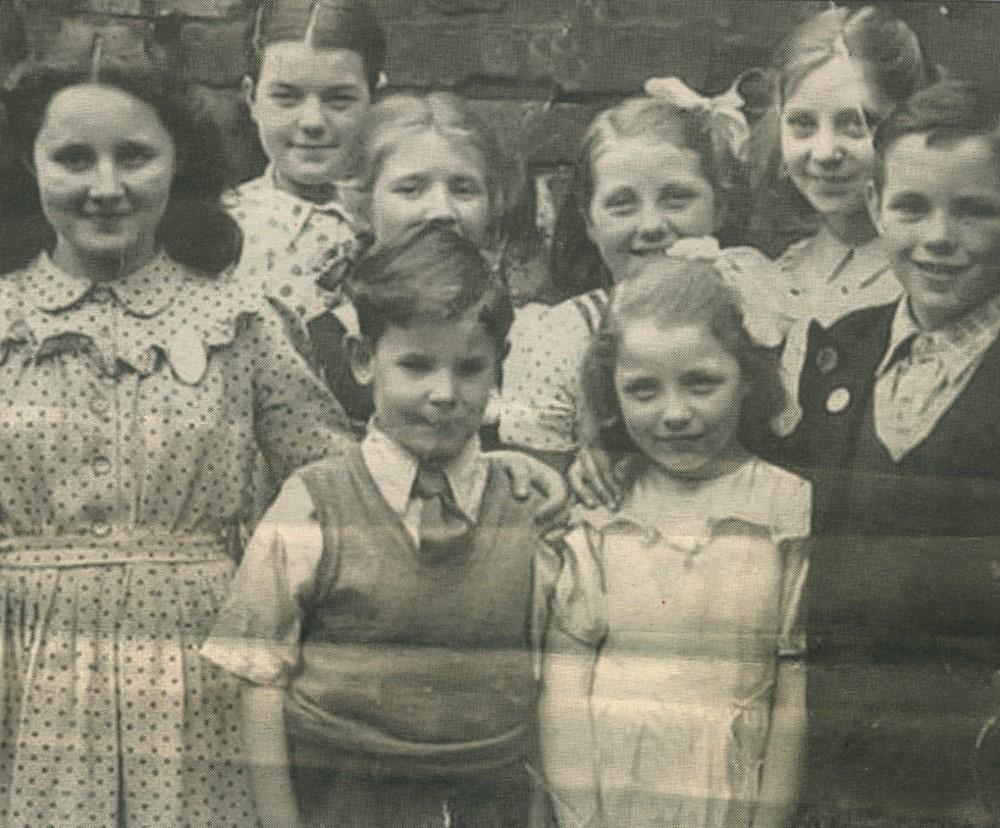 | | | |
| --- | --- | --- |
| | Image scaled down from 1000px to 828px wide | Click here, or click the photo to view original |
| | | |
| --- | --- | --- |
| | A group of children from Clayton Street Wallgate on Coronation Day 1953 | |
Comments by Maureen, 14th April 2018
That's Imelda O'Laughlin on the left,and John Holmes on the right.
Comments by irene roberts, 14th April 2018
What a lovely photo of 1950s children. I remember the dresses and ribboned hairstyles from my own primary school days a few years on from this. Now the ribbon bows have made a comeback at my grand-daughter's school; they are just clipped on now rather than tied but how lovely today's little girls look with ribbons in their hair!
Comments by Veronica, 14th April 2018
There was always an assortment of styles with elaborate frills- and every morning a clean frock, there was no 'playing out' clothes then! You wonder how your mothers managed in those days all that washing and ironing.
Comments by Maureen, 14th April 2018
Imelda's parents were Irish,and her Mam had hair just like Maureen O'Hara,it was golden red absolutely gorgeous.
Comments by Maureen, 14th April 2018
Irene and Veronica,that was when little girls looked like little girls..my Grandma would always make me wear a green one on St Patricks day, mind you I also wore one daily..'ve lost a photo that was taken of my lovely Brother Michael and myself taken at Cholertons in Wallgate and I also had a ribbon in my hair.
Comments by Veronica, 15th April 2018
It was a big day in St Pat's parish - we were all given fresh shamrock and some girls were given the opportunity to practice their Irish dancing. All through school the same four girls! They never got beyond being as stiff as brushes and knees nearly touching their chins! Then we would have a go mimicking them in the school yard! Happy days!
Comments by Maureen, 15th April 2018
Veronica,I read that during Irish dancing the reason they always had their hands down by their sides was..they hadn't to touch any boys...weren't they daft....but I love watching them.
Comments by Veronica, 15th April 2018
I can believe that Maureen- the men as well with arms straight at their sides! I love watching Irish dancing all that tapping and energy. We also sang the mass in Latin all the way through on St Patrick's day- I still remember a lot of it. Scholes was a 'one off' place to live,it was the Irish in us all - a grand community in those days.
Comments by Veronica, 15th April 2018
As you mentioned the Irish Maureen it made me stop and think. Scholes was a community with some sort of cement binding it together. It must have been a mixture of Irishness and Celtic spirit with a good pinch of religion thrown in. Deep down hidden in the psyche trials overcome in the previous generations who were driven from their land across the sea and planted in Scholes, Hardybutts and Wallgate. It was their own people and community. Well that's what I think in hindsight and old age. In New York they treasure their 'Irishness' in fact they become more Irish as time goes on without setting foot in Ireland! Apologies for going off topic but old Scholes is very close to my heart!
Comments by Jinksi, 15th April 2018
Day I had my Tonsils out. Nurse said eat a bag of Chrisp and you can go home.What she meant was Bugger off we want to watch Coronation on't Telly.When me and Mam got Home Dad had rented a Telly from Fred Dawes on King St.
Comments by Elizabeth, 15th April 2018
Yes, Veronica and Maureen Wallgate and Scholes were the areas most Irish people who came to Wigan settled.Would love to see any old photos of that time, if any were around?
Comments by Maureen, 15th April 2018
Veronica,you can never forget the place where you were the happiest..Wallgate was teeming with the Irish as well..my own Grandma came from County Clare,I think nearly all of its community were Irish..big Barney next door to us was, couples further down the street was just made up of the 'oirish'.
Wallgate like Scholes and Ince was a great community grow up in..you always felt safe..folk looked out for one another,that type of community feeling I think is lost forever.I may be totally wrong but that's how I see it,we had walking days,street parties etc.they will never come back which is a great pity,people just don't seem to want to mix any more.
Comments by June Rogers, 19th December 2018
The boy in the middle at the front is my lovely cousin Alan Young, I also remember John Holmes and his lovely mum Mrs. Holmes. Great memories. My grandmother lived at no.59 Mrs Power whos parents als came over from County Clare.