| | | |
| --- | --- | --- |
| Standishgate | | Views: 1079 |
| Pendlebury's fire 1953 | | Comments: 7 |
| Photo: RON HUNT Item #: 30443 | | |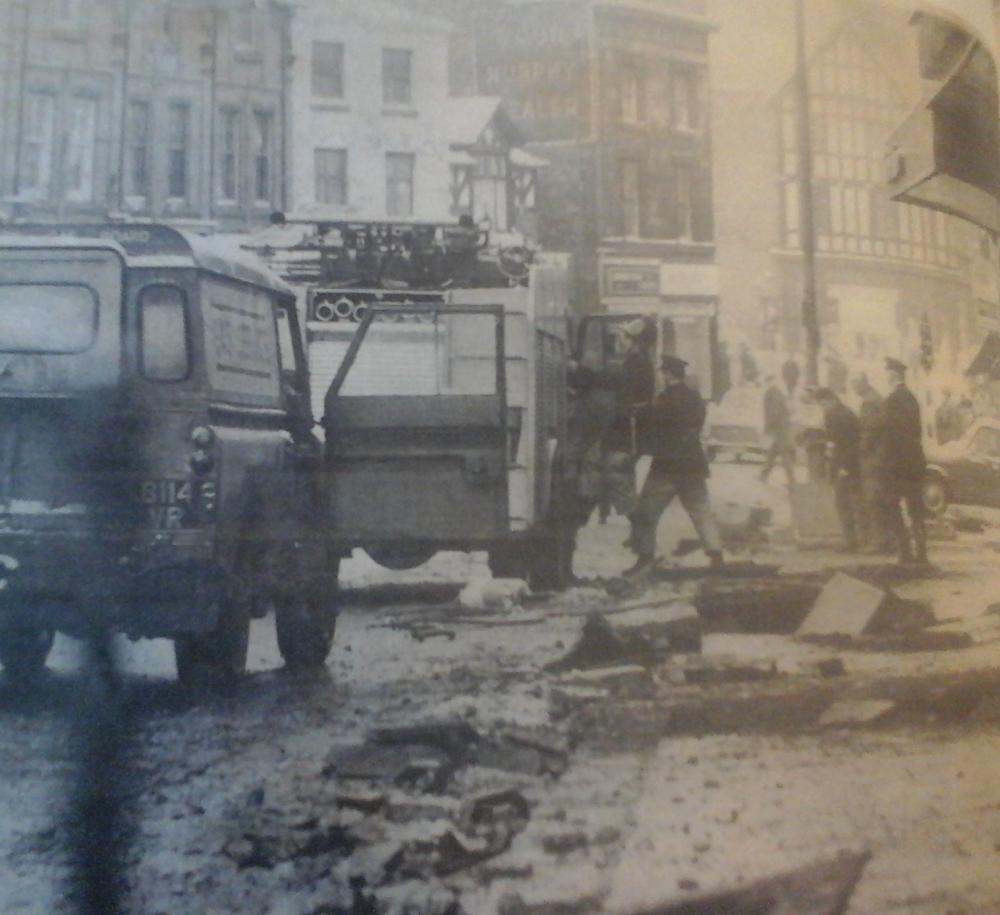 | | | |
| --- | --- | --- |
| | Image scaled down from 1000px to 915px wide | Click here, or click the photo to view original |
| | | |
| --- | --- | --- |
| | Aftermath of the Pendlebury's fire July 1953 | |
Comments by Albert., 14th April 2018
It certainly engulfed the whole of the building, I watched the fire officers' tackle the overpowering flames. I was on Leave from the R.A.F. at that time, awaiting a trade training posting.
Comments by Ray, 25th April 2018
Ron..I think that this picture is 1963. The reg number on the North Western Gas Board Land Rover is approx 1962, and
the Austin A40 Farina at the rear of the picture is also early 1960s. Ray.
Comments by Albert., 26th April 2018
Ray. Definitely 1953. I was on leave at the time. In 1962, I was in the Wigan Borough Police.
Comments by Mick, 27th April 2018
From The Times, Monday August 3rd 1953 . . .
"The premises and stock of Pendlebury and Co., Limited, one of Wigan's oldest drapery and house furnishing firms and now a subsidiaryof Dbenham, Limited, London, were seriously damaged last night by fire. Road traffic was diverted and thousands of homeward bound holiday makers watched the firemen fighting the flames."
The fire was on Sunday 2nd August 1953, which was part of the Bank Holiday Weekend, before they moved the August Bank Holiday to the end of the month in the late 1960s.
Comments by Ray, 27th April 2018
I agree that there was a major fire at the Pendlebury store
in 1953. Because of my earlier comments, the above picture
must be of a different incident. The Austin A40 Farina at the rear was introduced by Austin cars in 1958, and I recall
the North Western Gas Board Land Rovers that were new in the
early 1960s...I worked on them as an apprentice motor vehicle mechanic. Ray.
Comments by Valerie, 14th June 2018
It was definitely 1953 I was 13 and had just broken my foot at Southport open air swimming pool . I watched the red sky from my bedroom window
Comments by alan worden, 21st December 2018
the fire engine is too modern its either bek99c or bek99f both of which were water tenders.the firemen are wearing yellow wet legs which only came in in the early 70s.x