| | | |
| --- | --- | --- |
| Dorning Street, Wigan | | Views: 1100 |
| Uncle Joes Factory | | Comments: 18 |
| Photo: RON HUNT Item #: 30420 | | |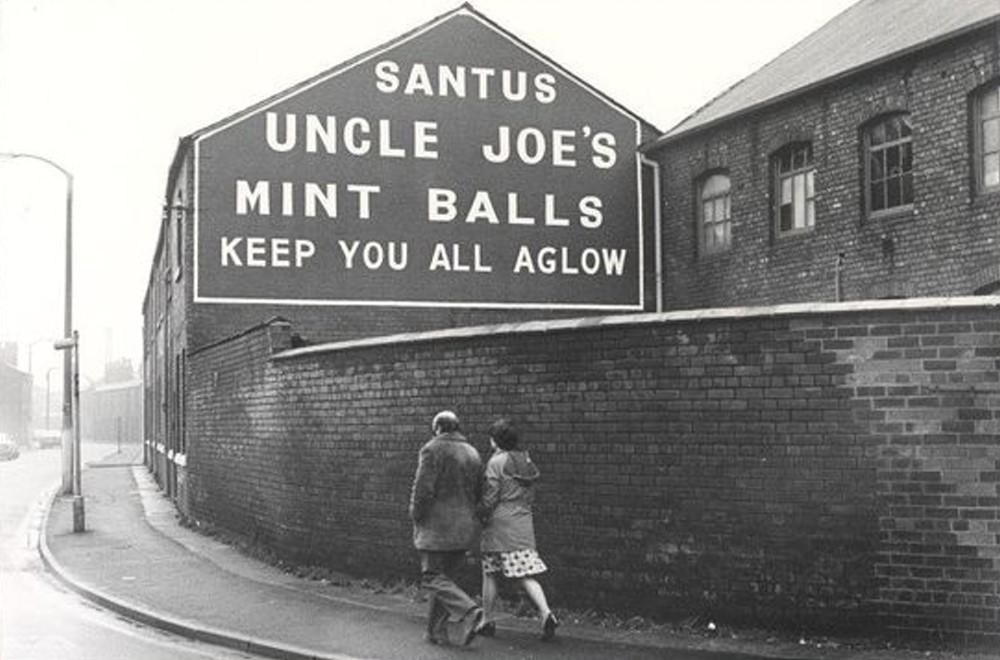 | | | |
| --- | --- | --- |
| | Image scaled down from 1000px to 660px wide | Click here, or click the photo to view original |
| | | |
| --- | --- | --- |
| | Photograph taken 1970's showing the "UNCLE JOES MINT BALL" factory in Dorning street | |
Comments by irene roberts, 9th April 2018
I passed Santus's toffee-works last week on my way to Boston House. It was obviously Mint-Ball production day and the smell in the air was gorgeous!
Comments by WILLY WACKUM, 9th April 2018
Irene pity they don't taste the same as they did, when you bought them unwrapped and all stuck together... Now they are half the size and cost 6 times as much
Comments by irene roberts, 9th April 2018
You're not wrong, Willy Wackum! There was something special about them when they all stuck together, (and stuck your teeth together too!). My son went round the world on his honeymoon in 2003 but was brought quickly down to earth by the sight of tins of Uncle Joe's in a shop in San Francisco....I think he'd left HIS heart in Wigan!
Comments by Mick, 9th April 2018
They taste exactly the same, whats changed are your taste buds.
Comments by Wiganer, 9th April 2018
Mick obviously you have never tasted the ones from the 1950's when they were sold loose without wrappers.
Comments by Kevan, 10th April 2018
I am still trying to work out how to get the aroma into my model of the building, maybe I should sacrifice one and build it inside.( See thread in Hobbies)
Comments by Ken R, 10th April 2018
The smell and taste are unique, and they not only stuck your teeth together but they could possibly lose your fillings. I did, twice.
Comments by ALPAL, 10th April 2018

used to walk past there everyday on my way to school,mum used to work at Platts printers just round the corner,This would be mid seventies,great days back then,i live in Aus now and don`t bother going in to town when I`m over visiting my brother,I suppose I prefer the old wigan,
Comments by Helen of Troy, 10th April 2018
When sold loose, didnt they have a white icing sugar coating ?
Comments by Veronica, 10th April 2018
Kevan - you could try putting some of the sticky Uncle Joes inside the model hidden, but without the wrappers!
Comments by irene roberts, 10th April 2018
No, Helen, they didn't have a coating on.
Comments by GW., 10th April 2018
Hi ALPAL. I found an international pack of Uncle Joe's in a supermarket in my old home town of Castlemaine Victoria. As far as the sticky thread goes I'd just leave them out in the sun for a few minutes.
Comments by Mick, 10th April 2018
I was just coming out of Tesco petrol station this morning and Mrs Mintball (TOFFIE on the number plate)came flying into the roundabout like there was no tomorrow.
Comments by Cyril, 10th April 2018
Helen of Troy, at one time the sugar in them crystallised on the surface, they don't do that now even though the present owners insist they are still made to the same recipe. Do they still sell Vodka with mint balls dissolved in it - definitely a waste of good Vodka.
Comments by John Brown, 10th April 2018
I used to go past it every week-day morning, on my way to school (All Saint's) Occasionally, If you shouted up at the window, someone would throw a few mintballs out. . . if you were lucky. Those were the days.
Comments by Maureen, 10th April 2018
My little Grandma used to keep them in the top drawer of the sideboard until they'd chrystalised,and then tell me to help myself,God they were lovely.
Comments by Spenian, 10th April 2018
Used to visit here in school Summer holidays as my Grandparents lived in Spring Gardens which then you could enter on the left of this picture before BT took over the access to the road, the building on the left became 147 Snooker club in the 80's which was the first place I ever saw MTV which was on satelite TV.
Comments by Garry, 12th April 2018
Nothing is the same today, ie marsbars, milkyways, kit-kats, topics etc they were all bigger in the 1960s and bigger bags of crisps too. Rip off time again!