| | | |
| --- | --- | --- |
| PUBS | | Views: 1915 |
| MINORCA HOTEL | | Comments: 20 |
| Photo: RON HUNT Item #: 29973 | | |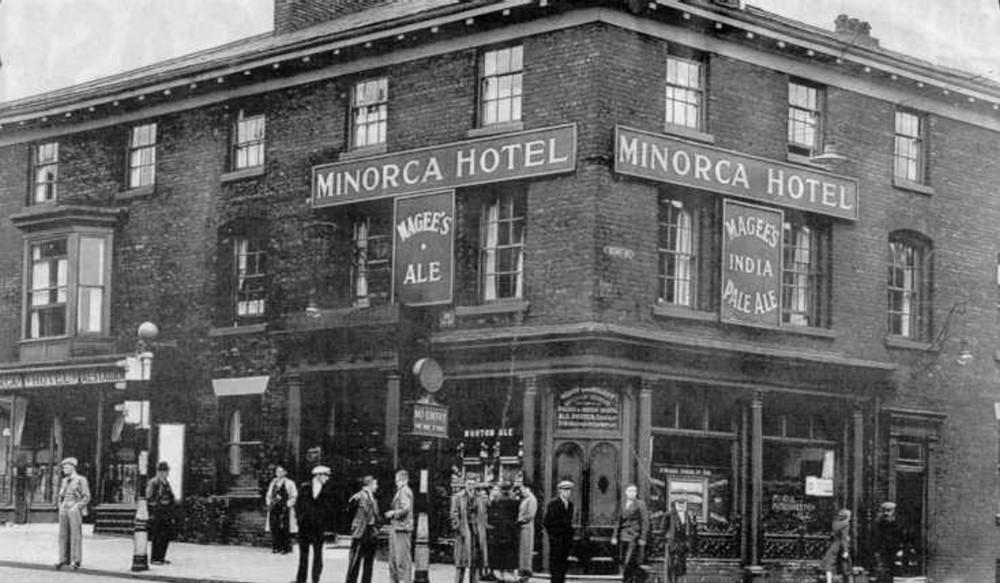 | | | |
| --- | --- | --- |
| | Image scaled down from 1000px to 583px wide | Click here, or click the photo to view original |
| | | |
| --- | --- | --- |
| | A larger view of the Minorca Hotel, than the one already on the site. | |
Comments by irene roberts, 7th December 2017
I remember when this was a Berni Inn in the 1970s and was reputed to be haunted.
Comments by Poet, 7th December 2017
Anyone remember the Stable Bar next door?
Comments by RON HUNT, 7th December 2017
The STABLE BAR was always a dropping off point on Friday night's as we worked our way around town. Always finished off in the CLARENCE Cocktail Bar, where all the 'Smart' young girls invariably went <g>
Comments by owd bob, 7th December 2017
The Clarence served draught Double Diamond in the upstairs bar, Nectar!
Comments by Poet, 7th December 2017
Was that the stuff that 'worked wonders' owd Bob?
What was the pint 'that thinks its a quart?
Comments by old bob, 7th December 2017
Poet , it was Whitbread big head trophy bitter .
Comments by Poet, 7th December 2017
The best beer ad was when a frustrated Wordsworth was inspired by a deep draught to alter ' l walked about a bit on my own' to 'l wandered lonely as a cloud'. Heineken is the only beer that can do this!
Comments by Albert., 8th December 2017
Can anyone give a date to this photograph. I did point duty here, top of King Street. There wasn't any traffic lights there then, that I can remember. Late fifties, early sixties, but the photograph seems earlier, and there is definitely a T/L there. My dad used to call them robots, not traffic lights.
Comments by John D, 8th December 2017
Irene, try Googling this link. https://www.wigantoday.net/news/high-spirits-at-a-haunted-pub-1-164548
Comments by Philip Gormley., 8th December 2017
Albert: I've noticed this photo dated 1960, elsewhere, but I'm inclined to agree with you in that it could have been taken a bit earlier. A good lively photo nonetheless.
Comments by Cyril, 8th December 2017
Was the top of Wallgate one way at that time I wonder, there's a No Entry sign at the front of The Minorca, though I can't make out the writing underneath on the sign.
Comments by irene roberts, 8th December 2017
Thankyou, John. x.
Comments by jack, 8th December 2017
Cyril. I think you are right. The traffic lights are only facing traffic comming down Wallgate.
Comments by Ray Smyth, 8th December 2017
I think that this photo is from the late 1930s. Yes Albert,
Many folk called Traffic Lights "Robots" when I was a lad.
Cyril....The road sign says "No Entry..One Way Street", so
Northbound traffic would have to go via King Street West,
or it may have turned right into King Street, if that was
permitted, particularly if you were going Eastbound to Ince,
Hindley, or Manchester.
Comments by DerekB, 8th December 2017
Doesn't the No Entry sign refer to no entry to King St from Wallgate? I don't ever remember King St being anything but one way from the bottom.
Comments by Albert, 8th December 2017
In the fifties, and early sixties, Wallgate, between King Street, and Library Street, it was two way traffic. King Street was one way from Rodney Street. I have no idea what it was after, July, 1964, when I went to pasture new.
Comments by Ray Smyth, 8th December 2017
Hi DerekB, I agree with your comments, I don't remember King Street being anything other than one way traffic, in
the direction of Wallgate, but I am quite sure that the photo is from a time long before me and thee were around.
Comments by DerekB, 9th December 2017
Ray, only a couple of weeks ago I was talking to an acquaintance from Bolton who asked me "What is it with you lot from Wigan?" Apparently he was driving in Wigan and stopped to ask an elderly man for directions who replied "Aye lad, tha goes through the next three set of robots then turns left." He thought to himself what the hell does he mean by robots? Although he is by no means a young man he claimed he had never heard this expression in Bolton with reference to traffic lights and asked me if I had. I told him I had completely forgotten about it but remembered my grandparents using it when I was a kid. I suppose in their day the introduction of traffic lights was the cutting edge of technology.
Comments by Bod, 14th December 2017
Lucky to have roads in Bolton.