| | | |
| --- | --- | --- |
| Pemberton | | Views: 2164 |
| Pemberton 1960's | | Comments: 27 |
| Photo: RON HUNT Item #: 29972 | | |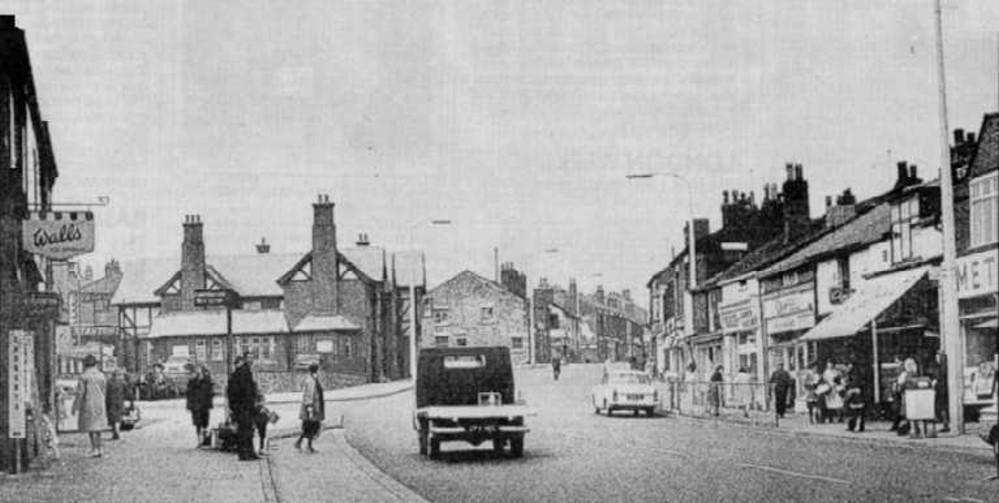 | | | |
| --- | --- | --- |
| | Image scaled down from 999px to 503px wide | Click here, or click the photo to view original |
| | | |
| --- | --- | --- |
| | View of Pemberton shops 1960's you never see Ormskirk road with so little traffic these days. | |
Comments by Albert., 7th December 2017
Just around the corner, on the left side, was Pemberton Police Station, and further along from the police station, a workshop where they made coffins.
Comments by John D, 7th December 2017
The street around the corner is Woodford Street. Curiously, Hindley police station was also on the corner of another Woodford Street.
Comments by Spud, 7th December 2017
Had Lamberhead Greem WMC been built then?
Comments by Albert., 7th December 2017
Is the pub, top left still there. Was/is it the White Swan?.
Comments by irene roberts, 7th December 2017
Yes, Albert. x.
Comments by Mick, 7th December 2017
John D - Regarding Woodford Streets - Cpatain John Woodford was the first Chief Constable of Lancashire Constabulary, and both Hindley and Pemberton were originally Lancashire Constabulary police stations (Pemberton was taken over by the Wigan Borough force in 1904).
It would appear this was taken into consideration when streets were built and named alongside the police stations.
Comments by Maureen, 7th December 2017
Albert,I used to visit a relative in Short St..and would leave my bike parked up at the front of the Police station. hoping that that it wouldn't get stolen from there..anyway it did work.
Comments by MarieM, 8th December 2017
Albert, when we come past the White Swan on a Saturday night about midnight, it is packed and bouncing
Comments by Albert., 8th December 2017
Does anyone remember the coffin workshop. If I went in for a ten minute chat, they would make me a brew, and I would Rest my cup, on a coffin lid.
Comments by John D, 8th December 2017
Mick, thanks for the info. I've always been interested in how streets got named. I take it that County Police Street in Ince needs no explanation.
Comments by RON HUNT, 8th December 2017
Albert The place where they made coffins was in Chatsworth Street, on the corner with Smethurst Lane
Comments by Albert., 8th December 2017
One thing I do remember Ron. I only got a cup of tea, they didn't do spirits.
Comments by John G, 8th December 2017
Ron/ Albert: Ironic really apart from a suit the only other thing that's made to measure in height and width for a human is a coffin. When i worked in the hospital the main mortician asked me if I would like to make some easy money, when I asked how he said come in early Saturday mornings and measure the bodies in the fridges he would pay five pounds each. I said no thanks I'll pass on that.
Comments by Ken, 8th December 2017
I remember Jack Carrington's Shop
Comments by JJP, 8th December 2017
End of the 1960s and into the early 1970s I delivered coffins mainly flat pack to undertakers -- some were made up already. As well as coffins I also delivered shrouds. The deliveries took me all over Lancashire including Manchester and -- back in the early seventies when we had that dreadful FLU epidemic we were run off our feet trying to meet the demand. I wonder if those coffins came from the workshop mentioned I know the shrouds came from a company in Wigan, Piggot and Smith I think !. Incidentally, I worked for a local carrier back then usually delivering parcels but this was a special 'one off' contract. WHY ME? - I asked the gaffer.
Comments by Steve, 9th December 2017
Ken , there were 2 Jack Carrington shops , almost directly across from each other . On this photo , the one on the right ( St John´s church side of photo ) was watches , clocks , some jewelery . One on the left was sports wear and equipment .
Comments by Ray Smyth, 9th December 2017
Hi JJP, One of my weekly deliveries from 2002 until 2012, was from Thorley Smith on Clayton Street. The load would be
Shrouds, Burial Gowns, and Coffin Suites in various gentle
colour shades, for both Male and Females, some were Unisex.
The delivery was usually between 800 and 1000 "Garments",
for delivery to Co-operative Funeral Services at Shieldhall
in Glasgow,near to the Southern Infirmary, just up the road
from the Clyde Tunnel.
Comments by JJP, 10th December 2017
Hi Ray, 'Thorley Smith' rings a bell, it is probable that's what I meant not the company I named before - after all, it's almost fifty years ago now, were they from Wallgate area ?. I worked for 'White Star' at that time, and loaded these after returning from the tomato deliveries. One undertaker in Nelson asked me to reverse the truck upto the doors so that no one could see the coffins coming off, carrying them inside I was confronted with a temporary mortuary situation - due to that awful flu bug that was claiming so many old people at the time. Needless to say, I preferred the other deliveries.
Comments by Ray Smyth, 10th December 2017
Hi JJP, Its strange how things sometimes link together. On the recent "Minorca" photo, there was several mentions of
"Robots/Traffic Lights"...The last time that I heard the use of "Robots" was about 1970 from Arthur Pilkington, your
former employer at White Star Carriers, when he was loading
his Albion Clydesdale with Guernsey Tomatoes in the yard at
Robert Baillie Transport. Regards, Ray.
Comments by JJP, 10th December 2017
Ray, I remember driving that Albion of Arthur's on several occasions with various cargo's - Reading, London etc and just to mention the man himself, he gave me lots of opportunities as a young man which I'm thankful for, it was my springboard into 49 yrs of uninterrupted work in the industry. Regards.
Comments by Ray Smyth, 10th December 2017

Hi JJP, I look at the "TrucknetUK" forum quite often, and
recently I started a new thread, "Wigan Transport Companies"
If you have any photos of Wigan based lorries,whether they
are Wigan firms, or firms that had depots in the area, I would appreciate seeing them. Kind Regards, Ray.
Comments by JJP, 11th December 2017
Ray, i'll take a look at that 'Trucknet' unfortunately though, all my pics have been used at sometime or other elsewhere ! -- and I have seen them on other websites - used without asking !!!. However, they are out there for others like you and Ozy to see. Regards.
Comments by Ray Smyth, 11th December 2017
Hi JJP, If you still have the photos,which I may have not seen, please email them to me, and I can put them on the
new thread. What firms are the pictures from ?.Regards, Ray.
raysmyth6644@gmail.com
Comments by Jarvo, 11th December 2017
Jack Cack's on the right with the roller blind down.
Comments by Albert., 13th December 2017
Maureen. I have just noticed the comment you made referring to SHORT STREET, although it has my surname, I was never a Chief Constable. It was probably just a short street. I remember when I was courting in the fifties. The lady who was to be my wife knew a bus inspector, as I also did. One morning as she was on her way to work, he stopped her, and said. "Last night, I saw you, and you were with a police man that I know. His name is on the tip of my tongue, but I just can't remember it. I know it's only a short name." She didn't make him any wiser.
Comments by Mr X, 4th January 2018
Pemberton has not changed much over the years. This photograph may have been taken on a Sunday with only a couple of vehicles. The parked white car looks like a Ford Corsair.
Comments by Mr.G., 20th August 2018
It maybe a bit late but only just seen this photo
This is for Ron & albert the coffin maker was John C.Gore
and was in Chapple St. There is a bunglelow on the land now, John was the brother of William C Gore who had a joinery buisiness in Howard St and now I think is a nursing home for the elderly.