| | | |
| --- | --- | --- |
| PUBS | | Views: 2087 |
| Market Hotel | | Comments: 20 |
| Photo: RON HUNT Item #: 29951 | | |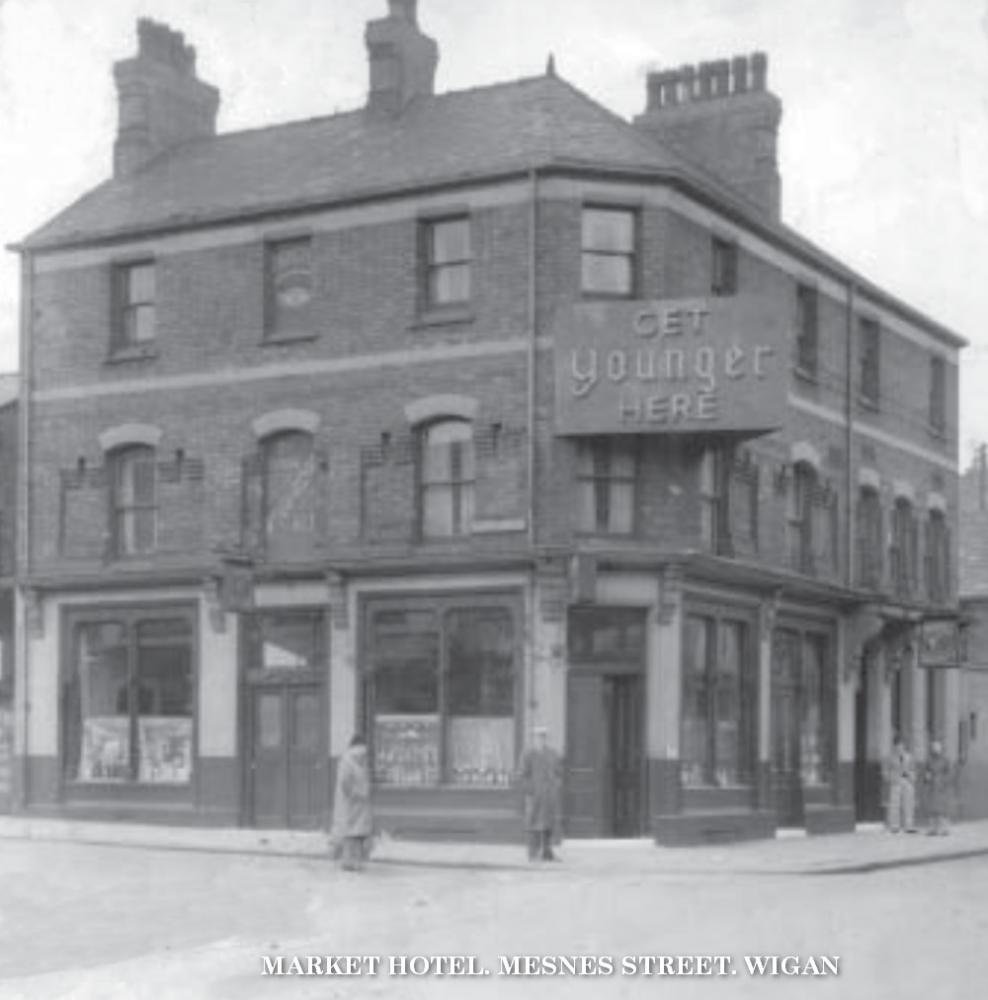 | | | |
| --- | --- | --- |
| | Image scaled down from 988px to 1000px wide | Click here, or click the photo to view original |
| | | |
| --- | --- | --- |
| | View of the MARKET HOTEL Mesnes street Wigan. I remember with great relish the pies they served up in there. BEST pies ever with gravy to die for. My regular lunch time meal, a pie ( sometimes 2) and 1/2pt of IPA. The pies served then were at least twice as big as what passes for pies these days. If I remember correctly, a pie and 1/2 of IPA was about 1s 10d Colin Cook was Mine Host at that time i.e. c.1966 | |
Comments by Eric, 30th November 2017
Good memories here Ron.started going in here in 1964.pie and gravy,and a bottle of newquie brown fantastic
Comments by DTease, 30th November 2017
Newcastle Brown Eric? watch your back you'll have Howard P and his sidekick Alan on your case.
Comments by Veronica, 30th November 2017
Even Ron had a swift half as well with his pie.
Comments by TD,., 1st December 2017
Ron the craving has kicked in as I have also sampled the outstanding pie and gravy at the Market Hotel, sloshed down with a glass of the old liquid desert. Simply delicious.
Comments by RON HUNT, 1st December 2017
Eric thinking back it was probably around 1963/64 when I started going in at lunch time. We always sat in the MEN ONLY room and was served by a couple of, what to us, were old women but they would probably have only been in their 50's. It was when I left school and started at John Englands It was 1966 when I left John Englands What a nice man Colin Cook was. In those days everyone knew the names of all the landlords of the pubs in Wigan as they had been there years, not like today.
Comments by Albert., 1st December 2017
There is a photograph of some of the staff, under WORK. Top, first entry.
Comments by Joe Thomas, 1st December 2017
Everything as been said about this great pub trying to think how many other pubs had so many doors there's four showing and there was another in the yard you could enter as well
Comments by Cyril, 1st December 2017
Colin's son commented somewhere on the site, though I can't find it, however he said that the gravy they put on the pies was actually oxtail soup. The photo of the girls states that they sold Edwards pies, so Ron you did well to be able to do your afternoon shift after eating two of their pies, they were massive. I liked McEwan's export and Tartan bitter that was on draught there, the only other Wigan pub that sold Scottish and Newcastle that I knew of was the Rock Ferry at Lower Ince.
Comments by Philip Cunliffe, 1st December 2017
Excellent pies. Those with sliced onion on top, which may not have been served for that long, were the ones that made it for me.
Comments by Mick, 2nd December 2017
Ronís comment about everyone knowing the name of the town centre licensees made me think of the landlords and landladies from the 1970s I can remember.
Naturally Colin Cook was at The Market and Mrs Brown at the Park Hotel, and then you had Nobby Clark at the Dog and Partridge, Walter Baron at The Raven, Stan (Ashcroft?) at The White Horse, Eva Leach at The Whitesmiths, John OíNeill at The Griffin, Frank Fielding at The Pear Tree, and Gordon Rosbotham at The Colliers.
The licensees of The Crofters, Minorca, and Black Horse slip my mind.
Comments by Eric, 2nd December 2017
Carrying on the theme of the pies,yhey where sold in the evening.not many pubs did this in the 60s .you had to rely on crisp or cheeseAnd onion biscuits
Comments by RON HUNT, 2nd December 2017
Philip, forgot about the home made sliced onion pickle. What wouldn't I give to taste those pies gravy and pickles again...
Comments by Peter, 2nd December 2017
Went in for dinner in the 60s great atmosphere ,Smoke smells of good beers,local eccentric people ,! Bill clapper.and always alive with local people.
Comments by Albert., 3rd December 2017
Cyril. Rock Ferry, appears to be a spanking new pub. I have just had a look at it, on the internet. It did go under the name "Little Rock." The "Big Rock" was further on, towards Wigan. I do believe that was a Magee Marshal pub.
Comments by Carolaen, 3rd December 2017
I have mentioned before on a similar theme, that there are some really great nostalgic drawings - about the Market Hotel in the late 1960s/1970s in Bryan Talbot's wonderful book "Dotter of Her Fathers Eyes". Bryan is a world renowned graphic artist and the story - which is written by his wife Mary is basically her autobiography of growing up in Wigan from the 1950s onwards in her and her meeting with Bryan (Personal note I was great friends with Bryan at WGS and was also at the party in Wigan were they"met"). The book also deals with Mary's complex family relationship with her Father - James S Atherton who not only was a Wigan school teacher but THE world famous authority on James Joyce. The book won the 2012 Costa Biography award.

Even if you have no interest in James Joyce etc the book should be of great interest to Wigan World viewers as it is a stunning evocation of what it was really like growing up in those times and there are wonderful recreations of Wigan in the 1960s - Mesnes Park, the Market Hotel etc. The Market was the stomping ground of a group of us, including Bryan, who started going there when we were at the Grammar School (Don't tell Albert !). My great abiding memory of the palace was how everyone from old blokes in flat caps, working men and even us long haired Led Zeppelin fans were made welcome and we all played dominoes, ate potato pies and supped pints of Bitter (even if was Tartan Special) together. Truly Happy Days
Comments by Albert., 4th December 2017
Carolaen. It was far, far less harmful for you to have a pint of beer, even if you were only sixteen, or seventeen, than pumping yourself with all manner of drugs, that seems the present pleasure booster, activator.
Comments by Eric, 4th December 2017
This being my first waterhole.we was all (donít tell alberts)!
Comments by Albert., 6th December 2017
I remember one winter's night it had started to snow, and some villain, or villains' had done a smash and grab at the jeweller's, on the opposite corner to the Market Hotel. It would be 1960. An astute Wigan Borough police officer followed their footprints that were imprinted in the fresh snow, and arrested them, quite away from the scene. I believe the officer was Bill Cox.
Comments by Gemma Heald, 31st December 2017
My nan worked here in the 70s when Mrs Brown was the landlady.Everyone loved my nan. {Mavis}
Comments by RON HUNT, 31st December 2017
Gemma, wrong pub this is the MARKET HOTEL. Mrs. Brown was landlady at the PARK HOTEL