| | | |
| --- | --- | --- |
| Wallgate | | Views: 1395 |
| AIREY'S CHEMIST Late 1800's | | Comments: 10 |
| Photo: RON HUNT Item #: 29871 | | |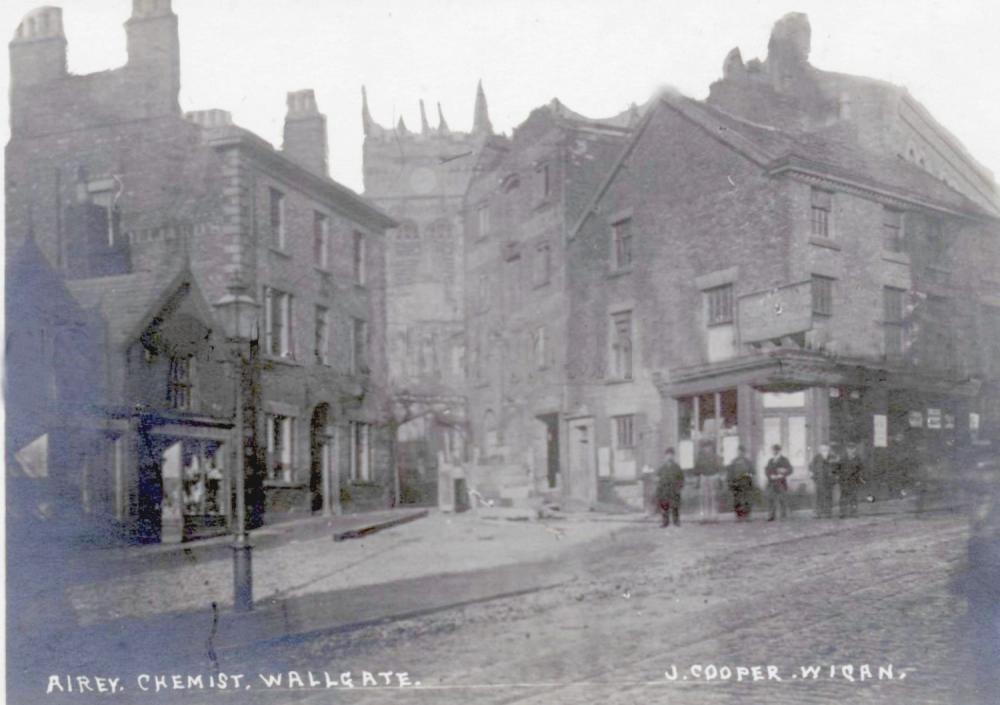 | | | |
| --- | --- | --- |
| | Image scaled down from 1000px to 705px wide | Click here, or click the photo to view original |
| | | |
| --- | --- | --- |
| | One of the first photographs of Wallgate Wigan taken by J.Cooper | |
Comments by Owd viewer, 11th November 2017
I've seen some old photos of Wigan but this must be one of the best.
Comments by Albert, 12th November 2017
Where the group of men are stood, was that corner building The Dog and Partridge, in later years?. I recollect the General Post Office being further down to left, and out of the picture. Is the post office still there?.
Comments by Veronica, 12th November 2017
I know the pub is still the original building but the other buildings on the right were they pulled down and rebuilt or restored?
Comments by Mick, 12th November 2017
Albert - the Dog and Partridge is the building between the lamp post and the church tower.
This photo could be very early indeed. The photographer J. Cooper was already established in Wigan in 1869. He was also landlord of the Royal Oak in Standishgate.
Comments by Stuart Naylor, 12th November 2017
This photo is a 'double exposure' there is another photograph mixed in with it.
Comments by JJP, 12th November 2017
I remember 'Ashton's Retail and Wholesale Tobacconist' had a shop just to the right of where the men are standing then just beyond was where the Bobby on point duty stood at the Market Place - Library Street junction.
Comments by MikeW, 12th November 2017
The building top right, it seems higher than the church. This can't be an undoctored photo
Comments by tuddy, 12th November 2017
Albert, Yes, the general post office is still there.
Comments by irene roberts, 12th November 2017
Albert, The Dog and Partridge was, and still is, the building to the left of the church. It has since been The Bee's Knees and Last Orders, but common sense prevailed and it is now back to The Dog and Partridge. The Post Office is still where you remember it. This scene has almost never altered in Wigan's history and may that remain.
Comments by Keith, 12th November 2017
If you look at Google maps the height of the building (top right in this photo at the very back) appears "taller" than or at least as "tall" as the Parish Church. This building is still there, its called the Moot Hall Chambers, and was built in 1884, so this is by no means Wigan's earliest photo.
The Wigan Town Trail informs us that "......it has French Renaissance style with oriel windows of a later and rich Baroque flavour windows. These elegantly curved windows ....... etc., etc.," Architects Issitt and Verity.