| | | |
| --- | --- | --- |
| Standish | | Views: 917 |
| The original Boer War Memorial in St Wilfrid's | | Comments: 2 |
| Photo: Rev David Long Item #: 29850 | | |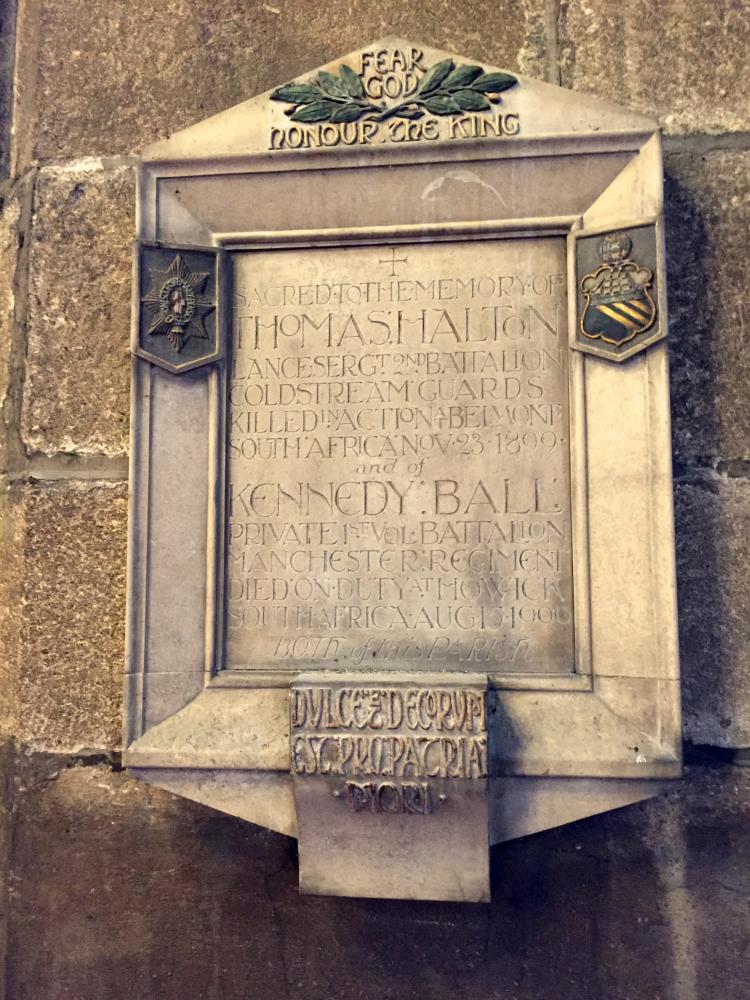 Memorial to Lance Sergeant Thomas Halton and Private Kennedy Ball, who died in the Boer War.
Despite thinking I knew all the various Memorials and Plaques around St Wilfrid's, I was surprised to learn yesterday that I'd missed this one!
It sits on the back of the pillar where the nave and the chancel meet, facing the South side aisle - just outside the entrance to the Standish Chapel.
There is a better known, more easily seen, Boer War Memorial in St Wilfrid's - a large engraved brass plate, on the West wall, under the spire. This bears the names of eleven men who went off to the war - and notes the deaths of Ball and Halton. It was originally in the offices of Standish with Langtree UDC, and was removed to St Wilfrid's when Standish was absorbed into the Wigan Metro Council in 1974.
This Memorial has clearly been in St Wilfrid's since soon after the Boer War ended in 1902. It is very ornate, complete with the badges of the men's Regiments - the Coldstream Guards on the left, and the Manchester Regiment on the right. The 1st Volunteer Regiment subsequently became the 1st/5th Battalion.
L/Sgt Halton's death is also recorded on a family grave in St Wilfrid's churchyard.
Comments by Wilfred Owen, 2nd November 2017
Inscribed at the bottom of the plaque:-
The old Lie; Dulce et Decorum est Pro patria mori.
Comments by Poet, 3rd November 2017
A truth perhaps too difficult to deal with.