| | | |
| --- | --- | --- |
| Ashton | | Views: 1245 |
| Low Bank road Ashton. | | Comments: 12 |
| Photo: . Ozymandias . Item #: 29777 | | |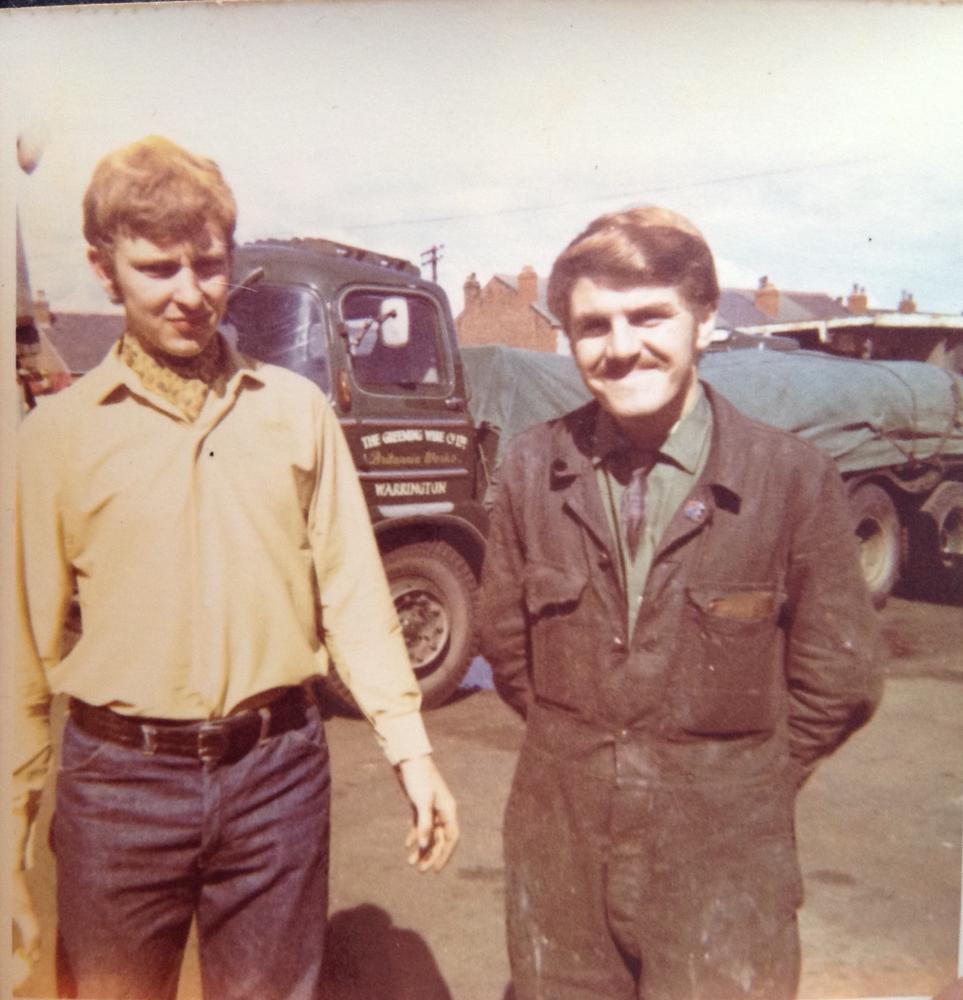 | | | |
| --- | --- | --- |
| | Image scaled down from 963px to 1000px wide | Click here, or click the photo to view original |
The year would have been 1970 or thereabouts, the location being the premises of J.W.Ratcliffe & Sons on Low Bank road Ashton.
The houses are located on Low Bank road. The characters in view being Trevor Ratcliffe, on the left, and Robert Brooke Grundy to the right. It all seems now, as though it were just almost fifty years ago.
Comments by irene roberts, 12th October 2017
It may be many years ago but our friend Robert never looks any different to us! I have known him from 1974 and Peter has known him even longer. Great photo, Ozy.
Comments by pat, 12th October 2017
Is that Robert who has a place on Liverpool road?
Comments by whups, 12th October 2017
a mate of mine used to drive for them.
Comments by . Ozymandias ., 12th October 2017
Your mate wouldn't have been ' Clogs ' would it whups?, Tony worked there the same time as I did in about 1970. Colin Lodge did a spell there as well, but that was a few years later.
Comments by Rev David Long, 12th October 2017

The lorry carries the name of Greenings, of Britannia Works, Warrington - that was on the edge of my parish - St Barnabas, Bank Quay. They were one of a number of wire works in the town - all gone now. Fans of steam might like this related pic: http://warrington.photomag.co.uk/greenings-2/
Comments by whups, 13th October 2017
yes it is ozzy . do you know him.
Comments by atlas, 15th October 2017
anyone remember George the fitter and jimmy grindley that worked there about 50 years ago
Comments by . Ozymandias ., 15th October 2017
I remember George atlas, his surname was Bryan. I worked with him for a number of years at Rac's. He was a damn good mechanic. In fact I went to the poor lad's funeral. Danny Towey worked there as a mechanic as well for quite some time before emigrating to Canada. Sometime in the mid 70's if I'm not mistaken. Danny appears in some photos on the Skitters Wood thread, as well as in one on the Wiganers on holiday thread. I also remember a lad called Jimmy Grindley, if it's the same bloke. The Jimmy that I knew lived opposite the Caledonian hotel in Bolton road, but I don't remember him working at Rac's to be honest. It could have been either before after my time though. I worked there on and off for a number of years, starting from around 1970 until about 1980.
Comments by Billy gough, 19th October 2017
Jimmy grandly worked there with Joe hockey then he came to Lyons scrap yard with me-
Comments by . Ozymandias ., 19th October 2017
I remember Joe working there Billy, he used to drive the wrecker amongst other things, but it was just before my time there. Ted Lindsay and Jackie Fairhurst were on the yard when I started. You may remember those two. Jackie died quite recently I believe.
Comments by Robert, 12th December 2017
The guy in the yellow shirt looks a lot like the actor John Simm.
Comments by James, 12th December 2017
The man in the yellow shirt is indeed the spittimg image of John Simm (who played Detective Inspector Sam Tyler) in the BBC TV time travel cop drama 'Life On Mars' that was set in the 1970s......he looks even more so with a 70s haircut.
They say that everyone has a doppleganger/double don't they?