| | | |
| --- | --- | --- |
| railways | | Views: 987 |
| Wigan to London train fare poster 1967 | | Comments: 8 |
| Photo: Chris Heaven Item #: 29767 | | |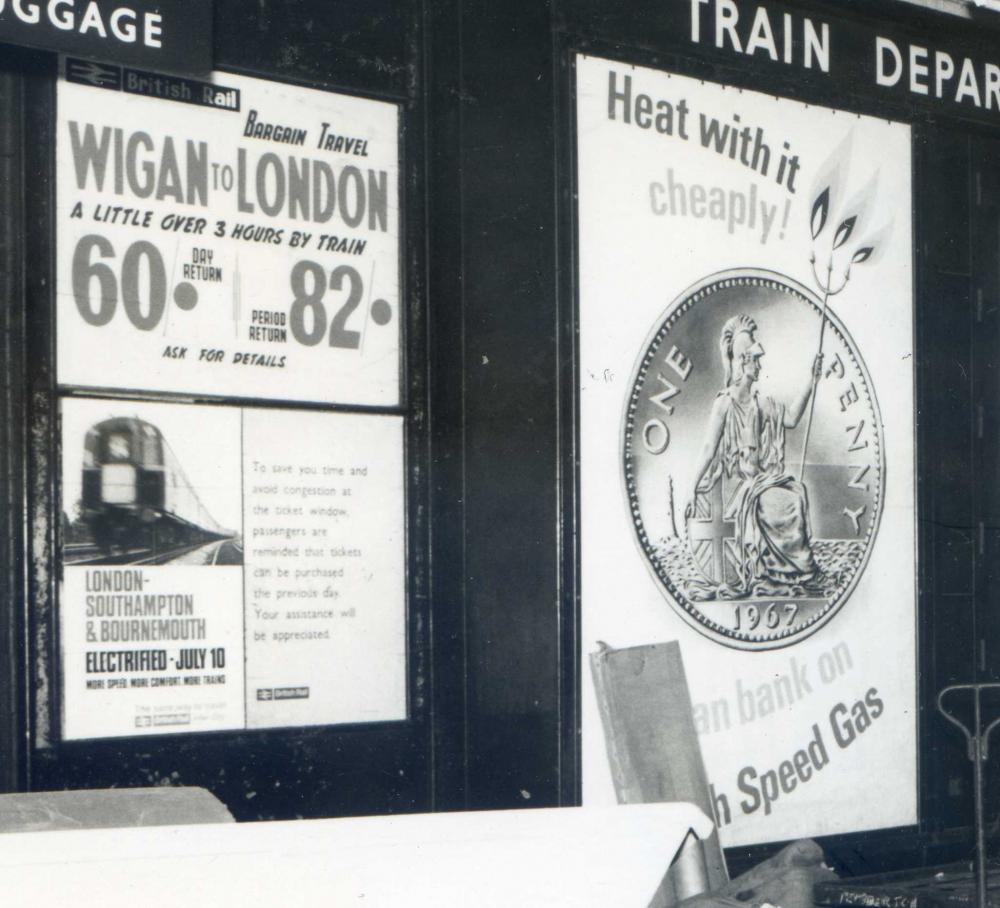 | | | |
| --- | --- | --- |
| | Image scaled down from 1000px to 908px wide | Click here, or click the photo to view original |
| | | |
| --- | --- | --- |
| | I have cropped this image from a larger scene of a station pedestrian underpass. Rail journey time to London "a little over 3 hours". Now it is down to 2 hours - but it costs a good bit more! The year is 1967. The poster refers to the London to Bournemouth railway electrification opening and that was in that year, and the adjacent poster advertising the new High Speed (natural) Gas shows an old penny dated 1967. | |
Comments by Phil, 7th October 2017
Taking inflation into account you can actually get a return to London for less today than in 1967. For reference 60/ would be just over £50 today and 82/ would be just over £70.
Comments by A.W., 7th October 2017
There used to be a ticket called a "London Saver" that was available in the 80's, you could go to London from Wigan for £11 from Friday and return on Monday morning or before that if you wished. Did it several times in the 80's, really good for a long weekend.
Comments by Poet, 7th October 2017
Remember that well AW. There was the seediest 'hotel' imaginable near Euston called Ken's. B&B a tenner.Wild years eh!
Comments by Albert., 7th October 2017
In 1958/60 you could get a return ticket, 3s/6d, on an excursion train, to Blackpool, and the ticket also gave you admission to the Tower Ballroom. The return train was known as the passion wagon. Happy days.
Comments by A.W., 8th October 2017
Poet, I remember a similar hotel near Kings Cross and God only knows what was going on the next room! I could hear at least 5 different voices, sounded like they were doing acrobatics, lol.
Comments by Albert., 14th October 2017
In the mid fifties, when retuning to Germany. On reaching Liverpool Street Station, London, and whilst awaiting the troop train to Harwich, always had a couple of pints in Dirty Dick's, on Liverpool Street Station. All the girders were thick with dust, and cobwebs. Apparently it is still there, to have a pint, or two, in.
Comments by Linda Massa, 15th October 2017
Albert- the Blackpool Belle was a getaway train 🚂 that went from northern stations and goes on to say 'and the passion wagon would steam back home'. One of the Houghton Weaver songs.
Comments by Albert., 15th October 2017
Linda. All I can say is this, that there were many a belle that travelled on it.