| | | |
| --- | --- | --- |
| Gathurst | | Views: 1704 |
| Gathurst Post Office | | Comments: 15 |
| Photo: RON HUNT Item #: 29160 | | |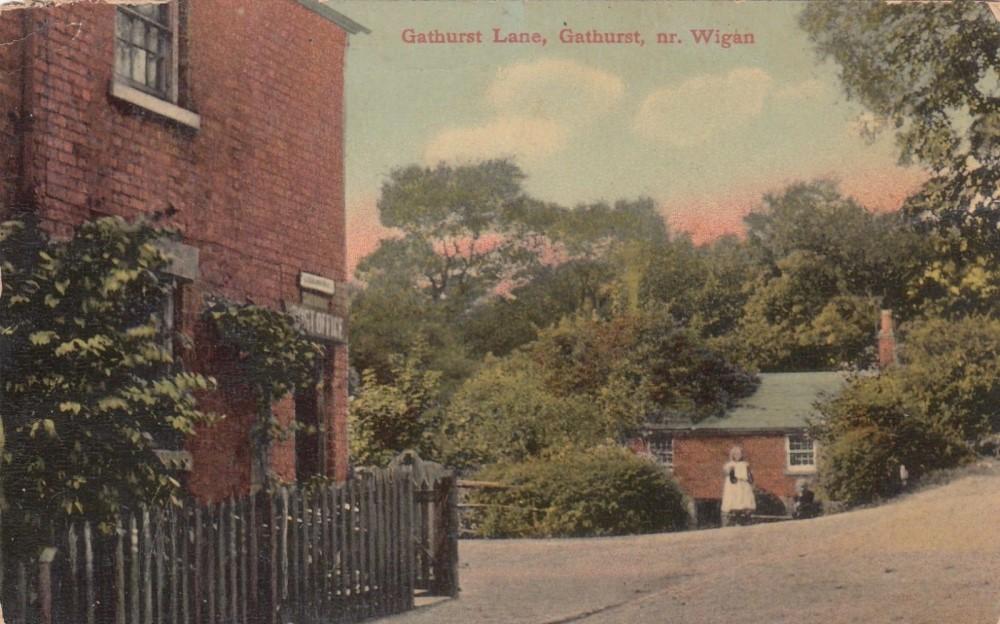 | | | |
| --- | --- | --- |
| | Image scaled down from 1000px to 624px wide | Click here, or click the photo to view original |
| | | |
| --- | --- | --- |
| | View of the Post Office in Gathurst Lane c. 1908 | |
Comments by Mick, 8th March 2017
I knew the woman who lived in cottage on the right and I knew the last post mistress who had the post office on the left
Comments by Henry7, 9th March 2017
Lovely picture of times gone by.
Comments by JB, 9th March 2017
Where abouts is this on Gathurst lane
Comments by Dave, 9th March 2017
Just over canal bridge on the left if you were coming down Gathurst hill, now a big new bungalow.
Comments by Jack Flash, 9th March 2017
JB its by the hump back bridge over the canal on the left hand side as you head towards Shevington center.
Comments by Mick, 9th March 2017
The farm track on the left used to lead up to the farm and the old Gathurst golf club, before the M6 came then the golf club was moved to Miles lane
Comments by MikeW, 9th March 2017
Gauge recollections of the building, pulled down early 70s if I recall
Comments by Gordon, 10th March 2017
Can remember before this row were demolished, one of the buildings had some old fashioned oil lamps on display for sale in a shop window and seeing smoke from chimney of bungalow in the mid 70's
Comments by Wigwann, 12th March 2017
My mum said she stayed in a farm cottage, Milk house Cottage either during or just before the last war, Would this be near it?
Comments by Mick, 12th March 2017
Wigwann - Milk House Cottage was at the bottom end of Dean Wood, about twenty minutes walk away.
If you went into the wood from the Gathurst end, the cottage was at the top of the embankment on the Roby Mill side of the wood.
The cottage's foundations can still be found in the undergrowth, and there are (or were a few years ago) a couple of old apple trees in what was the cottage garden.
I understand it burned down, fifty or sixty years ago.
Comments by Helen of Troy, 12th March 2017
Gathurst must have been very rural. In photos of people I posted 2 pics taken in Gathusrt when my mother was about 12 yrs old. Interesting to see this colour print.
Comments by Wigwann, 12th March 2017
Many thanks Mick for the info, Mum said it was like being in the country,a pleasant change from Platt Bridge!
Comments by Rev David Long, 13th March 2017

For those who haven't already found them - here's the link to a set of slides I sent to WW some years ago, mainly of the very rural Gathurst/Apppley Bridge area at the turn of the 19th century:
http://www.wiganworld.co.uk/oldgallery/matthew.php
Comments by carolyne Simpson, 25th February 2018

My Grandad Albert Halsall his parents and siblings lived in Milk House Cottage at Gathurst when he was growing up in the late 1920's. My aunty Freda was born in 'Milk House Cottage' in 1934. My Grandad said there used to b a tamed Monkey that lived in the trees. My Great Grandma planted a White Rose Bush in the garden. My mu remembers when she was a little girl the Bluebells were beautiful in the woods. My Grandparents and parents went to have a look back over 25 years ago said it was well overgrown. She took a cutting from the rosebush but never grew in her garden because the soil had different nutrients. Memories last a life time. ♥♥♥
Comments by carolyne Simpson, 25th February 2018

This is my email address. Ive just posted a comment about the Halsall family living at Milk House Cottage during the late 1920s-30s