| | | |
| --- | --- | --- |
| Market Place, Wigan | | Views: 3541 |
| Market Place Late 40's Early 50's | | Comments: 38 |
| Photo: RON HUNT Item #: 29147 | | |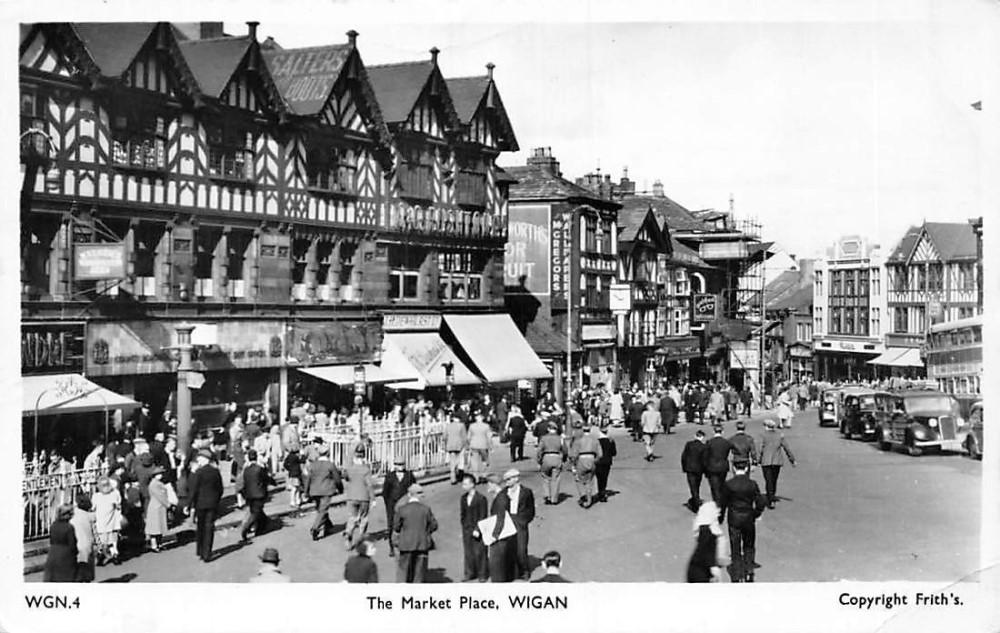 | | | |
| --- | --- | --- |
| | Image scaled down from 1000px to 633px wide | Click here, or click the photo to view original |
| | | |
| --- | --- | --- |
| | A Frith postcard showing a view of the Market Place What a vibrant town Wigan was then. Successive Councils have ruined the town. Bring back the Underground toilets I'm sure that they would be self financing. I remember them having a full time attendant in the Male and Female toilets and they were always clean. | |
Comments by Garry, 3rd March 2017
Brilliant Ron, a proper Wigan Town as I use to know it, Forget the Gallery and Grand arcade shopping centre, this is/was the real place to shop. The Town is bursting with shoppers and business was great...please turn the clock back.
Comments by gideonfel, 3rd March 2017
What a fantastic photo! This is the Wigan I remember from my childhood. It was always a great place to go. I even enjoyed shopping with my mum on Saturday afternoons! And look - not a fake beggar or clipboard warrior in sight!
Comments by Albert., 3rd March 2017
At that time, my mates', their dad, was the attendant at the underground gents' toilet, shown to the left of the photograph. Someone may remember him, he had a peg leg.
Comments by A.W., 3rd March 2017
Wigan had a bit of character in those days, The old Commercial yard and old arcade, sadly missed!
Comments by Maureen, 3rd March 2017
Oh what memories of how Wigan used to look,I could get very sad looking at this..Wigan then had a heart ,now it's rather souless..as for the toilets..why oh why did they have to close them,surely any mis-goings on could have solved simply by locking them at night..or was there a more important issue?..but as for the heart of the town,in my books it has simply disappeared..
Comments by Helen of Troy, 3rd March 2017
Have to agree with everybodys comments. I can remember Wigan looking like this. What a wealth of Lancashire black & white buildings & a thriving town centre, giving a place what is called character. Ah well,at least some of us knew it like this.
Comments by Howard P, 3rd March 2017
I feel like crying!!
Comments by Albert., 3rd March 2017
Wigan Corporation bus offices were facing those toilets. I believe you can just make out a bus inspector. One day I recollect a very new constable being on the Market Place, and the duty inspector was knocking his stick, for the constable's attention, to no avail. The inspector had to go to him. The constable's excuse. (Instead of keeping his mouth shut) blurted out. "I thought you were a bus inspector." Not a very happy police inspector. I had a couple of good friends, Wigan bus inspectors'
Comments by Albert., 3rd March 2017
Are the two in the centre, military lads, in the company of a sailor?.
Comments by irene roberts, 3rd March 2017
The Wigan of my childhood. I can still hear in my mind the clang of the very heavy toilet doors in the underground toilets. My husband Peter worked in Commercial Yard as a young lad. A fantastic photo. Thanks, Ron.
Comments by Ste Wigan, 3rd March 2017
Great picture! Well before I was born!
Was the photo taken on a particular significant day? The vast majority of people in the photo seem to be walking in the same direction...away from the camera
Comments by Veronica B, 3rd March 2017
Just how I remember Wigan in its hey-day, heaving with crowds and side stepping each other! During the sixties and well into the seventies this happened. Wonderful picture to bring back memories of the Wigan we all loved.
Comments by Stuart, 3rd March 2017
Ste Wigan: I think the reason the majority of the people were walking away from the camera was because they're going to the match at Central Park.
Comments by Maurice, 3rd March 2017
The good old days,there must be something special going one,it's very busy,and a lot of cars keeping the Bobby busy.
Comments by WILLY WACKUM, 3rd March 2017
10 mins. to 2 on the clock, so as suggested looks like they are all heading to Central Park and not a replica Rugby shirt in sight...
Comments by Dave, 3rd March 2017
No supermarkets or retail parks then so much better.
Comments by Peter, 3rd March 2017
I remember looking in the bus office seeing the conductors counting the bus money the hands were blackened from the copper coins.
Comments by Ste Wigan, 3rd March 2017
Stuart: Thanks for that
Comments by Ellen, 3rd March 2017
"Thanks for the memories"
Comments by Veronica B, 3rd March 2017
It was still very crowded around Wigan even if there was no rugby match on -always on a Saturday anyway. It's hard to imagine now but that is how it was.
Comments by Linda Massa, 4th March 2017
I make no apologies for repeating myself:-
This is the land of lost content, I see it shining plain, the happy highways where I went and cannot come again.
Comments by Albert heaton, 4th March 2017
Linda ,those are lovely words,but unfortunately as my grandfather use to say when I was boy in the 1950s remember change is always waiting,sadly
Comments by John Walsh's Mate, 4th March 2017

Maybe the answer is to abolish the metropolitan borough and let Wigan try to support itself instead of it being supported by the rest of the towns in the same borough. It looks as though it was successful back in the day.
Comments by sylvia dolan/nee simm, 4th March 2017

What have theses so called councillors done to Wigan? They should be ashamed! I remember as a child and young adult, it being a busy thriving town, with long established family businesses.The greedy council, now driving them out with extortionate rents and high parking charges, make it difficult for traders to make an honest living. save our town councillors, you all get paid enough! I could weep when i go in Wigan market hall, so sad.
Comments by baker, 4th March 2017
sylvia
making mistakes like the labour controlled council have made is an embarrassment to far,sadly for wigan there is no comeback.unless radical changes are made the town centre is dead in the water.
though they are extending the grand arcade ,who can afford the rent and business rates god only knows.
Comments by Broady, 4th March 2017
A great picture which brings back many memories. Do we also remember that most of those in the picture used a tin bath in front of the fire, most had no access to a car, foreign holidays were unknown. You cannot cherry pick what things you want to progress. Yes the redevelopment could have been handled better but town centre shopping is dead. People want to drive to out of town developments or they order on line. Is that better?? That is up to the individual choice. I read about the toilets. Times have changed. Can you imagine what would be happening down those steps on Friday and Saturday nights?? You would need more bouncers than the clubs in King Street. The halcyon days as portrayed in the picture have gone the way of the dodo.
Comments by Daisy, 5th March 2017
To see this picture it makes me smile , of how wigan used to be , there is nothing now for me in our town ,no character whatsoever , I now shop online , very very sad
Comments by Albert., 5th March 2017
Broady. In those days, New Springs, Leigh, West Houghton, etc. were places that seemed at the end of the earth, especially from Spring View. The only way to get anywhere was by bus. National Service did give a lot of lads, the chance to see other parts of England, and some, of the world.
Comments by Veronica B, 5th March 2017
We were still a "Nation of Shopkeepers" in the photo...what will the town be like in another 50 years. Will there be residential apartments for people instead of the stores? The shops are going 'bust' because people shop in 'Cyber Land'. It stands to reason if people don't use the town shops they will lose them. We started off losing the 'corner shop' and now in danger of losing all shops ...where will it all end????
Comments by Philip Cunliffe, 5th March 2017
Talking of Wigan's history / heritage. Can anyone tell me why the signage for entering Wigan and on council vans etc has become blue and green. I did e mail the council and was informed that a building that I think is on Millgate was given this new colour scheme and that future "signs" would follow suit. No reason was offered for the change. Why should anyone want to do this ?.......or even have the right to ?
Comments by Syd, 5th March 2017
The one thing in life that is guaranteed never to change, is that change is always guaranteed. A sad reality of life, for most of us!
Comments by DerekB, 5th March 2017
Broady, you have summed the situation up perfectly. There was a lot to be thankful for in the past and a lot to regret in the present but, overall, life for ordinary people is so much better in so many ways than at the time this photograph was taken.
Comments by WILLY WACKUM, 6th March 2017
derek Yes in some ways life is better now but then People on the whole were a lot happier. Everyone had a house to live in everyone who wanted to work was in work. People felt a lot safer as there was a Bobby on most corners. The old people were treated with respect. In fact most people respected themselves, family, and other people. We now have more material things but are we happier?
Comments by Albert., 7th March 2017
Looking at the line of cars, it would seem the bobby on point would have his left arm outstretched, and directing traffic into Library Street. Happy days.
Comments by DerekB, 7th March 2017
Willie Wackum, respect and totally agree with some aspects of what you are saying. I think that most of the people commenting on past life are, like myself, of a certain age and would be children at the time of this photo. They would remember these times through the eyes of a child when, for most kids, life was secure and presented no worries, while the same could not be said for most ordinary adults, working long hours for low pay. Are we happier now than most adults were then? Hard to say - pluses and minuses.
Comments by Broady, 7th March 2017
I don't think it is as clear cut as Willy describes it. I was only a child but I am sure there was a lot of poverty around. I agree with what you say about respect etc. but I think it is the "free thinkers" that caused a lot of problems. No discipline in schools for a starter and now no discipline in the home because children cannot be checked with a clip round the ear even. Teaching methods changed so much that lots can't even spell or even know what times tables are. As I said progress comes with faults also. I don't know which were the best times. I think I was lucky to have been brought up and educated in the 50's/60's but I am also happy that I can travel much more widely that my Parents and have more luxuries in the home.
Comments by Julie, 7th March 2017
Wonderful thread, thank you! Especially enjoyed the comments of WW, .
Db and Broady.
Comments by eddie rowland, 17th March 2017
Com,on poeple send some photographs in wigan world is drying up.