| | | |
| --- | --- | --- |
| Wallgate | | Views: 1070 |
| Harry's Bar | | Comments: 8 |
| Photo: DTease Item #: 31356 | | |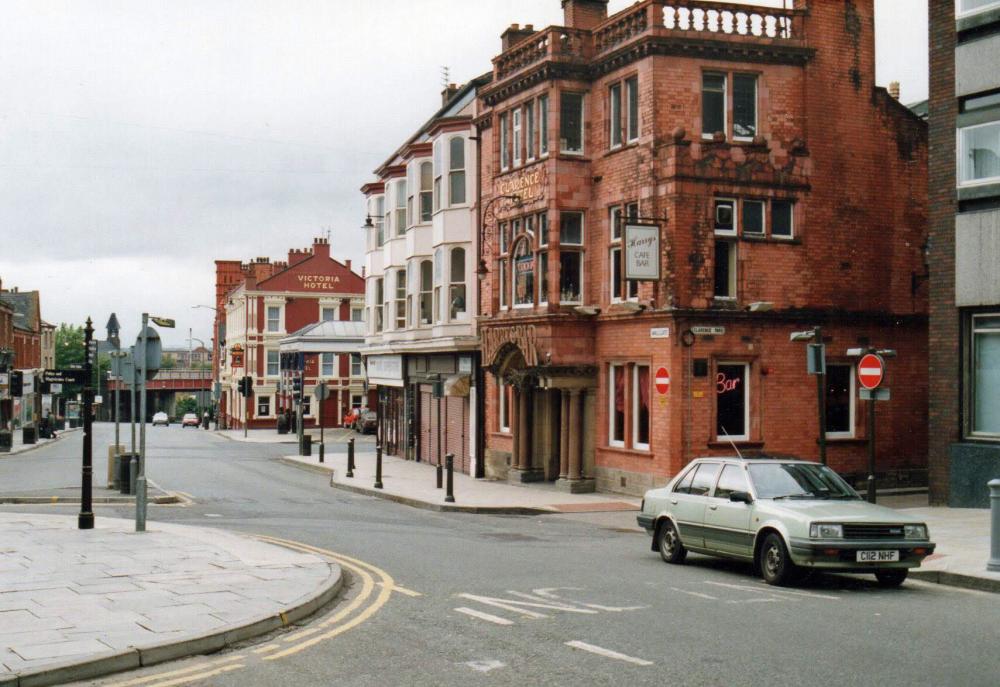 | | | |
| --- | --- | --- |
| | Image scaled down from 1000px to 687px wide | Click here, or click the photo to view original |
The former Clarence Hotel, re-named Harry's Bar.

In Wigan Town did Kubla Khan
A stately pleasure-dome decree:
Where Giro, the sacred river ran
Through the fingers of feckless man
To pay for an endless spree.

With apologies to Mr Coleridge.

I like the 'No Entry' sign stuck on the Pub wall.
Abandon hope all ye who enter here!

Comments by Alan, 20th July 2019
Apart from that car, it could have been taken yesterday. more old photos please.
Comments by Albert., 20th July 2019
I have been told, many years ago, that my great grandfather was once the licensee of the Victoria, middle to the late eighteen hundreds. How true it is, I do not know. His surname was Green.. Many a hour I had positioned myself, in front of the Clarence, directing traffic out of King Street, and also in a north, and south direction. Before the M6 was opened.
Comments by Veronica, 20th July 2019
Who was Harry - he seemed to own a lot of bars all over the place? He's probably 'gone under' by now!
Comments by Janet ( jouell ), 20th July 2019
A relative of mine runs that pub now..
Comments by Broady, 20th July 2019
Used to leave there and cross the road to the Stable Bar. Everyone scrambled to get their round in one of those two bars because the next stop was the Beer Kellar and you didn't want to get your round in there.
Comments by DTease, 20th July 2019
Come on Alan! Hurry up, we're all looking forward to having a dig at YOUR contribution.
Comments by Mr X, 20th July 2019
The mid 1980s Nissan Sunny car indicates that this photograph was probably taken in the 1990s on a quiet day with no people present. I don't know the year when two way traffic between King Street and Library Street finished but was after 1988 when the new bus station opened. Note the tower and bell of St Joseph's RC church in the distance that closed in 1995.
Comments by Johnny, 31st July 2019
The original Harry's Bar is in Venice where the Bellini cock-tail was invented. That's Prosecco and peach juice. Very popular with the ladies !