| | | |
| --- | --- | --- |
| Wallgate | | Views: 1815 |
| Seal-Houghton grocers shop Wallgate | | Comments: 23 |
| Photo: Linda Houghton Item #: 30904 | | |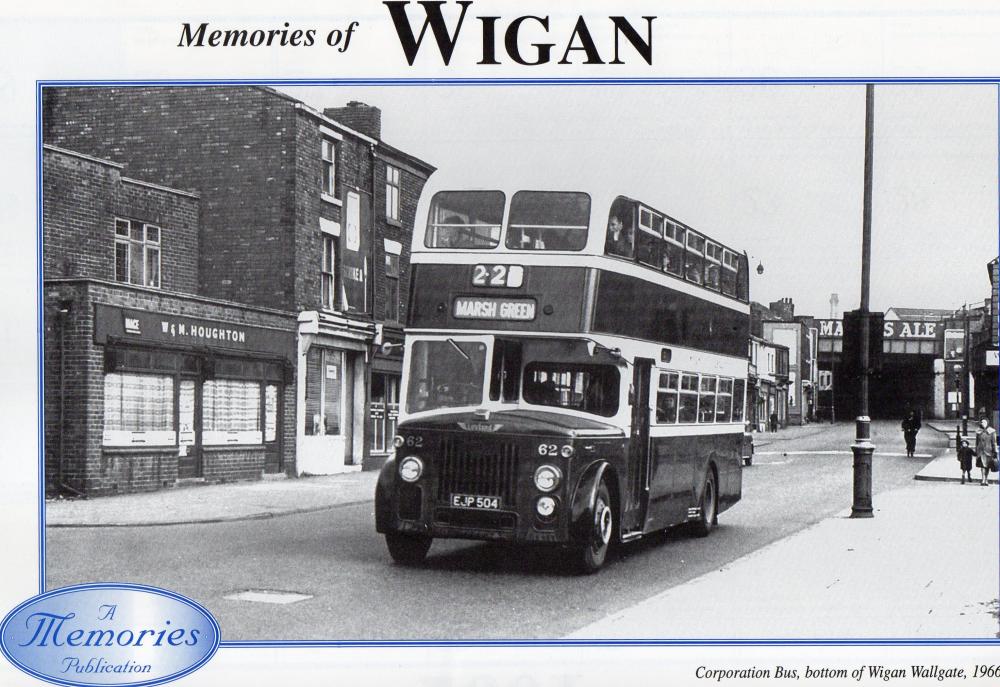 | | | |
| --- | --- | --- |
| | Image scaled down from 1000px to 687px wide | Click here, or click the photo to view original |
Comments by Garry, 17th January 2019
Beautiful Wallgate how I remember it..a proper Wigan.
They've made a mess of the road next to the bridge going to Queen Street.
Comments by Maureen, 17th January 2019
Yes lovely Wallgate,I was brought up there and knew every shop..the community was brilliant,and my memories will keep me going for the rest of my lifetime...years after I'd left got married and children I met the policeman that used to take us across the road at the bottom of Caroline Street when we'd finished School..he told me that he'd been all over the country in the course of his work,and that he'd never known as many characters as he'd known in Wallgate...but I also know that Ince and Scholes had a brilliant community as well..salt of the earth they all were.
Comments by Jarvo, 18th January 2019
...And don't forget Pemberton, Maureen.
Comments by Maureen, 18th January 2019
Of course Jarvo,where you've been brought up will always have your own precious childhood memories. and be your favourite community.
Comments by Alan, 18th January 2019
OH yay Jarvo, the Pemberton loop line.
Comments by Jarvo, 18th January 2019
Yes, Alan, the famous Pemberton Loop. We used to watch the trains from Little Lane Park. Happy days.
Comments by From Where, 18th January 2019
A bus and below

A coward I was , I ran away ,
Away from the bully , I could not stay .
Trapped in fear I ran from school , up to the top deck
was always my rule .
Only then would my breathing calm , my bodies defences ease to disarm ,
leaving behind my terrified fear as the bully came close or pass by near .
But on the bus as i sat alone , I felt relief not the hand of stone , I felt I was free , well at least for one day , and soon I would see the fields where skylark and kestrels play .
suddenly I see them and my fear is gone , my bus took me to heaven and maybe someday I will tell someone ...
Comments by Irene Roberts, 19th January 2019

Maureen, Peter says can you recall the name of the shop that sold religious items, mainly Catholic, such as statuettes, crosses etc., please?
Comments by Albert., 19th January 2019
I donít believe there are many ndependent breweries left. I believe Mageeís has long since gone?. Advert on the bridge.
Comments by Maureen, 19th January 2019
Irene..it was Lathams,all of us girls would go there for rosary beads and prayer books..I still love rosary beads,there's something about them,and the ones that Lathams sold were a lovely pink or blue.I still have my Grandmas beads,they're hanging in the car,she brought them over from Ireland so God knows how old they are now...it's a pity there are no shops like that anymore...also Irene,you can tell Peter that some people called the shop ' Barlows' ,but I don't know why.
Comments by WN1 Standisher, 19th January 2019
Is that the Grapes pub behind the bus driver ?
Comments by tom, 19th January 2019
is that a chimmney over on the left side of the bridge
Comments by Garry, 19th January 2019
Magee ales was taken over in 1970 by Greenall Whitley.
Comments by irene roberts, 19th January 2019
Thanks, Maureen. xxxxx
Comments by cindy, 19th January 2019
Didn't there used to be a cinema near here.
Comments by RON HUNT, 19th January 2019
Cindy yes there was a Cinema It was called the WALLGATE CINEMA there is a photograph of it on the site
Comments by Kenee, 19th January 2019
It's funny what Albert says about there not being many independent breweries. There is one now in the exact location of this photograph.
Comments by Mr X, 19th January 2019
This photograph in Wallgate was taken in 1966. I remember the Magees Ales advertisement on the railway bridge that was there until the mid 1980s. In 1966 the oldest Wigan Corporation buses still in use were the last survivors of the 75 1946/7 lowbridge Leyland PD1s JP5500-5537 6000-6036. All double deckers were full height PD2s from 1950 with JP8300-8329, and AEK501-512 in 1953 bodied by Leyland.From 1956 bodied by Massey and Northern Counties with CEK837-841, DEK105-113, DJP751-759, switching to front entrance in 1959 with longer PD3s, EJP501-510, GJP8-19, HEK705-707, HJP1-11, then shorter PD2s from 1962, JJP502-509, KEK739-750, AEK1-10B, and yet to be delivered DEK2-3D, DEK4-7E, FEK1-9F, before rear engine Atlanteans FJP566G, GJP2-10G, KJP20-31J, NEK1-10K.
Comments by LH, 22nd January 2019
There was a cinema close by until it was used by M&S called Margaret Works a distribution for M&S and a sewing factory I believe.
Comments by Gerry, 24th January 2019
Anyone remember Ronnie heyes chippy? Young Ronnie heys was the manager of peter pells married a girl named Margaret who worked in makinson arcade
Comments by John Brown, 25th January 2019
Seal ?
Comments by Josh, 17th February 2019
Hi Gerry, no idea if this is related to your story but in 1955 a Ronald Heyes married a Margaret M Gardiner at Horwich.
Comments by Barrie, 7th July 2019
The bus in the photo, I caught for the 1st time on the Wigan- Standish route as new on 15th September 1959 from school. That is what my diary for the day says. It was also interesting when a new Wigan "Corpie"bus was put on that route.The trouble with the front opening doors was one had to wait for the bus to stop before getting off not like the rear open platform ones.