| | | |
| --- | --- | --- |
| Station Road | | Views: 2099 |
| Station road, year unknown. | | Comments: 31 |
| Photo: . Ozymandias . Item #: 30522 | | |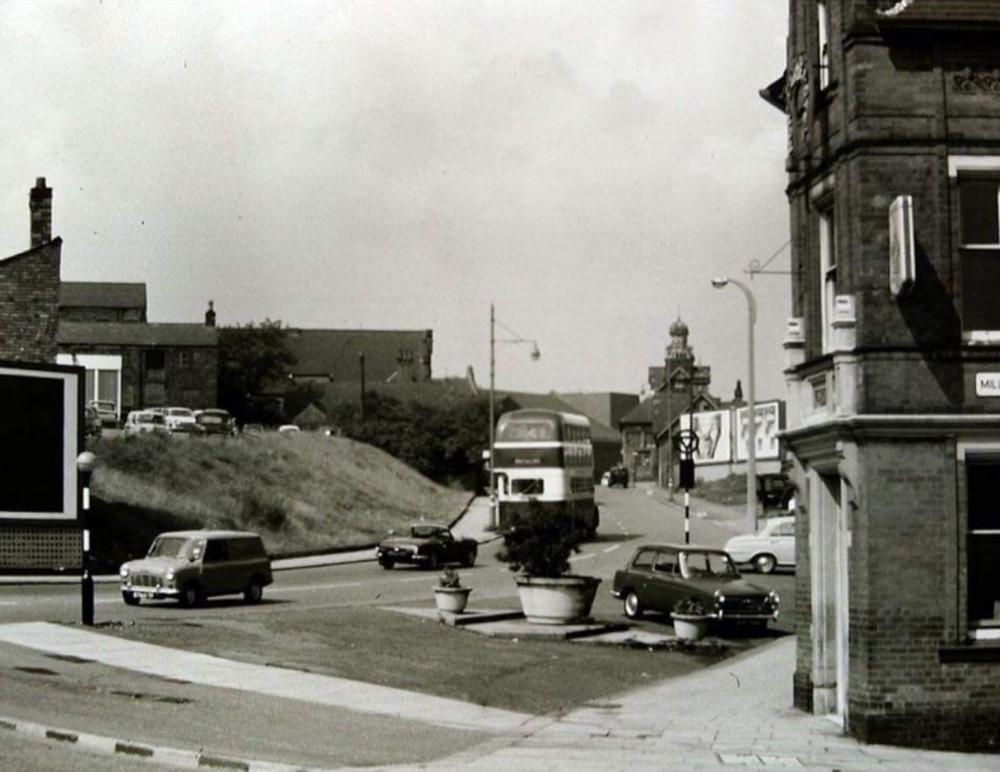 | | | |
| --- | --- | --- |
| | Image scaled down from 1000px to 772px wide | Click here, or click the photo to view original |
| | | |
| --- | --- | --- |
| | This is another photograph that was emailed to me. I have no idea who took the picture, but it certainly isn't one that I can take credit for. It may already feature somewhere on this site, but despite my best efforts, if it does, then I haven't been able to find it. It could quite well prove to be another one of Tom Sutch's for all I know, but either way, here it is. | |
Comments by Mr X, 16th May 2018
This is Station road some time in the 1960s. The pub on the right is the Horseshoe, built in 1891 and demolished in 1985 to make way for the new ring road. The multistorey car has not been built, and there is a Mini van and an Austin A40 whose registration numbers can't be seen, and a rear entrance Wigan Corporation bus. Corporation double deckers switched to front entrance from 1959.
Comments by Thomas(Tom)Walsh., 17th May 2018
Central Station in the background, very ornate building, further along was George Makinsons Showrooms.
Comments by Alan, 17th May 2018
This is a copy of Brian Laithwaite collection of Station road photos, it is on this site in item number 25259. Please be careful of copyright acts.
Comments by irene roberts, 17th May 2018
Was the Powell Children's Library just past the pub? I used to go every Saturday morning but can never get my bearings when looking at old photos of this area.
Comments by GW., 17th May 2018
Nice motor chasing the bus. Triumph Spitfire??
Comments by Alan, 17th May 2018
irene yes it was, to the right of the pub was the Museum.
Comments by Veronica, 17th May 2018
I remember when most of the buses stopped on the other side and before the extended pavement was installed. The children's library was just a little further on Irene with a couple of shops and 'backs' in between.
Comments by Angela, 17th May 2018
Corporation read door double deckers were still running in the mid to late 60's.
Comments by Veronica, 17th May 2018
Does anybody remember if ever there was buildings on the grassy slope at one time pre 1950s?
Comments by Jarvo, 17th May 2018
Isn't that Derek Bramhal in his Lotus Elan? I'd say 1969.
Comments by Ken R, 17th May 2018
The grassy mound was the old swimming baths. Or it could have been from where JF Kennedy got shot???
Comments by DerekB, 17th May 2018
It is 1962 or post 62. The white car whose rear end is showing behind the Austin A40 parked nose in, is a Vauxhall Victor MK 3?. A completely new body shape from previous models and introduced in 1962.
Comments by Veronica, 17th May 2018
I think you have lost your bearings Ken - the Old Baths were on Millgate to the left of the photo. I don't recall any buildings on the grassy mound - but that doesn't mean there wasn't any.
Comments by tom, 17th May 2018
the old bath springs pub was jus in millgate ,could be the rear part of the pub top of the grass verge.
Comments by Jarvo, 17th May 2018
Look closely and you'll notice Central station is boarded up. The summer of 1970...it's got to be.
Comments by Alan, 17th May 2018
Your right Veronica, but this is Millgate.
Comments by Veronica, 17th May 2018
You're probably right Tom the pub would have been sideways on.
Comments by baker, 18th May 2018
the station shut in november 1964
Comments by Cyril, 18th May 2018
Wasn't there a brewery along there at one time.
Comments by DerekB, 18th May 2018
The building in view behind the cars parked on top of the grass mound is probably the side elevation of Penningtons furniture shop.
Comments by Philip Cunliffe, 18th May 2018
At the bottom of Millgate I can remember going in a car showroom that was run by Trevor Lake. He had the Challenge Cup on display in the window ;it was 1965
Comments by Norman Cunliffe, 18th May 2018

Cyril, the brewery you refer to was Moorfield's brewery but it was at the top of Millgate.
Comments by Ken R, 18th May 2018
Anyone remember the young daring men standing on the bus platform as it swung around the Horseshoe Pub, I think the driver tried to go as fast as he dared,(I think he loved the game as we did.) we timed our leap and run and ended up near a Tobacconists at the bottom of Millgate. Some guys did not fare well and finished with holes in their pants knees and sundry scrapes and bruises. Saturday Night revelry.
Comments by Carolaen, 18th May 2018
Phillip - the motor garage was actually called Rugby Motors and was owned as you say Trevor lake and at least one other Wigan RL player - Harry Major ? possibly but I am only certain of Trevor Lake.

We used to see the business when queuing to go into the old baths - of which I do not have fond memories as I nearly drowned there on my first visit with the Primary school when I was 8. I had soap in my eyes from the showers and could not see. I told one of the instructors and he said "well you will in a minute" and shoved me in and I had to be rescued from the bottom. Even though I learned to swim eventually, to this day I don't swim very well as I cannot put my face in the water. Its all very well to talk about the good old days but there was a lot a casual ill treatment of kids along with the good.
Comments by TonyG, 18th May 2018
About 1963. New lamp standards erected at time of Douglas House being erected
Comments by Philip Cunliffe, 18th May 2018
Carolaen . I think his partner was John Winton. The show rooms would have been somewhere facing the baths on the opposite side.
Comments by JMW, 19th May 2018
Could the other rugby player have been John Winton?
Comments by Brendell, 19th May 2018
Veronica - yes there were old housed where the slope is. I remember coming out of the children's library with my cousin and "poking about" in the derelict properties just prior to their demolition. I remember loads of insects!. That would have been late 50's I think.
Comments by Broady, 19th May 2018
I always thought Rugby Motors was down Frog Lane. Near to the old cattle market. I think it was Prescott Street that ran down to a one way tunnel.
Comments by Veronica, 19th May 2018
I have completely forgotten any old housing there Brendal and yet I remember other old buildings before the new baths ( now demolished) on the other side.