| | | |
| --- | --- | --- |
| album | | Views: 1327 |
| may queen | | Comments: 10 |
| Photo: tom Item #: 30466 | | |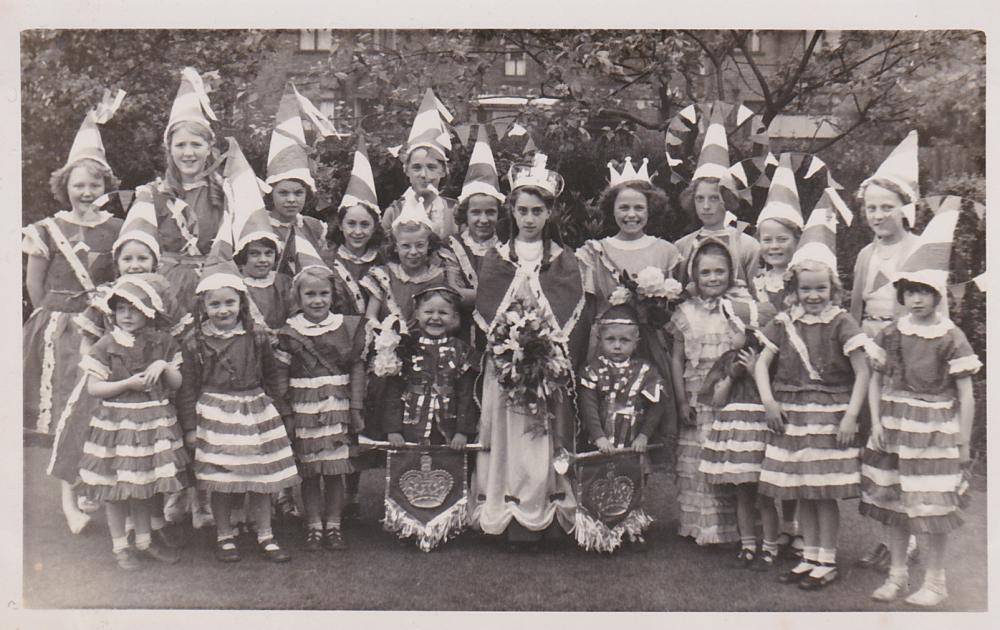 | | | |
| --- | --- | --- |
| | Image scaled down from 1000px to 630px wide | Click here, or click the photo to view original |
| | | |
| --- | --- | --- |
| | field st spring view the wife with friends and relatives | |
Comments by tom, 15th April 2018
sorry it was the coronation 1953
Comments by Veronica, 16th April 2018
I imagine there was quite a lot of red,white and blue colour worn by those children in their costumes.
Comments by Elizabeth, 16th April 2018
Lovely photo, especially of the smaller chidren either side of the Queen.
Comments by WILLY WACKUM, 16th April 2018
What a great photograph. I hope some people can recognise their parents or grandparents.
Comments by tom, 16th April 2018
second row on the right margaret groves.next to her is her sister marion fourth one edna hart, little bo peep at the front his my wife eunice
Comments by irene roberts, 17th April 2018
The little girl second left MAY be Pat Cooksey who became my sister-in-law. Edna Hart was her friend and was a bridesmaid at Pat's wedding, as well as making the dresses, (although I'm not certain if it was Edna or her Mother who made the dresses....I was only 9 years old and the youngest bridesmaid). Obviously I didn't know Pat when this pic was taken but I studied it when I realised it was Spring View and the little girl I mentioned is the image of my niece Allison, (Pat's daughter), when she was small.
Comments by irene roberts, 17th April 2018
PS.....on further study, I think Pat is standing just behind the queen, wearing a tall pointed hat, almost in the centre of the photo. She looks to be around the same age as Edna Hart, whereas the little girl I picked out previously is perhaps too young to be Pat. Hope someone can confirm.
Comments by tom, 17th April 2018
irene just spoke to edna she will let me know who is on the photos
Comments by Stewart Leyland, 26th April 2018
I am the small boy on the left and the other boy is Kenneth Hart. I lived on Derby Street in Spring View and my gran lived on Field Street.
Comments by irene roberts, 26th April 2018
You were gorgeous, young Stewart!