| | | |
| --- | --- | --- |
| Dorning Street | | Views: 901 |
| Mint Balls Van | | Comments: 9 |
| Photo: Ray Item #: 30424 | | |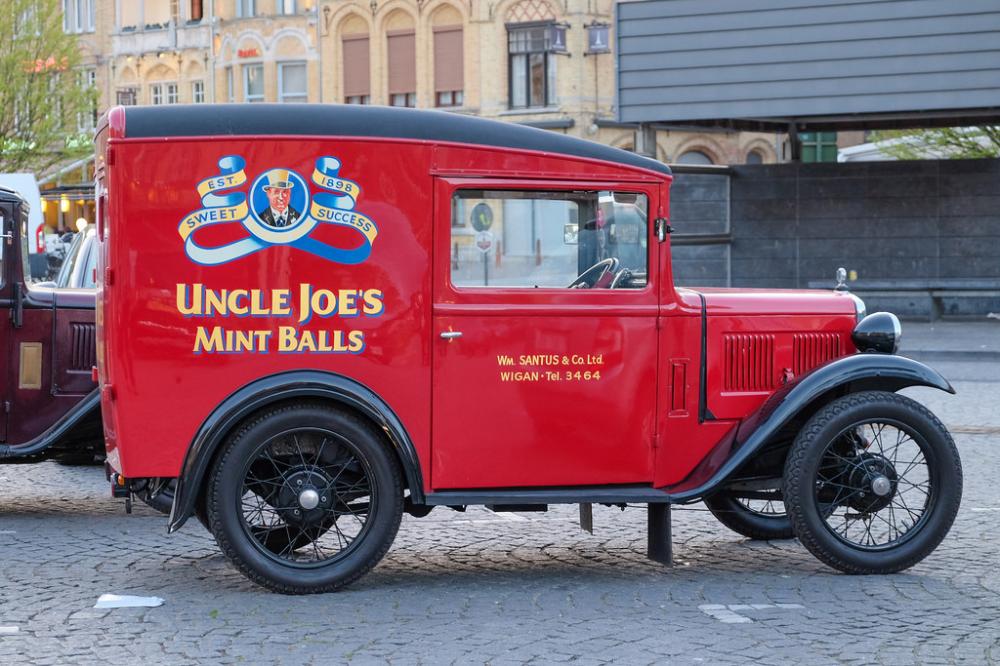 | | | |
| --- | --- | --- |
| | Image scaled down from 1000px to 666px wide | Click here, or click the photo to view original |
| | | |
| --- | --- | --- |
| | Preserved van, Uncle Joes Mint Balls. | |
Comments by JJP, 10th April 2018
Ray, what a little beauty ! thanks for posting, love it !.
Comments by John Brown, 10th April 2018
Cool.
Comments by Joe Thomas, 10th April 2018
Love to know the plate number
Comments by Philip Gormley., 10th April 2018
I'm given the impression that this well-preserved little fella could punch above its weight and - considering the fact that Dad's Army's butcher's van was sold at auction for over £63,000 - will also be quite valuable.
Comments by paul, 10th April 2018
To think some of the sweets are now made in China, what would Uncle Joe say.
Comments by irene roberts, 10th April 2018
They certainly weren't made in China last week when I walked along Dorning Street......the smell of Uncle Joe's was definitely in the air in Wigan, where it belongs.
Comments by Veronica, 10th April 2018
Irene perhaps they send the sticky toffees over to China to be wrapped! ;o)) ..... ,
Comments by DTease, 11th April 2018
Wigan's balls on the Chinese Wall? Surely not!
Comments by paul, 11th April 2018
Some of the sugar free if you look on the pack