| | | |
| --- | --- | --- |
| M6 Motorway | | Views: 1230 |
| M6 Motorway 1965-Forton Services.(02-11-65) | | Comments: 31 |
| Photo: Barrie. Item #: 31479 | | |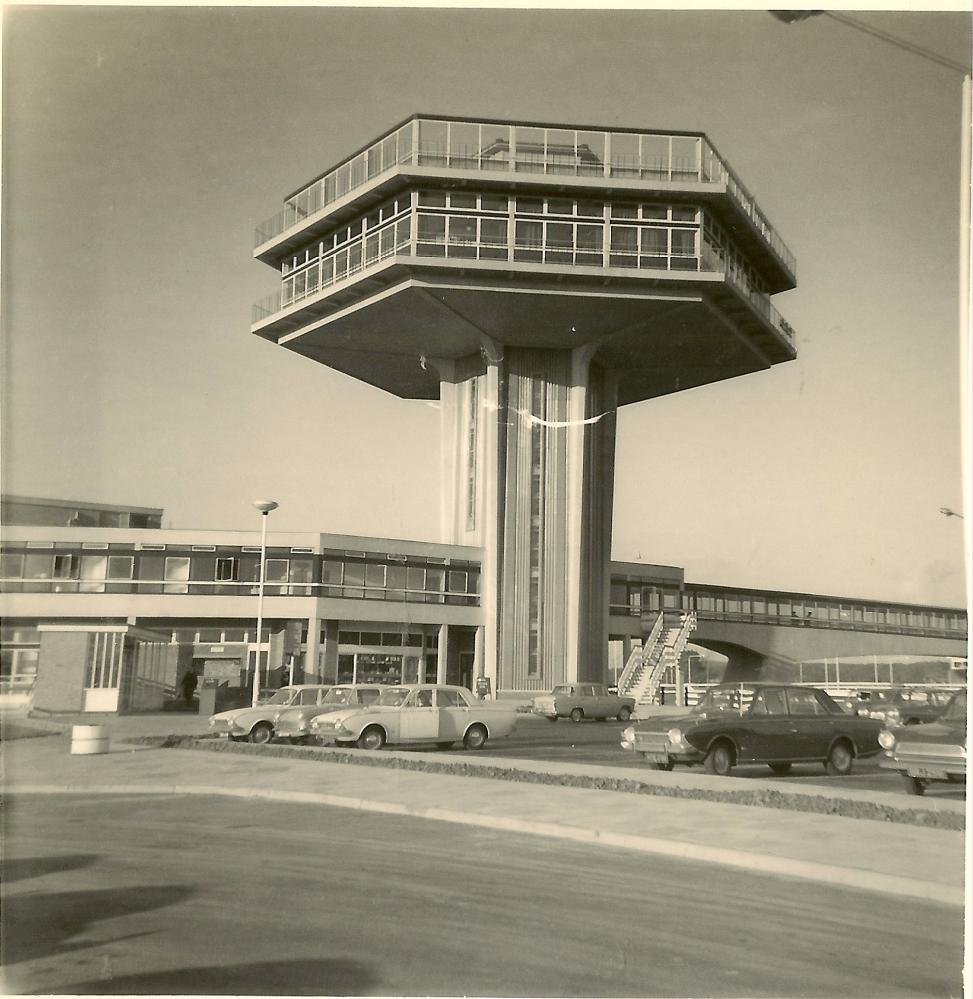 | | | |
| --- | --- | --- |
| | Image scaled down from 973px to 999px wide | Click here, or click the photo to view original |
| | | |
| --- | --- | --- |
| | Although the Preston-Lancaster M6 was opened to traffic on 29th January 1965,there was still a lot of work to be completed by McAlpine/Fairclough Consortium. Basic fuel facilities were available from the day of opening but the full restaurant facility was finally opened on 2nd November 1965. By then McAlpine contract had come to an end.(most of the Wigan staff etc had either been paid off or moved to the next M6 contract -Stafford. Me-I left Standish to work with another English contractor in Renfrewshire a week later building the (now)M8. | |
Comments by Mr X, 28th August 2019
This photograph is not in the Wigan area, it is the motorway services at Forton, just before Lancaster. The hexagonal tower was a restaurant when new but closed to the public many years ago. There are views of Blackpool Tower, Morecambe Bay, the Bowland Fells, and Lake District mountains from the tower. The cars in this 1960s photo include two Mk1 Ford Cortinas and three Corsairs.
Comments by Cyril, 28th August 2019
Very iconic tower, it always reminded me of The Jetsons, the futuristic cartoon TV series of the early 1960s. I've read somewhere it has become a Grade 2 listed building of historical interest.
Comments by Linma, 28th August 2019
When I passed my driving test in 1972 my instructor took me for a two hour lesson on the M6. We joined at Standish and went to Forton, on and off at every junction. On the way back to Standish I was doing 70mph in the third lane, it was brilliant and I think that is why I was never scared of motorway driving. Sadly that is no longer, I no longer drive due to failing eyesight.
Comments by . Ozymandias ., 28th August 2019
I remember taking a prospective girlfriend to this place for a meal one Sunday afternoon in about 1970.
We swept up the off slip from the motorway onto the car park in a pale blue, brush painted Standard Ten .
It was a cracking motor that I'd paid a bloke from Yate 25 quid for in 1968.
I remember that my date was wearing a red dress and lived on Slag lane in Lowton. I also recall that I was wearing a pair of ice blue figure hugging Carhartt denim jeans and a pair of hip corduroy sneakers.
Now if I could just remember what we ordered, then I could die a happy man, but it would more than likely have been sausage egg and chips, with HP sauce, or something equally exotic , as back then I was renowned locally for my suave manner and gastronomic expertise.
I'd imagined that dining at Forton services could only be viewed as being nothing less than the pinnacle of cool, well it was to me anyway, although I suspect my partner thought otherwise.
Needless to say, the relationship never flourished. Not that it was of any consequence as I never really fancied her anyway.
I heard she'd moved to Slough, the place where Sir John Betjeman came from.....hang on!......no...it couldn't possibly be.
Comments by Sir Tommy, 28th August 2019
The restaurant at the top of the tower was closed to the public, because it did not have a fire escape, so it was an health and safety issue, and it did close many many years ago.

I was lucky enough to have been to the top of that tower at Forton during the 1960s
Comments by Barrie, 29th August 2019
There was a phased opening of the facilities at Forton Services between January & November with the Cafeteria on both sides of the motorway being opened late May.(according to my photograph album).The tower was officially opened to the public on the 2nd November. It was owned by The Rank organisation for many years and Cyril is right,it was awarded Grade 2 listed building in 2012.
Comments by Egg and Chips, 29th August 2019
Yawn!!!!
Comments by XPat, 29th August 2019
Ozy, You certainly know how to impress a lady. Greatly enjoyed your story. What right minded women would refuse sausage, eggs and chips, coated with HP sauce. Followed no doubt by cocktails on the balcony of the tower. Looks a very impressive restaurant to gain favour with a date. Must have a lovely view and at night be especially romantic for young lovers. I'm surprised to read your relationship didn't prosper afterwards. Maybe she wanted a double Martini instead of half a lager. Women are fussy like that.
Comments by Anne, 30th August 2019
I would 100% refuse fatty stuff.
Comments by Veronica, 30th August 2019
Chicken in a Basket was popular at the time - looking back though it wasn't very hygienic really, a serviette between the food and the basket! I prefer a plate these days. But 'sophistication' ruled in those days! Just think Ozy - you might have been living in Slough by now!
Comments by Al, 30th August 2019
I wish!
Comments by XPat, 30th August 2019
I always thought that a Steak dinner was the top of the ladder for us.
Chicken in a basket was in pubs and clubs , we even had prawns and cockles , that came in. But , it was always ended with Fish and Chips , or a mixture, or pie and chips , somewhere ! Night over , back on the shift Monday , then exactly the same the next week . Sounds really sad , but I
donít remember any of my friends doing different. That speaks for itself in the time , moment , and place we grew up in . We had nothing , so steak and chips , sitting in a restaurant, different planet !
Comments by . Ozymandias ., 30th August 2019
Perish the blimmin' thought Veebs.
Comments by . Ozymandias ., 30th August 2019
I really hope Barrie doesn't mind all this nonsense, as some of you lot invariable seem to manage to turn these posts into a dog's dinner.
It's a serious subject, and it's a brilliant photo , and what I would really like to ask is what camera was used to to take the shot ?, as , for the period, the image is very crisp.
I'm deflected however by XPat's comment regarding prawns and cockles.
There seemed to be a time , a while back , when at around ten o' clock in the evening , regardless of which pub you were in, the bloke with the cockles would turn up. He usually worked for Forshaw's if memory serves...I normally requested shark's fin in aspic, which usually set the cogs whirring.
Now and then, someone on the cadge would come in flogging ' The War Cry ' ,....may as well try flogging a dead horse in most of the hostelries that I frequented,....but be that as it may....then somewhat less frequently, a bloke would turn up selling mushrooms. ( now who the bloody hell wants mushrooms with their beer I ask myself ? , a vegan maybe ?)
I haven't seen any of this lot for years. I wonder what went wrong ? Did this country suddenly run out of cockles and copies of The War Cry ?...who's responsible? thats what I'd like to know ...could all this be directly linked to Brexit do you think? Has Brussels issued an edict on the mollusc recently?. Answers on a postcard.
Comments by Poet, 31st August 2019
Not many chaps these days would walk around in an Umpire's coat with Super Cockle written on the back.
You could also ' get done ' several times by the Sally Army during a pub crawl.
Comments by Barrie, 31st August 2019
Ozy, The camera used in these photographs up to 1968 was Bilora Bella 66 (1959 model) that took the 120 roll film.12 exposures. Shutter speeds 1/50 or 1/100 sec.only.(check it out on the search engine). I am not offended by "going off subject" as I really enjoy reading the banter that the photos' on the album produce. The PC brigade would not be amused!. Veronica,the chicken in the basket brings back memories of the late 60's and 70's as it was a good standby when travelling back somewhere and the pub sign said FOOD till 9pm. My wife said that we all survived without ill effect. It should come back along with scampi in the basket. Linma, you were lucky with your driving instructor -did he buy you a meal there before heading back. My son in 1995 passed 1st time and his instructor took on the M53 Wirral motorway as a free lesson for motorway driving.
Comments by . Ozymandias ., 31st August 2019
Ha Haaaah . See? There's another one ...Super Cockle...I'd completetly forgotten about that one . O Lordy ! ....But Poet's quite correct , the bloke wore a white jacket with Super Cockle emblazoned across it ....talk about laugh , O Lordy , I can hardly stop , O Lordy Lordy , Ha Ha Haaaarrggh ! Hang on , I think I may be experiencing a catatonic episode....I'm on tablets for that you know.
Comments by XPat, 31st August 2019
I agree Poet , but drinking times were also different then , and set into a mode and timetable we fell into . From the pub , you then went onto a larger pub/club , selling ale . When they closed , at 3pm or such , Those in the know went onto the British Legion for a few extra hours . The skill was knowing , who was still serving . This would take you to 5pm . As the pubs opened again at 7pm , this gave you time for pie and chips , and a quick hello to your house , then back to pub one . Where I lived , this was a shift encoded within folk like the Pits . This is what you did , this is how it was . Pub , club , Legion, all for one thing Ale ! The Cockle man always did good trade because , as Ozy said , he would turn up after 10pm , where most where too gone to think . Are there many British Legions left in Wigan I wonder , Different time , different place , back then . I beg to argue , different people also .
Comments by Pw, 31st August 2019
I remember waking up on Sunday mornings and my Dad had bought us cockles and sometimes a crab a real treat.Years later I bought some whelks from the cockle man and my wife said they looked disgusting but she tried one,perhaps it was the drink,and she became a fan of seafood.I do not think there is a shortage of seafood Oz but perhaps a shortage of pubs.
Comments by Al, 2nd September 2019
Just a concrete monstrosity built on what was lovely countryside. Nobody ever seems to give a damn about the environment, building more motorways. Still, I can understand peoples sense of nostalgia of those great days. Today places like this look all the same with the usual car park full of HGVs, coaches and cars that all look the same, and full of the same old Costa, Burger Kings, etc. Everything's all the same.
Comments by . Ozymandias ., 2nd September 2019
That's right Al , you're perfectly correct , I've been saying it for years , all cars DO look the same these days , or at least they do to me . I suppose it may have something to do with their computer designed optimum energy efficient outline , or however they choose to describe it .
Some frequently seem to break down in the same way as well , quite often with a failed ECU . Try fixing that rascal in your back yard with an ammunition box full of Whitworth open enders and a lump hammer .
You can't even change a headlight bulb on some of the damn things these days without having to take the entire front off the car . Progress eh ?...
And as you rightly state , all the towns , wherever you go in this country also all look the same . All the same multi billion pound retail outlet chains on the periphery and all the same charity shops and overpriced coffee bars in the town centres ......Take Wigan for just one example if you like .
And it isn't just in this country either . Go to anywhere in the western world and you'll find it's pretty much all the same there as well . Even the former communist countries in Eastern Europe are latching on to the idea .
In fact , McDonalds set up shop in Moscow years ago .
I believe it all goes under the banner of capitalism , and there's nothing much that thee and me can do about I'm afraid mate , and I'm sorry to be the one to have to break the bad news , but I can't see the situation improving anytime soon .

I thinking of auditioning for the next series of Grumpy old Men on the telly , so I'm just practising .
Comments by DTease, 2nd September 2019
Flippin' Greggs, everywhere you go it's flippin' Greggs. There are some towns in this country that have a Greggs on practically every street in the town center. And why do they put mayonnaise on everything? Flippin' mayonnaise yuk!
Comments by Philip G., 3rd September 2019
DTease, Have you heard about Ozy's home-made 'Jellied Shark Fin - Starter' having taken First-prize at the recent 'Show, and of the controversy which preceded that award.
Well, it had been suspected that due to the fin's exceptionally large size, and pervading smell of liniment, Ozy could have been massaging the fin with the said awful stuff beforehand; The Judge thus having no choice other that to call a halt to proceedings. But it was soon discovered that the smell had been caused by the Vet's earlier, hurried call to table-setting duties in the marquee; Hence sailed apologies from the Vet', Judge and the three committee members. Well Done, Ozy.
Comments by XPat, 3rd September 2019
Ozy , Should we take from your pessimism, you are not intending to be Frozen, then brought back , when you finally depart this world? Simon Cowell has indicated he intends to be Frozen , you could ask for a cubicle next to his . I doubt Wigan will still be here when they thaw you out . It will either be in a jar on a shelf somewhere, left for the future generations to study in a science class , or flattened and pinned in album like a butterfly or a stamp . You never know Ozy , you could find yourself being pinned to a tree by a butterfly? How the mind wanders as we yell and scream at each other over Brexit ! At least itís good for bronchitis and smokers lung .
Comments by . Ozymandias ., 3rd September 2019
I would prefer to describe my outlook on life as being realistic as opposed to pessimistic if I'm being honest Xpat , although I can see where the confusion may have arisen.
But one would have to be living in a coal cellar and mislaid ones bifocals not to realise that the world we currently inhabit is totally barking . The evidence of this is all around us .
And you say that Simon Cowell wants to be frozen does he ? , well I'll gladly chip in a few bob towards the electricity bill .
I hadn't actually heard that he'd chosen the cryogenic option to be fair , but I'm assuming he's made that decision in the hope that one day in the distant future , someone may come up with a cure for pompous arrogance ......
As for myself ...
Well , I've made it known that when my time comes , I'd like my remains to be scattered in DTease' vegetable patch . I have also made it clear that I have no desire to be cremated .

Regards . Ozy .
Comments by Robert, 3rd September 2019
On our way to & from the Lake District, my daughter when she was really little always used to look at this place in awe as we drove past the tower, & one day we asked why she was so fascinated with Forton Services ....my daughter told us.... 'That's Tracy Island' (the thunderbirds base) . . After that we've nicknamed this place 'Tracy Island' because she said that she always expected to see one of the international rescue thunderbird rockets come bursting skywards suddenly out of the top of the tower.
...
All through the years we've always jokingly called Forton services 'Tracy Island' & in our family that's what it known as........
These days my daughter is grown up, I'm now a grandfather & when my daughter drives her family to & from the Lake District on their holidays now, she too jokingly says ...'we're just passing Tracy Island where the thunderbirds live'.........................
Forton Services = Tracy Island.
Comments by Veronica, 3rd September 2019
Spare us from the thought of the perma tanned Simon Cowell being frozen with his brilliant white teeth. Although Ozy never found his top set on Wigan Lane - he could pinch his teeth when he's thawed out before him.... That's if he's made his mind up to be frozen - I believe Tesco's have an offer on at the moment freezing two for the price of one next to the frozen lamb chops.
Comments by DTease, 4th September 2019
Philip G, please donít tell Greggís about Ozyís Shark Fin Starter. Itíll be on the shelf covered in mayonnaise inside a week.

Can someone please explain to this befuddled old pensioner why, if I stay inside out of the rain to eat what Greggís laughingly call aíSteak Bakeí they feel entitled to charge me extra? Whatís that all about?
Comments by DTease, 4th September 2019
Ozy, if they throw your remains on my vegetable patch I can guarantee that no one will ever revive you. There are more vegetables growing on the moon than there is in my veggie patch.

Donít get frozen, get pickled, itís a well known fact that if you soak your body in booze your brain will still function as well when youíre dead as it did when you were living, at least no one will be able to tell the difference.
Admiral Lord Nelson, god bless him, when he copped a hot one at Trafalgar was brought home to England in a barrel of rum.
Rumour has it that when he was removed from the barrel he looked just as good as he did on the day he died.

Iíve convinced myself that fact proves something but iím beggared if I know what it is, after all he was still dead no matter how good he looked.
My headís hurting now.
Comments by . Ozymandias ., 4th September 2019
Forget Greggs DTease , there's a shop at The Saddle junction that make the best pies in Wigan . It's opposite the Bowling Green pub .
I can't mention it's name for obvious reasons , but if you think of Florrie Capp standing behind the door waiting for Andy to get back from the pub , holding this item in her hand , then you'll probably get my drift .
Comments by Robert, 25th October 2019
Ozy.. the shop that sell the pies is called ..'The Rolling Pin'...