| | | |
| --- | --- | --- |
| M6 Motorway | | Views: 557 |
| M6 Construction-05-08-1964 Near Scorton. | | Comments: 4 |
| Photo: Barrie Item #: 31465 | | |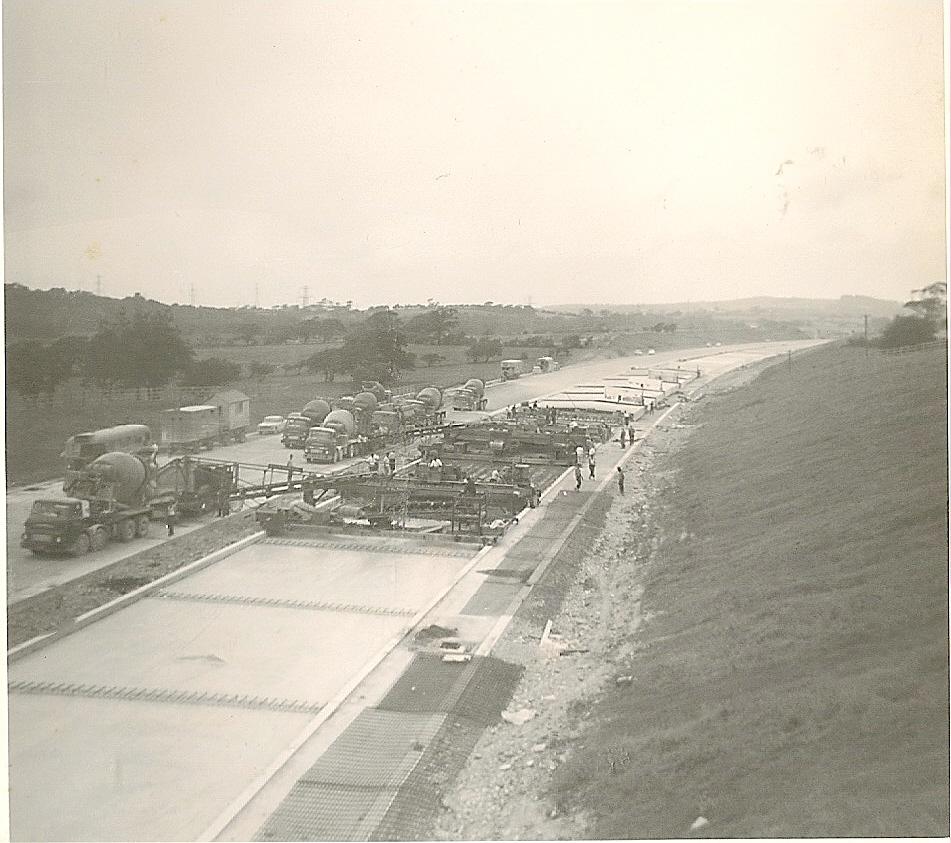 | | | |
| --- | --- | --- |
| | Image scaled down from 951px to 843px wide | Click here, or click the photo to view original |
| | | |
| --- | --- | --- |
| | McAlpine's concrete "train" laying the southbound carriage (full width &depth),There is a coloured photo #28926 I posted a couple of years ago of the completed length of the train.At this time McAlpine was breaking European records for laying over 2000 feet in a 12 hour shift and 2500ft was achieved one day. I think you could say Wigan men was part of that record. | |
Comments by Alan, 21st August 2019
TAR is much better for our roads.
Comments by Poet, 22nd August 2019
Is Global warming's Daisy's fault,
Grazing by the hot asphalt?
A thousand years of god's methane,
Or fifty years of concrete lanes.
Comments by DTease, 22nd August 2019
This aint no technological breakdown. This is the road to hell.
Comments by . Ozymandias ., 25th August 2019
I'm intrigued by what appears to be an elevated platform supporting the drum and donkey engine on the truck pictured discharging at the feed hopper .
It can also be seen on item 28926 .
These two shots would appear to have been taken at more or less the same spot , and furthermore it seems , within an hour or so of each other .
I've never actually seen a mixer with an elevating drum , although these photos prove that they evidently did exist .
No doubt there would have been some kind of logic to this arrangement , although I'll admit to being at a loss when it comes to understanding what that logic may have been .
My best guess would be a more rapid discharge possibly ?.....that's the best that I can come up with anyway , even though it seems a bit pointless , as it's possible to discharge 8 metres , ( or 9 yards if you prefer ) of 50 slump in a matter of minutes without the necessity of elevating the drum .

Perhaps Barrie could provide the answer .

Regards. Ozy .