| | | |
| --- | --- | --- |
| Printers | | Views: 418 |
| Wigan Observer Woods street. | | Comments: 9 |
| Photo: Colin Harlow Item #: 31439 | | |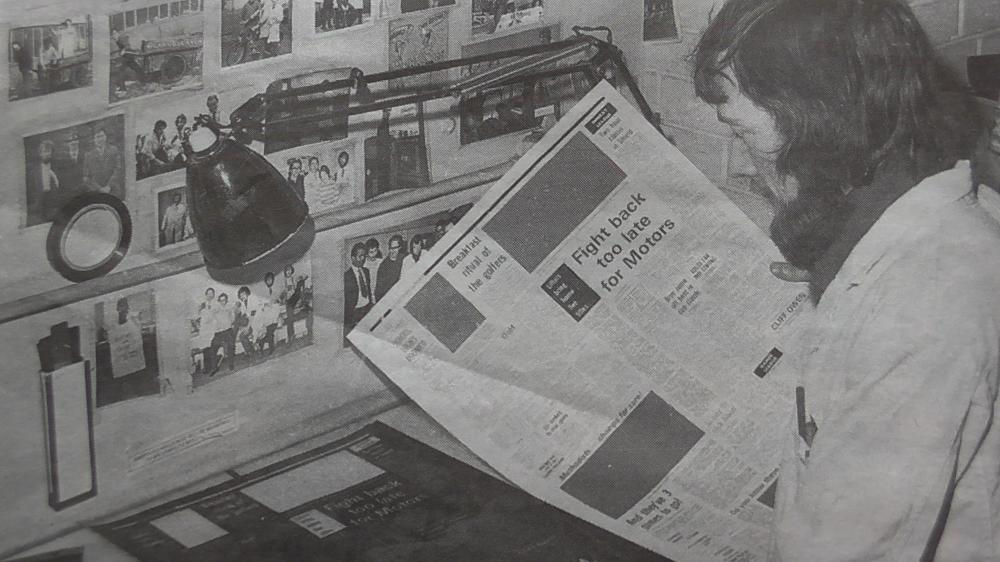 | | | |
| --- | --- | --- |
| | Image scaled down from 1000px to 562px wide | Click here, or click the photo to view original |
| | | |
| --- | --- | --- |
| | Steve Hooley in the camera room with a page negative. Steve Hooley, Harry Stopforth and Frank Collins made a big impact to the success of the Wigan Observer and Editor the late Jack Winstanley once said, the camera room staff were outstanding in their work and they played a major part to the very many awards we received from 1966 until Woods Street closed in 1984. | |
Comments by Philip G., 14th August 2019
Colin, Could you possibly tell me of any changes that might have occurred to the name 'Post & Chronicle' during the paper's 1962 and 1963 years, please? I seem to recall that there had been 'a change'.
The reason for my request is that I'd like to begin a search for the photo that shows my mother taking first ball in a Parents v Teachers? Rounders match at Up Holland Secondary Modern School in 1962 or 1963. It would be great to see the photo again. Thankyou.
Comments by Colin Harlow, 14th August 2019
The Wigan Edition of the Chronicle founded in the 1950s was a subdivision of the Lancashire Evening Post based in Preston. Wigan's paper based at Powell Street until the 1960s moved to new premises at Brock Mill and re-launched the Evening Post and Chronicle on the 4th October 1965.
If you have time you can book a place at the History shop and look at old Wigan's newspapers from the past on Microfilm, if you have the dates of the publication it can be very interesting.
Comments by Philip G., 14th August 2019
Many thanks for your kind response and encouragement Colin.
Comments by Veronica, 15th August 2019
Philip if you find the photo it would be nice to see it on here. The staff are very helpful at the History museum - you would soon find what you are looking for. I've found various stuff on the micro fiche. You could just call in if you know the dates - I don't think you would even need to make an appointment. It's very interesting if you haven't been.
Comments by Arthur, 15th August 2019
You know your stuff Colin.
Comments by Philip G., 15th August 2019
Thanks for your encouragement Veronica. 1963 seems to be favourite as a Boys/Lads v Teachers Cricket match had taken place at roughly the same time as the Rounders match; myself at the crease with a lad from the year above, and I left school in 1964.
Comments by Anne, 15th August 2019
Phil, Colin is right newspapers on microform but book in advance before you visit.
Comments by Philip G., 15th August 2019
Thanks for that, Anne. Oh, Veronica wasn't sure if an appointment would be needed, but that's ok.
Comments by Veronica, 15th August 2019
I must say I have never needed an appointment as the girls just point the way - they show where the fiches are and a quick demo on how to work the machines. They don't do the work for you - it's all there to be used. But perhaps as a precaution ......