| | | |
| --- | --- | --- |
| M6 Motorway | | Views: 567 |
| 16-10-1963. M6 Construction@ Forton looking North | | Comments: 5 |
| Photo: Barrie Item #: 31432 | | |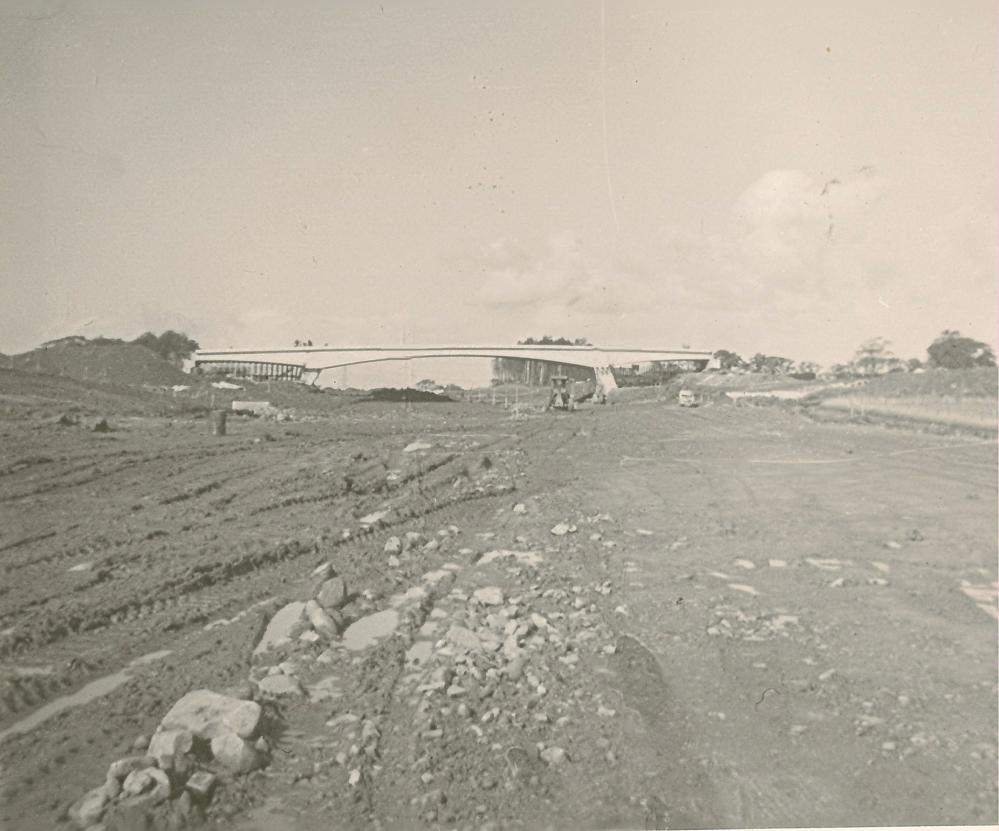 | | | |
| --- | --- | --- |
| | Image scaled down from 999px to 831px wide | Click here, or click the photo to view original |
| | | |
| --- | --- | --- |
| | Today this view would be showing Forton Services(Lancaster as it is called now) The bridge in the distance is Gleaves Hill and for a time I was based up there in the old Terrapin offices. No water (milkchurn from the nearby farm was our water supply) Some of the Wigan staff based there were Keith Gibson,Norman Philips,Bill Calvert. If I missed the works bus in a morning one of these would give me a lift up there. | |
Comments by . Ozymandias ., 13th August 2019
I've been looking back at some of your photos Barrie , the one featuring the concrete train in particular .
Have you any idea of the reason why McAlpines chose this method of construction ? Could the deciding factor have been cost , or longevity , or perhaps a combination of the two ?....or soil conditions even ?
I recall that quite a lengthy section up around the Lancaster / Carnforth area had become quite unpleasant to drive along by the late 70s , due to the noise levels and the constant kerchunk , kerchunk , that ensued when passing over the expansion joints for mile after mile .
I don't recall the precise year when they sorted it all out , or whether they ripped the entire section out completely or merely surfaced it with blacktop, but the journey became much more pleasant afterwards.
Comments by David Brown, 13th August 2019
I seem to remember a time when the concrete surface used to 'sing' whilst driving over it and drivers were stopping to check that their tyres were ok - eventually signs wher erected telling drivers that it wasn't their tyres but the road surface. Also that families would be taken out for a picnic on the hard shoulder to watch the cars go by.
Comments by Barrie, 13th August 2019
Ozy, According to a book -The Motorway Achievement by Harry L Yeadon, the tenders went out with 3 different types of construction (flexible,semi-flexible & rigid). Strangely enough the rigid was the cheapest and McAlpine won the contract.The design of the motorway was by Lancashire County Council as the authority. Concrete was deemed to have a 30/40 year life span without major maintenance based on traffic flows of the era, but as we now know, underestimated the figures as motorways developed in the UK. I can't remember when this stretch of the M6 was ripped up and blacktop laid but I think mid to late 1990's. By then maintenance was very high like a patchwork quilt and costly in terms of road management (plus lane closures and long tail backs especially at peak holiday time. I bet a few of WW viewers were caught up in that.
Comments by Broady, 14th August 2019
Barrie, Would they have had a concrete train as such to lay the concrete?
Comments by Barrie, 14th August 2019
Broady, in answer to your question, at the time of tendering, I guess they knew where to get one from that would lay a 36 foot wide carriageway in one operation. When the contract was won, they bought the Rex Concrete "train" complete from the USA and the batching plant from Germany. I'll upload more pics over the next few days of it. Trial runs were carried out in the spring of 1964 at the LCC maintenance deport near Garstang (I guess they got a new yard out of it for years to come!!)