| | | |
| --- | --- | --- |
| M6 Motorway | | Views: 759 |
| M6 construction-14-08-1963. | | Comments: 9 |
| Photo: Barrie Item #: 31420 | | |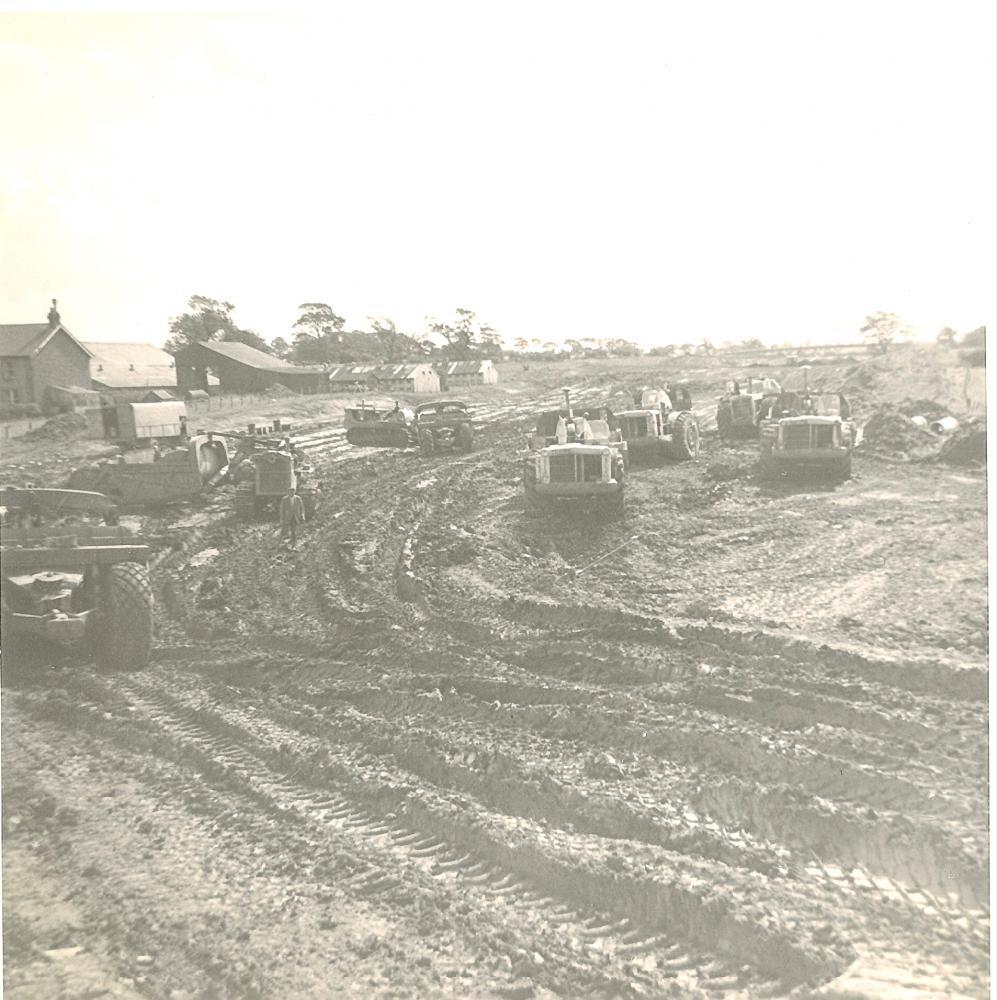 | | | |
| --- | --- | --- |
| | Image scaled down from 997px to 1000px wide | Click here, or click the photo to view original |
Before critics complain this photo is not Wigan, it is Wigan related.In September 1962, McAlpine's won the contract to construct the Preston-Lancaster section of the M6 motorway.Therefore some of the workforce/staff went from the Wigan section to start the new contract.I joined them in August 1963 along with many others after the M6 was opened.The contract finally completed September 1965.
There were up to 6 single decker buses plus mini-buses,vans and staff in their own cars travelling each day from the Wigan area to Bilsborrow HQ. Note -Windy Arbour main offices remained as,I think,area HQ.This photo was taken at Bilsborrow lane showing the "muck shifting"in progress on the main carriageway line.
Comments by . Ozymandias ., 10th August 2019
I don't particularly care whether it's Wigan related or not , as if there's anything I like as much as , if not better than photos of wagons , it's photos of plant , especially a dragline navvy at work , or a D9 working with the blade and ripper. I could quite happily stand and watch them all day .
I'm also fascinated watching the motor scrapers and the pushers , the dozers dragging the scraper boxes , and not forgetting those ultimate artisans of road construction , the motor graders ......brilliant !
Good photo Barrie . I'm guessing that the motor scrapers are Eucs..( watch them turn out to be Cats )...No, I'm pretty sure they're Eucs.
Could be wrong though , as the Eucs normally had power front and back.
Somebody will soon put me right no doubt .
By the way , wasn't the site at Windy Arbour known as Crow's Nest ?
Comments by Ken R, 10th August 2019
Looks like an awful load of S--- to me. I know what your thinking, it's SOIL
Comments by Barrie, 11th August 2019
Cat D8 & box scrapers,TS 24's(Euc's) standing idle.Weather that week was a mix of rain & sunny periods just like now!
Crow's nest was the other name for McAlpine's HQ at Windy Arbour.The main HQ was Hooton on the Wirral. Some works managers even travelled from there.
Comments by . Ozymandias ., 11th August 2019
I seem to recall Mac's also having a depot adjacent to the M53 motorway at Ellesmere Port back in the 60s / 70s. I don't know if you were familiar with that place Barrie . I remember seeing quite a number of those massive , tracked air / electric operated Bucyrus Erie drilling rigs parked up there sometime in the early 70s. They were quite a sight , as from memory, I'm guessing that their masts would have been in the region of 50 or so feet tall. Maybe they had become obsolete by this time and were either scrapped , or shipped out to somewhere like Saudi . I wouldn't know .
Comments by Mick, 11th August 2019
I remember watching the Euclids ripping up Gathurst golf course, and the beams for the Gathurst viaduct coming through Shevy
Comments by Barrie, 12th August 2019
Ozy, yes I remember McA's by the side of the M53 at EP. I think it was their pipeline division/heavy plant depot that was there.In the 80's I worked for an EP contractor and my office was close by to that McAlpines yard.Can't remember when it closed down though.
Comments by g p, 13th August 2019
yes ozy,you are right these are ts24s these scrappers would have a cummins v6 two stroke in the front unit,& a straight 6 in the rear,theses would have been slowly got rid off & replaced with cat 637s& 657s,the d8s are all rope,no hydraulics on these & pulling 8yrd oinion boxes poss ex army,nicely tucked away is the lube van on the left bank,then there is the section ganger man walking the job
Comments by . Ozymandias ., 13th August 2019
Hiya g p , nice to hear from you again mate .
You're obviously a dyed in the wool plant man , unlike myself , who's only claim to fame in the plant operating game is that I compacted a fair amount of the fly ash base on the Avonmouth section of the M5 between Cribb's Causeway and the Avon Bridge in about 1968 with an ancient D4 with the track built up with runs of weld , and dragging a vibrating roller . Talk about boring....This was for an outfit by the name of C.A. Blackwell .
I still have this thing about tracked equipment though .
Getting back to McAlpines , when the M61 was under construction in about 1968/9, Macs had a plant on the old Brackley colliery site , just off the A6 near Little Hulton . It may well have been a tarmac plant , I forget .
I seem to recall that for quite some time after the M61 was completed , they maintained offices on this site .
They seemed to have quite a lot going on in the northwest around about this time , and I was kept busy running their stuff about all over the place . Usually 22 or 38 RBs , normally , and for ease of loading , loaded cross carriage with the jib sticking out over the back end .
That's probably illegal nowadays ,...it may well have been illegal then , but I did it anyway .
I think Macs were also involved with the Whalley bypass around about the same time if I'm not mistaken , as I recall picking up a Blaw Knox pavior from there and bringing it back to Brackley colliery .
They must also have had a hand in the first section of what is now the M60, that two mile ( approximately ) section that runs from the M62 at Simister Island , through Heaton park and down as far as Sheepfoot lane , as I've picked up stuff for them from there .
Most notably a Priestman Lion with jib sections and a dragline bucket , destined for the Margaretting bypass , grossing off at 70 odd tons .
This with a clapped out Mickey Mouse Foden with a Gardner 6LX .
........They'd call you a liar these days .

Cheers . Ozy.
Comments by g p, 17th August 2019
yes ozy,you can i say have pushed & pulled a few levers here & there,wether it be blade or bucket,blade or shovel, rope or hydraulic i think i have done it,from learning on 955 at gaskells under the watchful eye of the late Jackie Orell to pushing and driving motor scrapers,from the Newton Stewart bypass to coal sites in south wales,the m56 for Dick Hamptons,the m180 for Balfors the pipeline from Holyhead to Ellesmere Port through the north wales country side,& little jobs here & there you can say i have done it..