| | | |
| --- | --- | --- |
| Printers | | Views: 660 |
| The Moon Landing 50th Anniversary. | | Comments: 9 |
| Photo: Colin Harlow Item #: 31355 | | |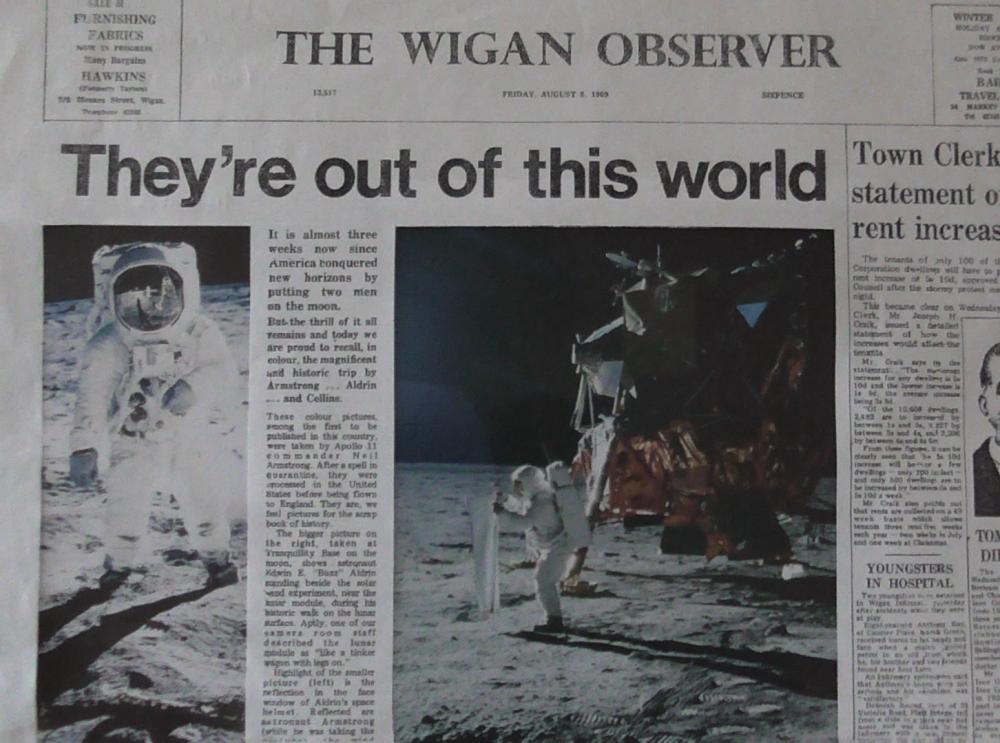 | | | |
| --- | --- | --- |
| | Image scaled down from 1000px to 743px wide | Click here, or click the photo to view original |
A Wigan Observer special front page with glorious colour pictures of the fascinating Apollo 11 mission back in 1969. Now 50 years later, the thrill of it all remains and the paper were proud to recall in full colour the magnificent historic trip by Armstrong, Aldrin and Collins.
These colour pictures among the first to be published in this country, were processed in the United States before being flown to England. The Wigan Observer were only the 3rd in the country to print colour by Web offset, at the new works, Woods Street, just off Wallgate.
Comments by DTease, 19th July 2019
In our house we were totally transfixed with this. We sat in front of the tele for goodness knows how long and watched the whole thing.
In front of the tele was a microphone belonging to our old reel to reel audio recorder. I kept the tape long after the recorder gave up and died. Some years later I came across a recorder at a car boot sale so I bought it with the tape in mind.
Unfortunately some one had taped over a large part of the tape but, luckily the actual part where the "Eagle" landed was intact.
The car boot recorder didn't last long but I still have the tape all these years later.
Comments by Veronica, 19th July 2019
I suppose most people remember where they where when the moon landing happened. I see myself at the time in the workplace at ROF Chorley. I can honestly say I wasn't 'over the moon' about it, but was really impressed as a child in 1956/7 when the Russian Yuri Gagarin went up into Space. For some reason that was more important to me at the time and far more exciting...I know not why.
Comments by Arthur, 20th July 2019
I remember this as though is was last week, I'd just started work at a young age and was fascinated by the tv pictures from the moon.
Why some people don't believe it happened is staggering. I also remember the broadsheet Wigan Observer too, is was so different from any other paper at that time. Colour pictures
Were always crystal clear as we're the news print. I think the 1960s saw some real progress being made.
Comments by Terry, 20th July 2019
Now if that was being reported today by the Wigsn press, the report would most likely begin "A man who lives only 4000 miles away from Wigan has become the first person to set foot on the moon".
Comments by Poet, 20th July 2019
I was only ten when Eagle landed. We watched it at school on a black and white tele on stilts. Our teacher said we'd all soon be taking our holidays on the moon. For me it felt like a real live episode of Thunderbirds.
Comments by Albert.S., 20th July 2019
It may not be generally known relating to the following. The first food, and drink consumed on the moon was consecrated bread, and wine, taken in a sealed container, by Buzz Aldrin, an elder, in the Presbyterian Church. He also read a portion, from the Gospel of John. The first meal consisted of bacon squares, sugar cookies, peaches, pineapple-grapefruit drink, and coffee.
Comments by Mick, 20th July 2019
I working offshore in the north sea at the time on the oil rig britannia and I remember my toolpusher Glen Palmer coming out of the accommodation and say hey Micky boy them sons of a bitches have landed on that god dam moon, he was from west Texas.
Comments by Philip G., 20th July 2019
A great front-page Colin, and isn't it pleasing to see back-issues re-appearing in good, clean condition.
I'd watched the replay in a packed tap-room where and when 'owd' Jim Liptrot - God Bless his soul -, hung on to his belief that the whole series of events were nothing more than a TV cartoon, while the more erudite Peter tried earnestly to convince him otherwise.
My outstanding impressions of the 'Landing are of Armstrong bouncing along on the moon's surface, and the harmless sparks which flew every which way from the craft as it took-off for home.
The 'Landing also reminds me of my DDR 1957 20pf Sputnik stamp ('it's in excellent condition'), which seemed to present itself in many of Gibbon's stamp approvals of the 1950s/60s.