| | | |
| --- | --- | --- |
| Ribble Buses | | Views: 835 |
| Wigan Bus Station | | Comments: 16 |
| Photo: Ray Item #: 31245 | | |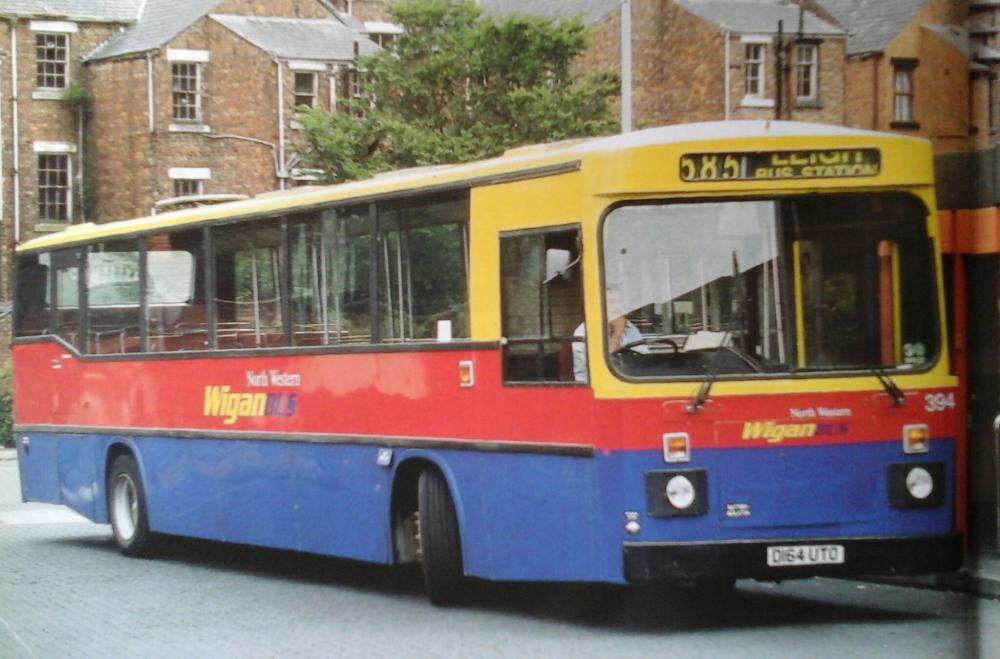 | | | |
| --- | --- | --- |
| | Image scaled down from 1000px to 659px wide | Click here, or click the photo to view original |
In the late 1980s, following deregulation of bus
services in the UK, Ribble Buses at Liverpool,
Southport and Wigan became "North Western"
This Scania bus from 1987 seen here at Wigan Bus
Station is on route 585 to Leigh.
Comments by walt(north yorks), 31st May 2019
Hi Ray, I had left Wigan for pastures new before this vehicle came into service so, I don't have any recollection of this livery. I remember SELNEC orange vehicles but at the end of the day, my liking was always the old Red and White buses of the corporation and still get a happy moment when I see one.
Comments by Pw, 31st May 2019
Walt. I worked in Leigh for quite a few years(1987 included)but do not remember this colour of bus.South West trains out of Waterloo still use a similar colour.Many of of the coaches were made in York.Ray what was the route to Wigan?
Comments by walt(north yorks), 31st May 2019
Pw, during the early 60s I delivered Leigh almost everyday, (fond memories) one of my regular drops was leigh Corporation bus depot on Holden Road, I remember the green buses very well. If you ever go to the bus museum in Manchester I think they have one of the Leigh buses there alongside a Wigan Corporation bus from the 1960s. If you've not been do go its well worth it. I'm sure Ray will give us more info on the livery he is a mind full of knowledge on this subject.
Comments by Mr X, 1st June 2019
Hard to believe that this photograph was possibly 30 years ago in the late 1980s, I was guessing the mid 1990s when North Western changed the style of red and blue livery and to add a bit of yellow. The new North Western started in 1986 taking over part of Ribble and Crosville in an area roughly from Preston, Chorley, Southport, Ormskirk, Wigan Liverpool, the Wirral, Widnes, Warrington, Northwich and Chester. The 585 route went from Wigan to Leigh via Golborne that could not use double deckers because of a low bridge, (this was the former LUT and Leigh Corporation 58 route). This bus probably built by Northern Counties has similar lines to a solitary LUT Leyland Leopard, 424 GBN331N, while the other Leopards were Plaxton bodied LTE486-495P, MTE13-32R.
Comments by DerekB, 2nd June 2019
Walt, Leigh Corporation buses weren't green. The Livery was a lovely shade of blue with cream (or maybe white) bands.
Comments by Ray, 2nd June 2019
Hi Mr X, This picture is from the early 1990s. The Scania was new in 1987 to Kettlewells of Retford, Nottinghamshire,
and the bodywork was by East Lancs Coachworks of Blackburn.
Cheers, Ray.
Comments by Pw, 2nd June 2019
The buses were blue.I used to catch one from the top of the sands(Thomas St?)in Hindley Green to the blue station in Leigh with my older cousin in the 50's.It always was an adventure but was thinking it must have been one of the shortest bus routes ever.Does anyone remember short bus routes?Leigh buses always seemed old and dated in those days even though they had some similar buses in Wigan with long bench seats upstairs,
Comments by DerekB, 2nd June 2019
Perhaps Walt, when you mentioned seeing green buses in Leigh, perhaps you were thinking of those operated by Salford City Transport which were green. Salford were joint operators of the Leigh/Manchester service along with City of Manchester, Lancashire United And Leigh Corporation.
Comments by walt(north yorks), 3rd June 2019
OK …. Yes they were Blue and Salford buses were green I remember now, thanks for correcting me. Throughout the 1960/70s I delivered all the many bus companies across Lancashire and Yorkshire with all the vehicle bulb requirements, I was always amazed at the different colours and still think they were much nicer than todays.
Comments by walt(north yorks), 3rd June 2019
Pw, as a child I often took the bus from Aspull to New Springs and can remember the long bench seats upstairs, some thing to do with a lower body to pass under low bridges I believe, also, open back buses had bench seats either side of the lower deck close to the boarding platform, I loved that highly polished pole to assist people. I could swing around it as I jumped off much to the annoyance of the conductors ha but... I was only a kid at the time.
Comments by philip gormley, 3rd June 2019
I seem to recall the Ribble's upstairs long bench seats of the 1960s being set ahead of a midi bench seat, which accomodated two, or three, passengers - A seat popular with rapscallions.
Comments by Veronica, 4th June 2019
Some of the buildings at the back are in a terrible state these days.
Comments by philip gormley, 4th June 2019
Aye, Veronica; And shades of certain parts of the old Eastern bloc, perhaps.
Comments by DTease, 5th June 2019
My memory plays tricks on me Walt, the other morning I found myself staring at a pan of boiling water. In my left hand was an egg and in the bottom of the pan was a plastic eggcup.
Comments by Veronica, 6th June 2019
I nipped across the road to see my very forgetful friend yesterday, who was making a cup of tea and asked me if I wanted one. She had put a pan on the stove , ignoring the kettle. As the water came to the boil she absent mindedly threw 2 teabags in! The first time I have ever had tea made in a pan... Actually it wasn't too bad after I transferred it to the teapot....well she is 89.
Comments by walt(north yorks), 6th June 2019
Dtease, I even forget to remember to forget these days, the path to my garden shed is well worn but can I remember what I went there for - NO !. well not until I get back to the house. But I can still remember being a little Marra on Crawford Avenue back in the 1940/50s.