| | | |
| --- | --- | --- |
| Police | | Views: 432 |
| Police Inspection, 1957 | | Comments: 8 |
| Photo: Rev David Long Item #: 31053 | | |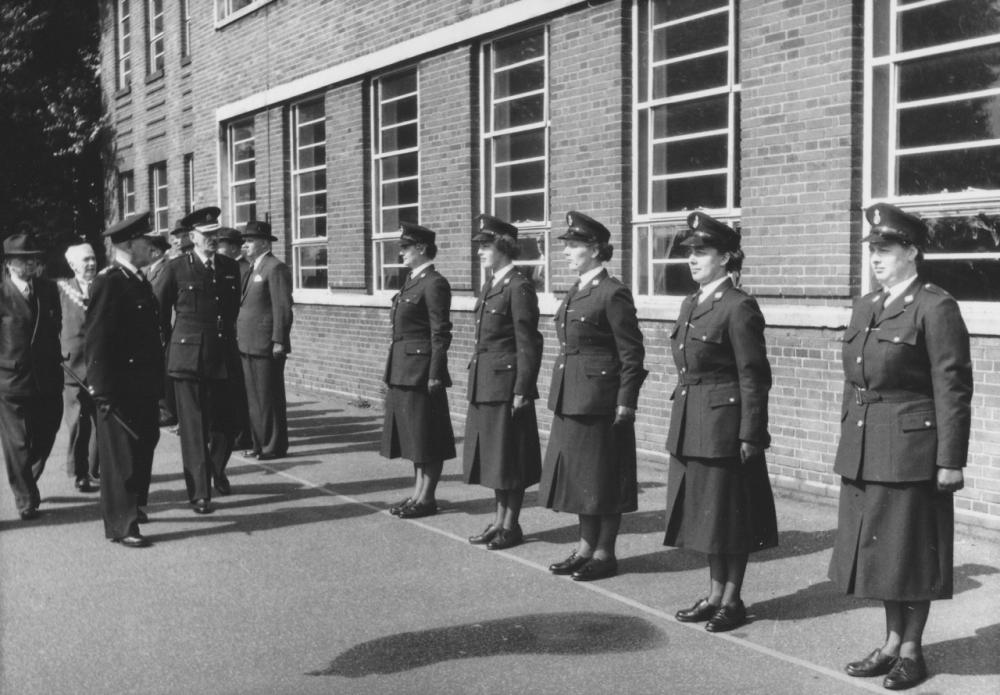 | | | |
| --- | --- | --- |
| | Image scaled down from 1000px to 695px wide | Click here, or click the photo to view original |
Sorry to pop another police pic in... but I reckoned the dating of these Inspections could be determined by whoever the Mayor is in view. Thanks to images uploaded by Ron Hunt, I've been able to identify the two who are visible in these images.
Here it is Oliver Somers, who was Mayor for 1957/ 58. Mayors serve from May - so I think this Inspection took place in summer 1957.
Albert asked how frequently Inspections took place - on the evidence of the two Mayors identified, for 1957 and 1959, it may have been bi-ennially.
Ina Duxbury is the WPC on the far left. Wigan's last Chief Constable (1957-1968), David Aitken, is walking on the right of the inspecting officer.
If anyone knows any other names, please contribute.
Comments by Mick, 14th March 2019
Rev Long - Possibly Ivy Russell (later Ivy Brooks, second from right, and the rather distinctive profile of Bill Parkinson can be seen immediately to the left of Ch. Con Aitken's head. He (Parkinson) was a Det. Sgt. at this time.
Comments by Albert.S., 15th March 2019
In August, 1958, on my return from my twelve week course at Bruche, Mr Davies was then Superintendent and, Deputy Chief Constable, as he was the rank below the Chief Constable, and the only Superintendent. Rank below him was Ch/Insp John Duffy.
Comments by ArthurP, 15th March 2019
The WPC extreme right is Dorothy Lavery.
Comments by Albert.S., 15th March 2019
Mick. Didnít Bill Parkinson retire in the rank of superintendent?. His brother Jack was serving at the same time. When Wigan went into Lancs Constabulary, I believe Jack became a dog handler. As did Peter Bennet.
Comments by Mick, 15th March 2019
Albert - that's correct, Bill Parkinson retired as Superintendent in the early 1970s. Before my time, but I met him on quite a few occasions at functions at Wigan DHQ.
Comments by Albert.S., 16th March 2019
Mick. Possibly, if there was a H.M.I. Inspection in 1961, it is quite possible that I was on leave, even on my honeymoon, Sept., From early 1962, I was serving at Newtown/Pemberton. I donít think they were required to go on the parade, just Central Division.
Comments by Rev David Long, 25th March 2019

I called in at the Museum of Wigan Life today to donate the two Albums I've featured here to the Wigan & Leigh Archives.
Whilst there I checked in the Chief Constable's Reports for 1960-67 to see how frequently the HMIC Inspections took place - it was every year. The dates varied from March to October - so, in the absence of other evidence (such as from the Chief Constable's Reports for the 1950s), it is not possible to deduce the exact year of an Inspection by identifying the Mayor who was present - thus this Inspection could have been in the months following Cllr. Somers becoming Mayor - so 1957, or in the months before he finished his mayoral year in 1958.
Comments by Albert.S., 26th March 2019
Well reverend, with the process of eliminations, and investigations, a satisfactory conclusion was reached. Well done.