| | | |
| --- | --- | --- |
| Police | | Views: 1345 |
| Springfield Park 1953 | | Comments: 11 |
| Photo: Kevin Banks Item #: 30812 | | |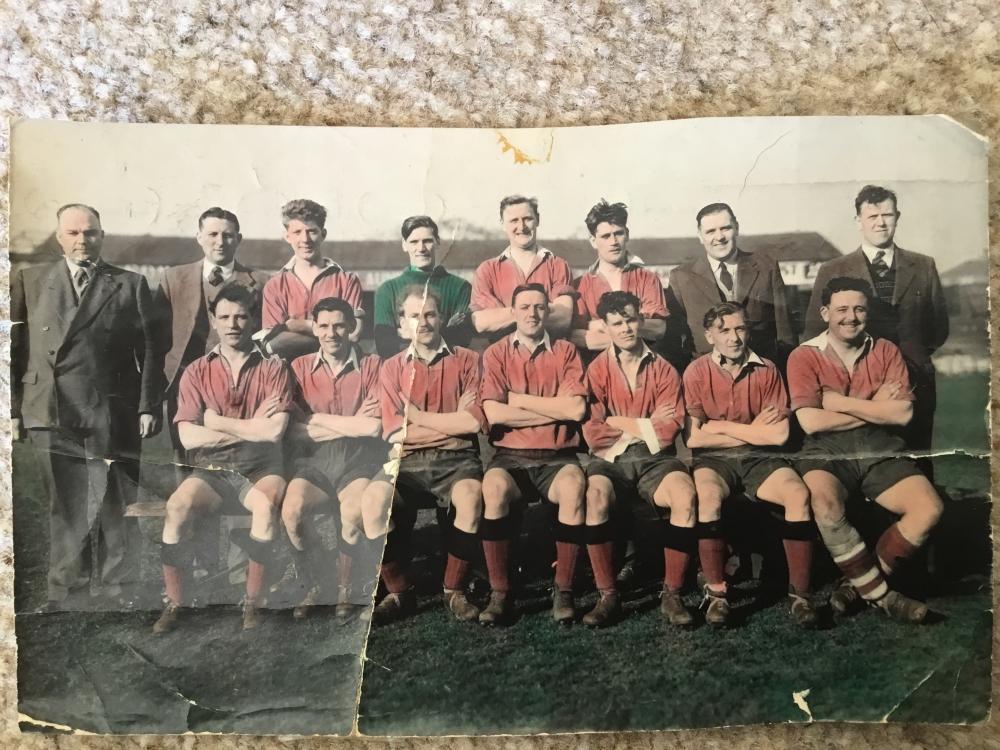 | | | |
| --- | --- | --- |
| | Image scaled down from 1000px to 750px wide | Click here, or click the photo to view original |
Taken 18th March 1953 v Bolton np Springfield Park
Back row l to r Rowlands chairman sgt Margersey sec. A cotton C Hurst goal D Moss K Marsh sgt Hitchens treasurer T Bleasedale trainer.
Front row l to r F Dyke. E Banks. J Clinch. T Kitchen. J Dewhurst. M Ramsdale. J Waring
18/03/1953
Comments by Mick, 3rd November 2018
An interesting photo Kevin, with many familiar faces on it. Could the 'Sergeant Margersey' on the back row actually be Sergeant Margerison?
Harry Margerison was a Sergeant in Wigan Borough, and retired in the late 1960s Ithink.
Comments by Albert, 3rd November 2018
Kevin/Mick. The only one that I recognised is Enos, and possibly Alan Cotton. Although it was taken five years prior to when I joined. Sgt Margarison was one of the sergeants at Pemberton, when I served at Pemberton.
Comments by Kevin Banks, 3rd November 2018
Thanks Mick. Hard to read my fathers writing on the reverse of the photo. Thought it might be of interest.
Comments by Kevan Taylor, 4th November 2018

I thought the J Clinch in the front row looked familiar, having just been looking through my mum's Wedding Album following her funeral on friday we found it was indeed the same Jimmy Clinch in his role as my father Alan Taylor's best man a few weeks after the photo above was taken. Strange how things coincide at times.
Comments by Mick, 5th November 2018
Kevan Taylor - I think Jim Clinch will be the only one still living out of those in the photo. Before he married, and was still at home with his parents, he was a neighbour of my grandparents, in Kimberley St,Springfield.
Comments by ljme, 5th November 2018
Definitely Tom Kitchen lived in Chiswell St Pemberton many years sadly no longer with us.
Comments by Aubrey, 6th November 2018
Apart from D. Moss I remember all of them, but didnít actually serve at the same time as Bleasdale or Rowlandís. An interesting note that these matches didnít always have official referees, on one occasion a Bolton police officer, acting as referee , wouldnít blow for full time because he hadnít sent Freddie Dyke off up till then.
Comments by Ian, 6th November 2018
I remember Jack Wareing on the extreme right front row.
He lived in Kingsway a bit further up from my Nan's house. As a kid in the 1960's l used to be fascinated seeing him in the street with his uniform on. When l used to go visiting my Nan she used to say " now you be a good lad Ian or i'll tell Bobbie Wareing" Needless to say, I was always on my best behaviour!
Comments by Philip G., 6th November 2018
Mr. Dyke had the look of a young Duncan Edwards.
Comments by Ian., 6th November 2018
I think Jack Waring was promoted pretty high up in the police ranks.
Chief Constable or Chief Superintendent. Maybe someone can confirm this.
Comments by Aubrey, 6th November 2018
Ian, Jack Wareing became a Superintendent.