| | | |
| --- | --- | --- |
| Alexandra/Dairy Colliery ? | | Views: 894 |
| Amos Sharrock Winder | | Comments: 8 |
| Photo: RON HUNT Item #: 30775 | | |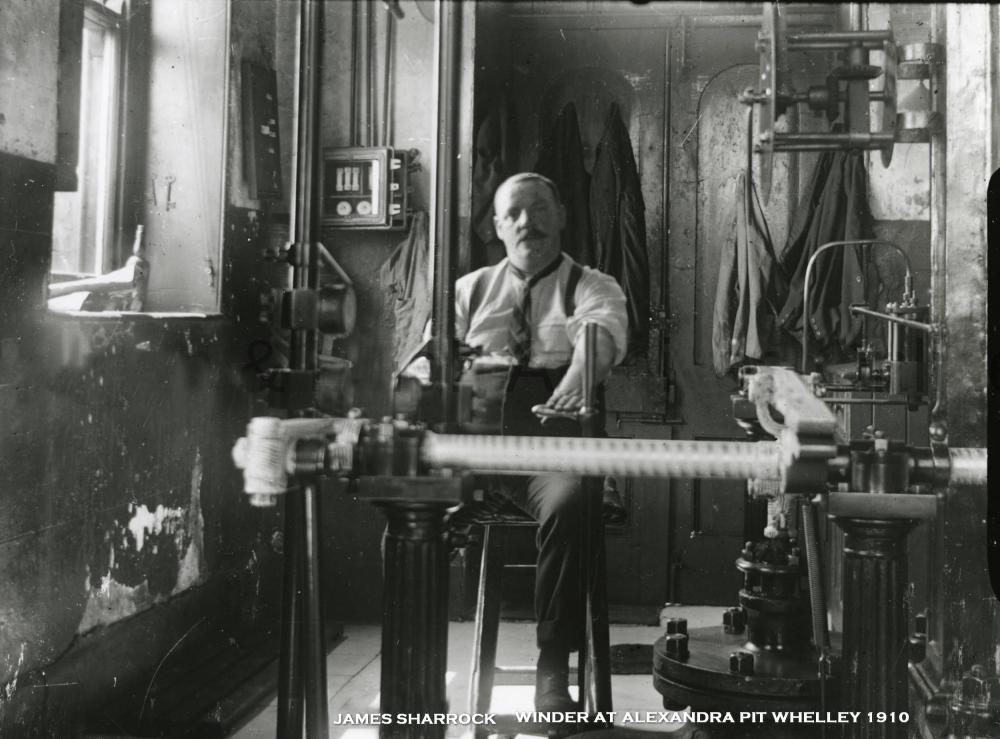 | | | |
| --- | --- | --- |
| | Image scaled down from 1000px to 739px wide | Click here, or click the photo to view original |
| | | |
| --- | --- | --- |
| | Amos Sharrock, winder at the Alexandra pit c.1910 | |
Comments by Josh, 9th October 2018
Amos or James Sharrock?
Comments by RON HUNT, 9th October 2018
Of course its James Don't know where AMOS came from <g>
Comments by Philip G., 9th October 2018
And doesn't Mr Sharrock look very smart, in his well-swept domain, while a bottle of beer would have been most graciously received.
Comments by Keith, 9th October 2018
A James (Jim) Sharrock played for the Wigan rugby league club from 1903 to 1913 and had a very successful career, playing 275 games. This gentleman certainly looks similar to him.
Comments by Philip G., 10th October 2018
There's also a photo of 'J. Sharrock' on Item #:2612.
Comments by Priscus, 10th October 2018
Photo is in Alan Davies's book, 'The Wigan Coalfield'. It says he was the Wigan Rugby player
Comments by Jarvo, 11th October 2018
Did he often fall asleep? Amos looks well boxed-off here. And to think all the rest of the poor buggers were toiling underground...There's no justice...
Comments by James McLaren, 16th October 2018

Yep – That's James (Jim Sharrock – Pit Winder) - who I'm named after. He was my grandfather's uncle. He was part of the first really successful generation of Wigan teams (pre WW1) and represented England and Great Britain. His older brother Reuben (pit manager) also made a small number of appearances in 1895. I'm a descendant of Reuben. Funny this picture has come up! The last of my grandfather's generation sadly passed this year – the last of the Sharrock side of our family who can remember 'Uncle Jim'. He went on to be a director of Wigan and the family has always been proud of the connection to the club. I'm not a Wigan native – born in Stoke, but my grandfather (also a Sharrock) took me to over a hundred games at central park when I was young. The passion lives on, although living in North Staffordshire I am a season ticket holder and bring along my kids and nephews as often as possible. Now into the 6th generation of supporting the Cherry and Whites. I'm writing some articles about the family ties with the club and starting to track down some of the old family memorabilia.