| | | |
| --- | --- | --- |
| Coops | | Views: 1845 |
| Coops silver jubilee celebrations | | Comments: 5 |
| Photo: Ian B Item #: 30611 | | |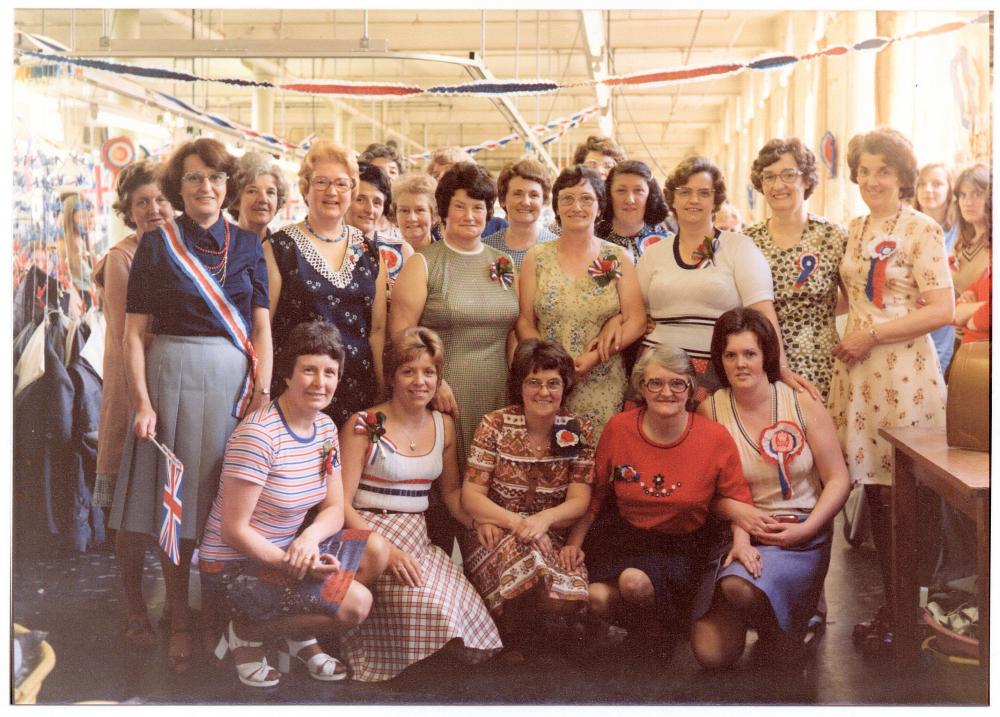 | | | |
| --- | --- | --- |
| | Image scaled down from 1000px to 717px wide | Click here, or click the photo to view original |
| | | |
| --- | --- | --- |
| | Coops silver jubilee celebrations, Friday 3rd June 1977. | |
Comments by . Ozymandias ., 27th June 2018
I wonder if any of these ladies would be interested in shortening a couple of pairs of jeans that I purchased at a car boot sale recently?. I haven't been made aware of the reason why, but Levi Strauss appear to think that the average height of an adult male in the U.K. is in the region of 6' 4"...Well I'm not Arthur Askey's double exactly, but then again, I'm not Clint Eastwood's either, and it seems that every pair of pants I acquire need to be turned up by at least 2" as a rule, and they're asking 8 quid a time down Wigan to do the job. Blimey, it isn't as though I'm in receipt of an eye watering pension from Mothercare either......only joking Ian, hope you don't mind. Good photo mate. As a matter of fact, my sister worked at Coops for many years. She isn't on this photo though, as she would have been at home seeing to the kids when this one was taken.

Regards. Ozy.
Comments by Alan, 28th June 2018
Lovely photo Ian.
Comments by Veronica, 1st July 2018
The lady on the very end behind the other lady in a navy blue blouse lived in Stuart St Scholes. A Mrs Turton I believe - the next street to where I lived.
Comments by . Ozymandias ., 13th July 2018
Although initially, none of these ladies were instantly recognisable to me, I was interested to learn that the lady with the blue dress with the lace neckline, second from the left on the first row standing, is, or possibly was, Mrs. Gladys Simm, the daughter of George Ashurst, who fought with the Lancashire Fusiliers during the First World War. Mrs. Simm would have been about 51 years old when this photograph was taken. Her father, George, was present in the sunken lane near Beaumont Hamel on the first day of the battle of the Somme on the first of July 1916, and would have witnessed the detonation of the Hawthorn Redoubt mine, a mere few hundred yards away from his position, and famously captured on film by Geoffrey Malins. George survived gassing during the second gas attack on the Ypres salient on the 8th of May 1915, only to be sent to endure the carnage of Gallipoli, which incredibly, he also survived. It may be of interest to learn that he was also present at the significant Christmas truce of 1914. Apart from the gas episode, he also sustained frostbite to his feet in the frozen trenches, a wound to the back of his neck from a shrapnel ball, a bullet in the leg from a German machine gun, and also found himself buried alive at one point at the third Ypres. Despite all this he went on to see the armistice, returning home to Wigan to resume his occupation as a booked driver for the Lancashire and Yorkshire railway at their Prescott St. depot. George lived through four years of conflict and went on to write an account of his experiences in his book entitled ' My Bit '. He died in Billinge hospital on the fifth of July 1988 at the age of 93 years. Grateful thanks to Robert Brooke Grundy for the above information.........Talk about ' Giving it Wigan ' RIP George.
Comments by Michael Ardern Mason, 11th January 2019

Very interested in the account of George Ashurst by Ozymandias. The Ashurst/Simm family lived in Arundel Street, Newtown. George's wife, Mrs Ashurst was caretaker and cleaner at the Brunswick Methodist Church, Ormskirk Road Newtown, which she attended with her daughter Gladys Sim, whose husband died of cancer at an early age. Gladys had two sons - Geoffrey and Phillip Simm, and their grandfather, George Ashurst was very helpful to me with a school project on railways. Happy days.