| | | |
| --- | --- | --- |
| Thirty years police service. Thirty years in retirement. | | Views: 2020 |
| Photograph taken of me, in May, or June, 1963. Taken in Ormskirk Road, Pemberton. | | Comments: 33 |
| Photo: Albert Short. Item #: 30521 | | |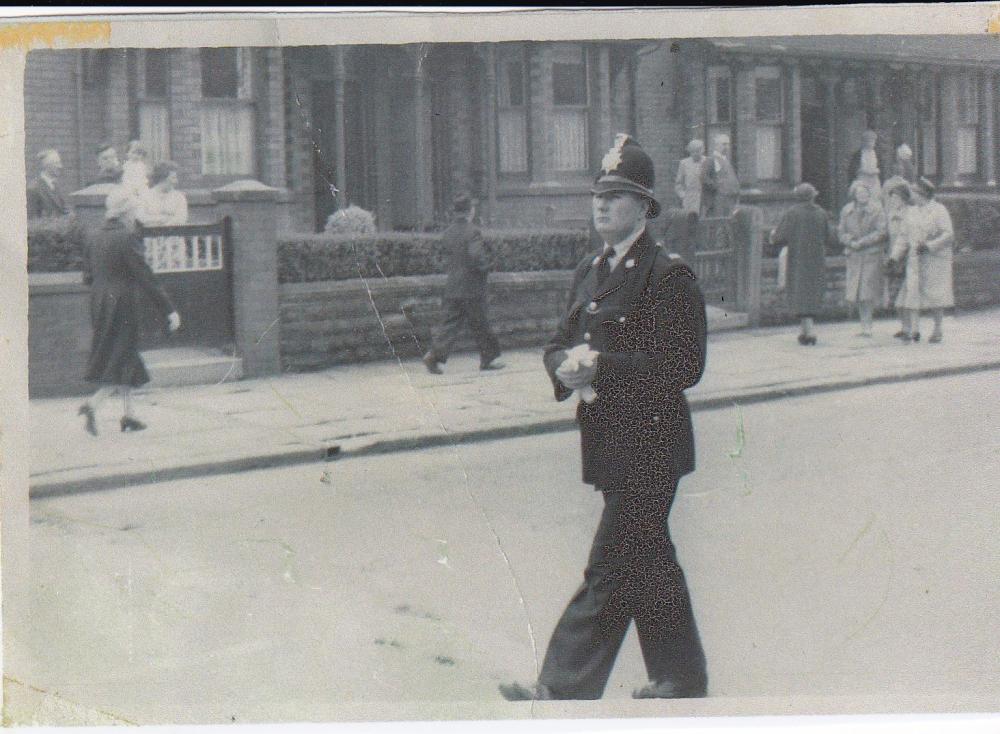 | | | |
| --- | --- | --- |
| | Image scaled down from 1000px to 734px wide | Click here, or click the photo to view original |
| | | |
| --- | --- | --- |
| | Today, sixty years ago,15/05/1958, I joined the Wigan Borough Police, so I served thirty years, and I have been retired from the police service, thirty years. | |
Comments by DTease, 15th May 2018
By eck! Albert, tha would o put the wind up me awreet.
Comments by RON HUNT, 15th May 2018
Tom was you based at Pemberton Police Station?
Comments by irene roberts, 15th May 2018
Albert, if you said it was twelve o'clock it was twelve o'clock! But that was your job, and I'm certain you did it proudly and well. You are a true gentleman.
Comments by A.W., 15th May 2018
Looks like the houses near Sonshine Studios/Pemberton Chippy, you wouldn't walk in the road there so nonchalantly nowadays, lol.
Comments by Veronica, 15th May 2018
A nice kindly bobby to ask the time and the way to go!
Comments by Albert., 15th May 2018
A.W. I should have mentioned, I was at the rear of a religious procession, relating to safety from traffic.
Comments by John G, 15th May 2018
Well Albert congratulations on your service to the Wigan community in your capacity as a police officer, thirty years that's some doing Albert. Also let me congratulate you on thirty years in retirement and your still kicking life's ball down the road. Well done Sir and a true gentleman.
Comments by Albert., 15th May 2018
Yes Ron, I was, from October,1962,until,July, 1964.
Comments by Philip Gormley., 15th May 2018
The chap seen striding swiftly alongside the garden wall seems to have been in a bit of a hurry, Albert.
And I must mention that you looked just a little bit like the Welsh singer Stuart Burrows, ... or maybe the English actor Edward Woodward.
Comments by Maureen, 15th May 2018
Albert,you look very smart..I always wanted to be in the police force,but it wasn't to be.
Comments by GW., 15th May 2018
Congratulations Albert. May many more milestones be ahead of you.
Comments by Spud, 15th May 2018
Albert, you probably knew my dad, John Murphy, who was also stationed at Pemberton / Orrell. He also did 30 years, joining straight after the war. He passed away nine years ago and how ironic is this, his death was on 9/9/09. He would have laughed at that!!!
Comments by RON HUNT, 15th May 2018
Hi Albert I think it was you that "arrested" me and my pals<g> we were playing football in the street i.e. Howard Street one Sunday afternoon and you came past and told us to stop playing in the street and go and play on the "VALVE" as we were walking up Smethurst Lane we were kicking the ball about between us and you came around the corner and caught us again. You took all our names and address' and that evening you came to all our houses and told us we had to be at Pemberton Police Station at 7.00 pm on the Monday night We had yo go with our Dad's to see the main Policeman. I can remember it like it was last week. We were all stood there in front of his desk and he said "When a policeman tells you to do something you do it. I don't want you to stop playing football or there will be no Bobby Charltons around.. Don't play football in the street again. This is a warning" In those days we were all terrified of the Policeman and for the next few months we never did, until we eventually started again...
Comments by Thomas(Tom)Walsh., 15th May 2018
Very smart Albert. That was when Bobbies looked like Bobbies.

If anyone wonders why I send comments using Thomas and Tom, a few years ago someone was using Tom Walsh and putting unsuitable remarks on .I think a few days ago it was referred to as cloning.
Comments by Ray, 15th May 2018
Albert...I could tell that you were following a procession,
the white gloves you were holding was the clue !!
Comments by irene roberts, 15th May 2018
Albert, that Ron Hunt WANTS locking up! (Only joking, Ron!). x.
Comments by Albert., 15th May 2018
Spot on Ray. Observant to the last.
Comments by Albert., 15th May 2018
Yes Spud, I did serve with your dad. He was a man's man. I had a lot of time for him. He knew my brother in law well, John Harte. He was the Mayor of Wigan, in the early seventies.
Comments by Ray Smyth, 15th May 2018
Albert..Put "Mick Goulding" into the little search engine box on Wigan World, and then click onto Robert Baillie Transport, some comments regarding one of your former colleagues. Regards, Ray.
Comments by Aubrey, 16th May 2018
Nice one Albert. Just as I remember you.
Comments by Veronica, 16th May 2018
It was a time when it was natural to see a Bobby on the beat. Somehow there was a feeling of security in the knowledge they were around. Nowadays they are as rare as 'hen's teeth' and if you should happen to see a policeman you automatically think there is 'something up'! We don't even call them 'Bobbies' anymore - did that happen when the helmets were replaced! When as a child you were told 't'Bobby's coming' it was enough to behave yourself. In my mind's eye I see them strolling up Scholes and 'bobbing' in various shops for a cup of tea. The neighbourhood Bobby - a natural part of our lives. Oh! for those days again.
Comments by Elizabeth, 16th May 2018
A very good photo of the times when police were much more of a presence on our streets. Well done on your service, and also your retirement. I thought it was after the end of a walking day procession.
Comments by A.W., 16th May 2018
Thanks Albert, I can see now the people at the houses are watching something and the ladies walking on the pavement seem to be in their Sunday best, was it a walking day?
Comments by Albert., 16th May 2018
Cannot bring that particular incident to mind Ron. It would be vivid in your memory. Other things I remember, getting stabbed in the hand, and getting badly injured by a crazed drug addict. He himself was immune to pain, no matter how much I tried to over power him. Carpeted my police house in Rochester, Kent, where I had transferred to, in mid July, 1964, with the criminal injuries compensation I received re. my injuries. Both incidents occurred within a couple of months of each other. I had only been a sergeant one month, when the first incident occurred. (Still was "Hell Fire Corner") Medway Towns. as it was named in the war years
Comments by Albert., 16th May 2018
Ray. I did look at the one referring to Mick Goulding. I just cannot remember him. With serving at Wigan Central, then Pemberton, then Folkestone, then the Medway Towns, I do get confused as where and when I served with superb colleagues.
Comments by Ray, 16th May 2018
Albert..Mick Goulding would have been a Bobby at Wigan when
you were in Kent, and by coincidence, Mick was a Bobby with
Sussex Police for a few years. A couple more connections,
Robert Baillie Transport had a depot in Sheerness in the early 1970s, and Louis Reece/Owen Owen from Marus Bridge
had their head operation at Horsmonden, Kent, Regards, Ray.
Comments by Albert., 17th May 2018
Thank you Ray for this information. Kindest regards. Albert.
Comments by Jarvo, 17th May 2018
You wouldn't mess with him. A few more coppers like this gent today, and we'd soon have the drug dealers off the streets.
Comments by Alb, 18th May 2018
The old fashioned Bobby on the beat doing his PC plod job. They are nothing like this today, in fact I don't know how they can call themselves police today as they're becoming more like military police (I suspect its part of this fascist society we're heading towards) wearing hi viz jackets, bullet proof vests, carrying lethal tasers (don't believe the rubbish saying they're safe because they are not) and a menacing and intimidating attitude.
Comments by Albert., 19th May 2018
Alb. It is supposed to be all in the name of progress. I have got to the stage in my life where I am satisfied, and no way would I wish to turn back. Looking at the futuristic outlook.
Comments by Garry, 19th May 2018
The Police have had to change because society has.
A thick ear or slap across the face by the beat bobby stopped so time ago, sadly.
Comments by Julie, 19th May 2018
Albert , For me , you are WW's foremost true gentlemen . Your grace, courtesy and decorum are impeccable. Your comments are always considered , holding never ever a whimper of spite . You recognise progress and accept it for what it is . Your integrity always shines through . I admire you enormously as a contributor to WW . To balance the stresses and movements of life , as you do Albert , shows an incredible
depth of understanding, not given to us all. I salute you sir !
Comments by Albert., 19th May 2018
Julie. I am most humbled by your comments, and I truly thank for them. 99% of all contributors to W.W.A., each one has good, and admirable comments to make, and that makes W.W.A. a very successful website, and may it continue to be, for many years into the future.