| | | |
| --- | --- | --- |
| Worsley Mesnes Ironworks | | Views: 1997 |
| Aerial View | | Comments: 14 |
| Photo: RON HUNT Item #: 30201 | | |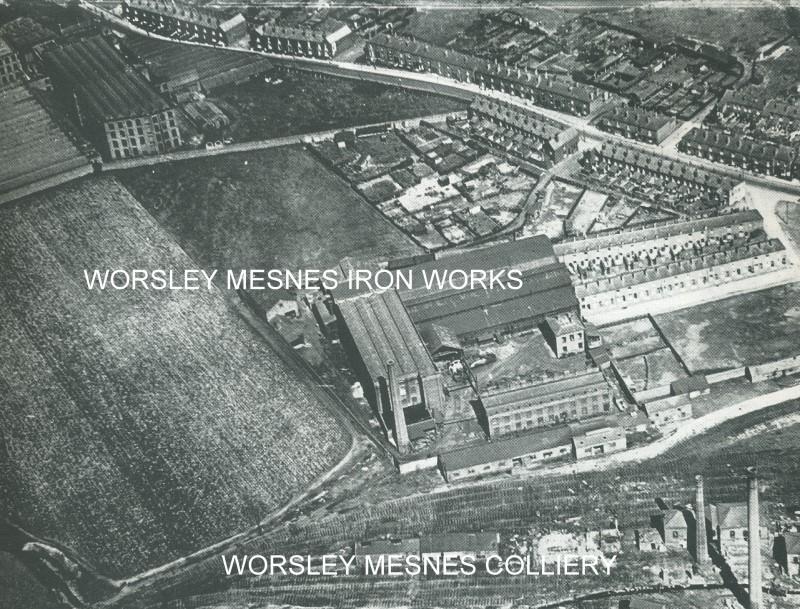 | | | |
| --- | --- | --- |
| | Image scaled down from 800px to 609px wide | Click here, or click the photo to view original |
| | | |
| --- | --- | --- |
| | An aerial view showing Worsley Mesnes Ironworks and Worsley Mesnes Colliery | |
Comments by Scholes Malc, 7th February 2018
cracker Ron put cant place it exactly - any names on those surrounding streets?
Comments by WILLY WACKUM, 7th February 2018
Can someone point out where this is? I can't fathom it out
Comments by SteveM, 7th February 2018
Just checked on old-maps . Road across the top is Poolstock Lane , just off photo top left would be St. James´s church , just off photo top right would be flashes . Ironworks between Worsley Mesnes Drive and Mesnes Ave .
Comments by trewyth, 7th February 2018

Poolstock Lane running diagonally across the top right of the photo, Richmond Street going up to Works gates on the right
Comments by John Brown, 7th February 2018
Great picture. I went to school with a lad called Alan Bullock. He lived in Richmond St - end house, right next door to the Ironworks. We went in once or twice (his dad worked there) and I remember it as being a dirty, dark place.
Comments by dave, 7th February 2018
where is the old railway bridge what crossed poolstock next to the tippings?
Comments by Peter, 7th February 2018
I also remember Alan bullock from Richmond street,and also the Worthington s Wirley was his nickname And l remember the works siren sounding at dinner time.
Comments by Geoff, 7th February 2018
In Worsley Mesnes it was only ever called Melling's Foundry.
Comments by RON HUNT, 7th February 2018
Peter would WIRLEY be around 70ish now? I remember a lad around town nicknamed WIRLEY. Often wondered what happened to him? He was well known for stripping off naked, after he had had a few drinks. Seen him do this a few times in the Crofters..
Comments by Peter, 8th February 2018
Thatís the one Ron,he went to our school Highfield.He was a couple of years older than me so he would be in his 70s I believe he went to Australia with a Lad called Lemon .
Comments by Philip Gormley., 8th February 2018
The white gable end, shown a quarter of the way down on the extreme right, is doing its best to look towards the direction of the shortened Worsley Mesnes Drive. The lengthier Richmond Street, doesn't have the row of houses on its left-hand side as it approaches the work's gates, so it seems to me (after some consideration) that the photo had been taken during the late 30's, or the early 40's. The square building with five windows, at the end of Richmond Street, was the office and clocking-on/off point. Below the office, and with two rows of regimented windows, is the building that became the domain of Bill the blacksmith who was aided by his striker 'little' Bert, and sometimes by Ken Rhoden - of magnificent side-burns fame. The top tier of the building was used for the storage of wooden moulds, and other various kinds of clutter. Steel plates, angle iron, joists etc., were stacked near to where the two adjacent chimmneys are shown. The triangular-shaped piece of land shown beneath MESNES, is where Jack Jolley's repair shop ('with coal fire') stood. 1964-67.
Comments by AH, 9th February 2018
top right corner is worsley mesnes cotton mill ; I think this is were grange ave & Holborn ave now stand my great grand father & grandfather lived at 62 poolstock lane 1891 census
Comments by AH, 12th February 2018
dave; the railway line is below the colliery; I think the other street above Richmond st was carlton st/ave this was demolished.
Comments by AH, 14th February 2018
I think wirley was eric Worthington who went to all saints sec mod early 60s