| | | |
| --- | --- | --- |
| Reeds Corrugated Cases, Goose Green | | Views: 809 |
| M.A.N. Reed Transport | | Comments: 5 |
| Photo: Ray Smyth Item #: 30181 | | |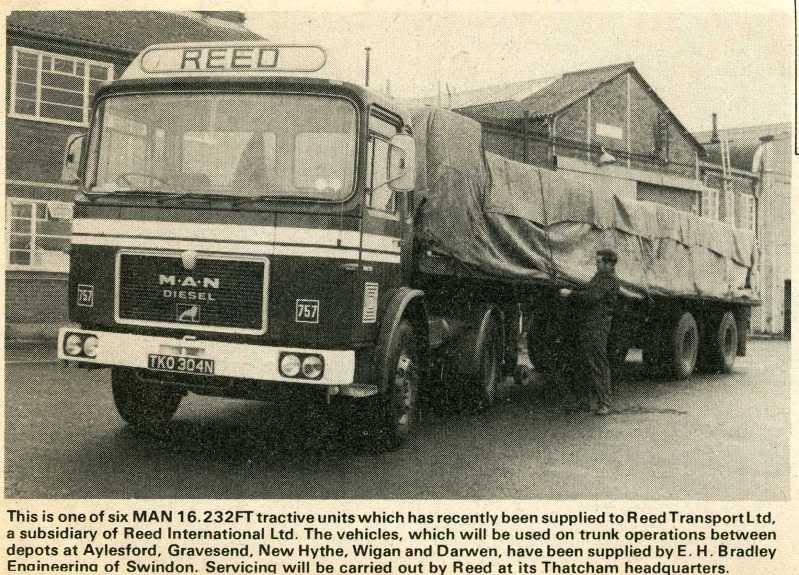 | | | |
| --- | --- | --- |
| | Image scaled down from 799px to 575px wide | Click here, or click the photo to view original |
I am grateful to Bill Parr for his comments to
my recent posts, bringing a bit of accuracy to
one or two of my remarks. This Reed Transport artic was based at Reeds Thatcham depot in the
county of Berkshire, and would have made many
trips to Reeds at Wigan during its life. I did
a few weeks on night trunk changeover with the
Thatcham drivers, meeting up at Strensham Services on the M5 Motorway, driving an old E.R.F unit and trailer. Regards, Ray Smyth.
Comments by bill parr, 4th February 2018

Well done Ray you must have some really good contacts to get your info and itís spot on M.A.N was put on the road on 1/9/74 and was one of six as a matter of interest I had the very first M.A.N demo for Reed in early 74 and I couldnít believe how quite it was in the cab to drive you will know that the early models had a column gear change just like some cars had and this created a walk through cab as the engine was low down.The next Imput of M.A.N was March 76 when 5 was bought for Darwin dept the price of each unit being £11500 in comparison to the Volvo f88 290 units bought for Wigan and Aylesford at £12600.On another matter Ray do you remember John Grady, Fred Everett who started on the same day as you










G
Comments by Sentinel, 10th February 2018
Ray
Was Geoff Ellison at Reed when you worked their I knew Geoff from Oliver
Hart in the middle 50s he was the only driver then on a artic
Comments by bill parr, 10th February 2018
Hi Sentinel
Geoff Ellison joined Reed Transport around June/July 1960 and he came from Oliver Hart along with Joe Bolton both very experienced hgv drivers.They came along with quite a few drivers from - Fred Rose -croppers- Robys -Jay pey and Suttonís to name just some as Reed was starting night trunking from Aylesford, Thatcham.London.Gravesend and Histon.Geoff was a day shunter. He also at one time played for Wigan Rugby . He is on the photo I posted a couple of weeks ago along with a couple of ex drivers from Midway Haulage and other drivers
Bill

. Geoff was a day shunter on the green fleet
Comments by Ray Smyth, 10th February 2018
Hi Bill, I remember Fred Everett and John Grady rather vaguely, Was John an ex bus driver ? I can recall quite
clearly the day I started, It was the first day for Jack Foden, and a young driver from Skelmersdale whose name I
cant recall. A particular memory often comes to mind, it was when I did a few weeks on Night Trunk changeover on the
M1 at Newport Pagnell, I would leave Wigan in an H Reg Scania 110 with 5 speed splitter gearbox, and return with an almost new Scania 110 with a 10 speed Range gearbox.
Therefore it was important to remember which Scania you were driving when deciding to drop a gear. Happy Days, Ray.
raysmyth6644@gmail.com
Comments by bill parr, 11th February 2018
Hi Ray
Yes John Grady was ex bus driver and I think you are thinking of John Lyon from scemerdale. Jack Foden came with John Standish from Northen island trailers (Preston) . I didnít know you had a spell with Robert Baileys on the fruit and veg . Did you know Harry Sidebottom you worked for them and came to Reed ?
Best regards
Bill