| | | |
| --- | --- | --- |
| Reeds Corrugated Cases, Goose Green | | Views: 1667 |
| Reed Transport | | Comments: 37 |
| Photo: Ray Smyth Item #: 30050 | | |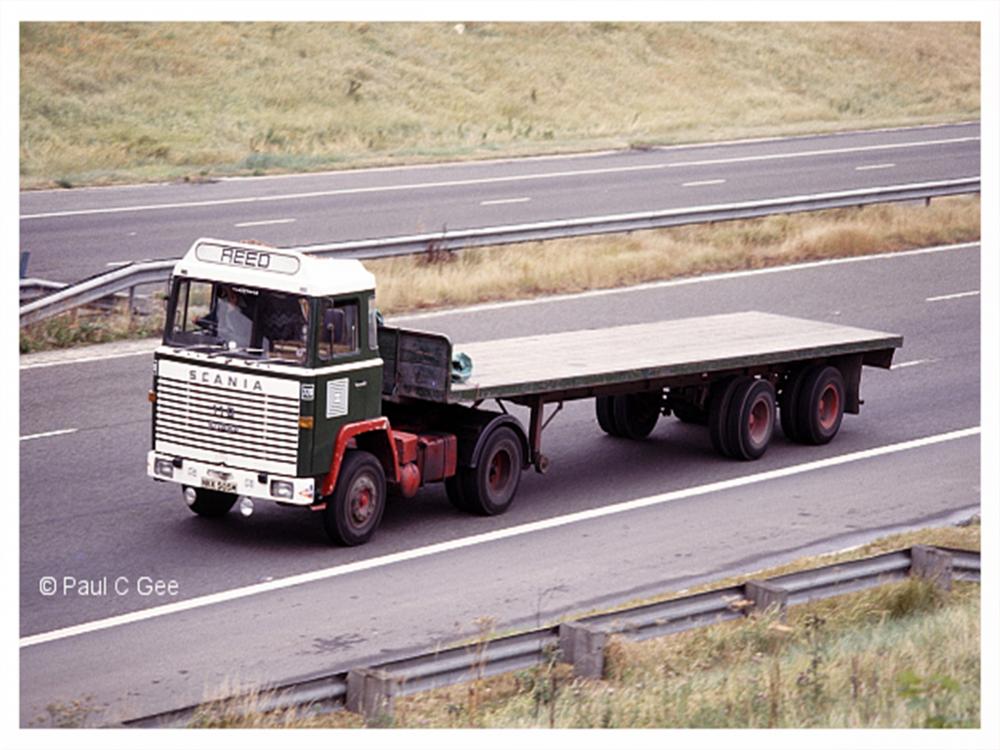 | | | |
| --- | --- | --- |
| | Image scaled down from 1000px to 750px wide | Click here, or click the photo to view original |
"Reed Transport" at Goose Green was part of the
fleet of lorries at Reed Corrugated Cases, both
part of the Reed Paper Group.This is one of their Scania artics on the motorway.
Photo by Paul.C.Gee.
Comments by leslie hart, 10th January 2018

my dad stan hart work as a driver at reeds in the 1070 he allso work in yard loading wagon many yrs ago
Comments by JJP, 10th January 2018
Ray, I doubt very much anyone would be able to get a picture like this these days, where is the traffic ?. I had a spread axle just like this one coming out of Birmingham city, fully freighted turning right at the ROBOTS - I dipped the clutch pedal to upshift and the dammed thing stopped dead and returned me back to the centre of the road, just like being catapulted. Similarly, in Melton Mowbray on a lovely hot day and new tarmac the road surface lifted as I rounded the tight bend, mind you, I did warn the 'Tarmac' foremen what would happen as he waved me on, I asked him to shift the cones giving me a better swing-- but no ! ah well !
Comments by Arthur, 10th January 2018
Trucks should never run light, always loaded both ways.
Comments by John Brown, 11th January 2018
The lorries were blue when I worked there: 1972 to 1988
Comments by Ray Smyth, 11th January 2018
John Brown....For most of 1973 I was a HGV driver at Reeds at Goose Green. The lorries that I drove for most of that time were green, Scania 110 artic units on the night trunk
changeover at Newport Pagnell Services on the M1 meeting up
with the drivers from Aylesford in Kent, ERF artic units on
the night changeover at Strensham Services with the drivers
from Reeds at Thatcham, Berkshire. On day work I often drove
an old Atkinson. Toward the end of 1973 I drove the occasional Blue Ford D Series medium weight artics. Names I can recall from that time are Bill Bailey,Transport Manager,
Les ?????,Transport Foreman, Drivers, Bob Long, ???? Melling
Bill Parr, Alan Sherrington, Jack Foden. John, were you a driver at Reeds ?
Comments by Ray Smyth, 12th January 2018
Arthur...With regard to your comments about lorries should be loaded both ways, There are many reasons why lorries are
sometimes seen running empty. For example, The above lorry
leaves Wigan at 6am loaded with 20 tons for say,Coventry,
and by 1030hrs the load has been delivered, the driver then
starts to phone several "Clearing Houses" for a load back, for somewhere up here,(No mobile phones back then).
Starr Roadways in Birmingham tell the driver to go to a depot in Walsall, and load 12 ton for delivery to Stockport
The lorry then runs EMPTY to Walsall and puts on the load.
After the load has been delivered to Stockport, the lorry
then runs Empty,back to Wigan to load up for tomorrow.
The rates for return loads from Clearing Houses was very often pitiful, and they would send you a cheque after 90 days if you were lucky. It was sometimes better to come straight back to the source of your regular work,and do a
local run, and load up again for the next days work.
Comments by Lynne, 12th January 2018
Been much better if it was a Leyland truck.
Comments by TD,., 13th January 2018
Ray.The comments under your photo are interesting and informative.
Comments by Matthew Black, 13th January 2018
Lynne, I am interested to learn why you think this picture
would have been better if the lorry had been a Leyland. Is it because Leylands were built not far from here in Wigan.
Did you ever drive lorries ? If you did, then you would know
that Scania lorries are far superior to anything that the UK lorry industry ever produced.
Comments by Howard P, 13th January 2018
I suspect Volvo's much better.
Comments by Matthew Black, 13th January 2018
Hi Howard, Volvo lorries are in the same league as Scania.
Comments by TD,., 14th January 2018
Stobart Volvo's have some interesting names,Eddie being a particular favourite, I would be interested to know if our 0zy had some influence or involvement with the company.
Comments by Howard P, 14th January 2018
I suspect Volvo are in the premier league, against Scania.
Comments by Ray Smyth, 14th January 2018
TD...All of the Stobart lorries that I have seen have Girls
names, e.g.Helen Louise, Anna Mary, etc. I hope that Our Ozy
doesn't read these comments.
Comments by fed up fred, 14th January 2018
If you stand on any motorway bridges, you'll see 1,000s of these all day.
Comments by dougie, 14th January 2018
Ray, I worked at Reeds from 1959 to 2000 but not as a driver ,I don't remember you but remember all the other names you've uploaded very well, John was right about the Wigan Transport being "Blue".
Do you remember the Government testing out two 40ft flat bed trailers pulled by one unit up the M6 like a train bringing them into Reeds Wigan yard for on-word delivery to anywhere one at a time without transshipping or doing anything with both trailers
Comments by Keith Beckett, 14th January 2018
Scania and MAN trucks are part of the VW empire.
Comments by TD,., 15th January 2018
Ray, with reference to our Eddie and in the absence of his alias, I hereby name this green example of the Goose Green fleet... Olive. God bless her.
Comments by Garry, 15th January 2018
No aerodynamics with this "flat fronted cab".
Comments by Ray Smyth, 15th January 2018
Dougie, Thank you for your comments above.With regard to
Blue and Green lorries at Reeds, when I was there,there were
about at least 20 of the Ford "D" series medium weight artics painted blue, and maybe only 6 or 7 of the 32ton artic units in green, also, some trailers were blue, and
some were green. Regarding your picture of John Smith,stood
beside his Mercedes-Benz "Corrugated" artic,have a look at the logo on the cab door, and the logo on my Scania picture.
I wonder if John and Mike Smith have any Reeds lorry photos,
in blue or green ? Some more names have surfaced in my head, Charnocks,Father & Son, Ronnie Fearnley and Cyril XXXX
both who I think were on regular night trunk operations,also
Eddie Croston, who joined Reeds after I left. Regards, Ray.
Comments by Dougie, 15th January 2018
Ray, I got to know almost all the drivers over the years LOL,
This is a video I made why working there just copy and paste this link and go full screen if you would like to look -- http://youtu.be/S8mtpysdMJ8-- Ihade to play it on the TV and copy again so as to upload it
Comments by Ray Smyth, 16th January 2018

Dougie..I have just had a look at the Reeds YouTube, It has
brought back a few memories, particularly the section in the
loading bays. A lot of HGV drivers starting a new job would
be allocated a lorry, and could be on that same lorry for a
long time,sometimes for many years. At Reeds there were about 25 drivers who had their own regular lorry,and 4 or 5
Spare drivers,of which I was one of them. My earliest work
was 3 weeks "On The Bank", on night shift. It involved loading up to 14 trailers between 8pm and 630am. As soon as
a trailer was loaded,you had to climb on to the top of the
load,very often 2 pallets high, spread the sheets,jump down
and put a "Dolly" in all of the sheet ties,couple up to the
trailer with the "Yard Tuggy", drop the trailer at the top of the yard,then find an empty trailer to fill the bay that
you had just come from. No tautliners in those days. You were under pressure from the loading bay foreman to supply
him with empty trailers, and move them out once they were
loaded and sheeted. Another name has just come to mind....
George Heaviside,does that name ring a bell? Regards, Ray.
Comments by . Ozymandias ., 16th January 2018
It may quite well have been a little after your time there Ray, but when we were subbing out of RCC for Pennington Haulage in the mid to late 70's, there was a lad working on the bank then, on days at any rate, by the name of Jimmy Wadsworth. You always knew Jimmy was coming long before he appeared, as he always wore clogs. Dougie may possibly remember him.

You've reminded me about spreading the sheets over the load Ray. We were lifted up on a pallet along with the sheets by one of the FLTs, I can't see that being allowed nowadays somehow. Sheeting up could also be a bit tricky at times as you'll know, as some of the pallets could be a bit unsteady. This can be seen in one section of Dougie's video, as they didn't always sit squarely on top of each other.
Also, the roofs of the first two loading bays down by the canteen were supported by steel lattice beams which were quite low, probably only clearing a double deck load by about four or five feet, and it wasn't uncommon for drivers to raise a lump or two on the noggin when sheeting up.
Regarding Dougie's mention of the double bottom rig that RCC ran on trial, I remember seeing it in the Wigan factory on a couple of occasions around about 1977 or thereabouts. I should have taken some photos, but didn't unfortunately, but from memory, the outfit consisted of two 26 foot trailers, with a dolly between them, pulled by an F88 Volvo.
I remember thinking at the time that it didn't appear to be anything particularly remarkable, the entire rig having an overall length of approximately 66 feet ( from memory ), when at that time the maximum permitted overall length of a standard articulated outfit was 59' 2 1/2 ". A mere 7 foot or so difference therefore in overall length.
It would probably have passed unnoticed to the untrained eye, other than the fact that due to special regulations that had been imposed by the ministry, the outfit was restricted to 30 mph, other than when travelling on the motorways, when the vehicle was allowed to travel at an eye watering 40 mph.
I can't understand why they didn't just go the whole hog, and have a bloke walking in front of the thing waving a red flag. Either way, the experiment ultimately came to nothing.
Finally, and if we're talking about the same chap, I think Bill Bailey may have ended up as yard foreman working for Clarington Coach and Haulage, but I could well be mistaken there, as I could also be mistaken about other details, but we are talking over forty years ago here.
Oh, and one more thing, although I only ever managed to get the odd breakfast in there occasionally, I found the canteen facilities at Reed's to be second to none. I doubt there can be any argument on that score.
Comments by Bill parr, 16th January 2018

Re the double bottom trail it took place 9/8/76 for a week running from Odhams press Watford to Wigan depot the driver being Peter Allen of Aylesford dept The unit was f88 290 by and was fully documented in Commercial Motor 24/9/76 it was found to be too restrictive for Reed Transport type of operation.Re the banks an waddy was a character but if you want to know anything about that side of the job Brian Stanley is the one to ask
Regards Bill Parr
Comments by Bill parr, 16th January 2018

Re Reed Transport
Bill Bailey became our depot Manager and later went onto be manager of a subsidiary of Reed International Maybanks in Liverpool sadly Bill has passed away
Bill Parr ex Reed Transport
Comments by Ray Smyth, 16th January 2018
Thanks to Ozy for his in depth information and accurate details of Reeds. I mentioned a "Dolly" in an earlier post,
my Dolly was a lorry drivers hitch in his roping up of a load, The "Dolly" mentioned by Ozy was the single axle on the forward end of the 2nd trailer of the Double Bottom drawbar outfit. Another name has just sprung to my brain,
Peter Bevis, an owner driver sub contractor from Westhoughton. Regards, Ray Smyth.
Comments by . Ozymandias ., 16th January 2018
I feel that I should mention at this point that my previous comments were inaccurate on several points. First of all, I stated that the legal overall length of an articulated vehicle at that particular time was 59' 2 1/2 "" whereas I should have said 49' 2 1/2 ". Furthermore, following subsequent enquiries, it would appear that the trailers in question were each 23 feet long, and not 26' long as I had previously calculated, giving an estimated overall length of around 58 feet or thereabouts by my reckoning, but with only around 44 foot of deck space. Given that the tare weight of the double bottom, including the dolly, would have been around 13 1/2 tons, then on a 32 ton gvw vehicle that would equate to a payload of 18 and a half tons, substantially less than a conventional forty footer, and whereas the cost of two 23' Crane Freuhauf trailers was very similar to the cost of one forty footer, and this coupled to the prohibitive speed restrictions on the vehicle, it comes as no surprise to me that the experiment was doomed to failure. Thanks to Bill Parr however for putting me right regarding Bill Bailey, I'm obviously thinking about somebody else called Bill. I'm fairly confident that my comments about the canteen were correct though, and one out of four can't be all that bad can it? Incidentally Ray, I think you'll find that Bevis are still running a fleet of half a dozen tidy looking motors from a patch of land up on the A6 near Blackrod, almost opposite Fred Rose's old yard. I'm pretty sure he's a mate of Kevin Fayle, who started out himself, subbing for Reed's with a four wheel flat wagon, before they kicked all the flats out in favour of tautliners, this would have been in the late 70's or early 80's I suppose. Someone no doubt will know the precise date.

Regards. Ozy.
Comments by Lynne, 17th January 2018
Matthew Black. Built in Britain by British workers. In no way was Scania "superior!" I'm always puzzled and dismayed as to why some people always seem to think "foreign is better" when, usually, the opposite is true. As an example... Leyland buses. They helped to "build" Britain.
Comments by Matthew Black, 18th January 2018
Hello Lynne, Yes, Leyland Buses were fine machines 50 years
ago, as were some types of buses which were just as good as
Leyland, you may have heard of AEC,Bristol,Daimler,and Guy.
As time went on, Scania and Volvo buses became available,and
just like ordinary everyday products,they were an improvement on whatever they were replacing. With regard to
lorries, when I started driving them, Leyland, AEC, Foden,
Atkinson, and ERF were the top lorries of the day. Similarly, Most cars in the UK are not British, If you have
a car Lynne, where was it built ? Kind Regards, Matthew.
Comments by TD,., 18th January 2018
Very interesting comments Ozy.

Regards, TD.
Comments by bill parr, 2nd February 2018

Hi
Re your excellent comments 16/1/18 among them the early contractors in the early days,yes Peter Bevis was one of the first among quite a few some more come to mind Kevin Fayle,Chris Vincent, Alf Goulding,and forgive me for now for any Iíve not mentioned in this post but another of the very first was a owner driver who lived around boarshead Standish he had a AEC eight legger and helped Harold Shambley and myself to move quite a large tonnage of stock from RCC trafford Park to the new factory inWigan .
Harold and self drove a Albion wagon and drag an ex ground nuts motor
No doubt someone will remember the AEC owner.This operation was during early 1959 yes quite some time ago
Bill Parr





-
Comments by Dougie, 4th February 2018
Bill,hope you don't think I'm pulling you up but I think it was Cyril Vincent, Cid (----)Goulding, Alf Bevis, Peters Driver other driver, another first was Winstanley his son-in-law took over from him Rosbourgh he is still in the yard in someway, another first was the three wheeler moving single face rolls, I still think the first driver was Cid driving for Gouldings out of pottery road
Comments by bill parr, 4th February 2018

Hi Dougie
I donít take any offence to any coment after all we are talking about 58years ago. Iíve mentioned before the Scammel three wheeler driver was
Len McIntyre and he worked then for British Rail and played Rugby for Oldham he became after a while a Reed driver and yes Eric Rosbough was also one of the first contractors youll see a photo of him in the corrugated picture section.
Comments by bill parr, 4th February 2018

Re Sid off Gouldingís haulage his wife Marjory worked in our transport office for quite awhile and their son worked for RCC in the factory
Comments by Dougie, 5th February 2018
Looking at the top photo Bill, Not many left now that will know how you loaded empty trailers at Wigan, to send piggy back to other factories
Comments by Sentinal, 16th February 2018
What a fantastic photo I well remember looking in my mirror and seeing a scania 110 loaming over hauling me quick style and as it passed how envious was I. Never had the privilege to drive one but I could dream
Comments by Bill parr, 20th February 2018
Hi Lesley
Yes your dad did indeed work for Reed Transport , I remember him well being tallish and slim and being a very good worker