| | | |
| --- | --- | --- |
| Wm. Livesey. Builders merchants. Queen St. | | Views: 1706 |
| Employees of Wm. Livesey. Year unknown. | | Comments: 46 |
| Photo: . Ozymandias . Item #: 29958 | | |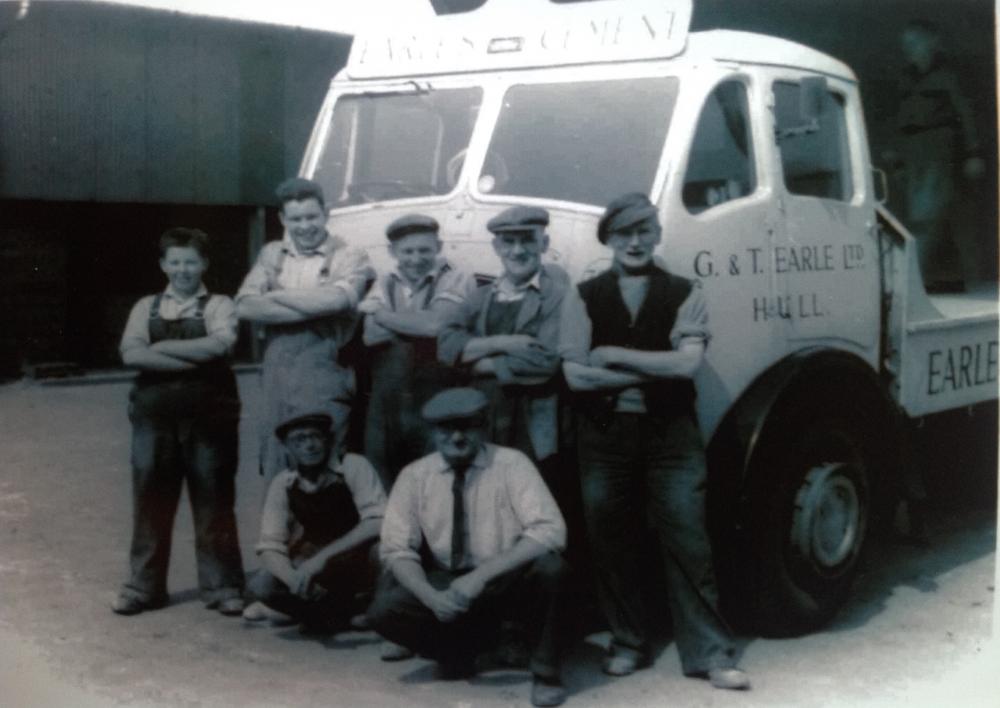 | | | |
| --- | --- | --- |
| | Image scaled down from 1000px to 708px wide | Click here, or click the photo to view original |
| | | |
| --- | --- | --- |
| | A somewhat blurred image of what I assume to be the staff and workforce of Wm. Livesey's builders merchants, taken at a guess in the early 50's. Their premises were, and still are, in Queen St, although the site later became that of Keyline, and is currently ( 2017 ) a depot of Travis Perkins. | |
Comments by Howard P, 5th December 2017
I suspect a truck of the Leyland type.
Comments by Arthur, 5th December 2017
Looks very much like the old Foden.
Comments by jack, 5th December 2017
I wonder how long it took that lorry to get there from Hull in the 50's?.
Comments by Garry, 5th December 2017
Well, Wigan to Hull today takes about 3 hours around 150 miles. then without the motorway about 8 hours with that sort of lorrie, you would be lucky to get 30-35 mph, on a good day with the wind behind it 40 mph.
Comments by Thomas Bowler, 5th December 2017
Howard....That "Leyland" is a "Foden".
Comments by Howard P, 5th December 2017
I suspect a vintage Foden.
Comments by Albert., 5th December 2017
I am extremely doubtful that any one of the photographed gentlemen, will by now, have any interest whatsoever, in Brexit, one way, or the other.
Comments by walt (north yorks), 5th December 2017
The Foden belonged to a company called G&T Earle who were ship owners and cement makers based in Hull. Having lived not that far from Hull for the past 34 years and spoken to a few old timers over the years they tell me that the journey would take around 8 or 9 hrs. Having left Hull via A63 for Leeds drivers would most likely pick up the A62 via Huddersfield - Standedge - Manchester then Wigan, an extremely hard drive those days over the Pennines. Leaving home at 4 am and not returning until the following day. Recent years and the M62 meant the journey would easily be completed in a fraction of the time. Back then the cement bags they delivered were all handball. Another good pic Ozy.
Comments by Harold, 5th December 2017
HowardP,
It must have been a load of rubbish then
Comments by . Ozymandias ., 5th December 2017
I have no idea as to the identity of any of these gents Albert, but it occurred to me that someone may possibly have been able to identify a friend, or family member from among the group. As I previously stated, I'm unaware of the precise year that this photo was taken, but the two lads on the extreme left look to me as though they may be related, and given that they could both also possibly have been in their teens at the time, it's also conceivable that these two could still be kicking about, or more likely, shuffling about. But either way, as you say Albert, like myself, none of these lads are likely to be concerned about the outcome of Brexit, which, and judging by the way it appears to be going, if, and when it ever occurs, , we're all likely to be under the sod anyway. But let's not go there again eh? please?
Comments by Rev David Long, 5th December 2017

Garry - the 20mph limit was still in place for lorries for most of the fifties - so the trip over from Hull would have been rather more than a day's work, with all the uphills to do at near 10mph.
As for Brexit, Albert, these men look old enough to have lived through WW2, and are likely to be sons of those who went through WW1. They may well have heard Churchill's support for a 'United States of Europe', and may have thought of it as a way of preventing WW3....
Comments by Albert., 6th December 2017
Thank you Ozy, and Reverend. As you say Ozy. It is now time to put Brexit to bed. Enjoyed each of your previous contributions.
Comments by DTease, 6th December 2017
The man on the right looks like Popeye the Sailorman.
Comments by Veronica, 6th December 2017
And the one in front looks a bit like Bluto- Popeye's rival for Olive Oil.
Comments by . Ozymandias ., 6th December 2017
Eyup, we're off.
Comments by Alan, 6th December 2017
Yip it's started to get silly once again and spoil the photo by "it's all about me me me!!!
Comments by . Ozymandias ., 6th December 2017
Having a bit of a laugh isn't spoiling owt in my book Alan, in fact it adds a bit of interest to an otherwise boring photo.
Comments by DTease, 6th December 2017
Sorry, I interrupted Alan. Is there something you wanted to say?
Comments by Veronica, 6th December 2017
That jolly group of hardworking chaps would have known how to have a laugh or two - there's not a surly man amongst them! I bet they they all had nicknames!
Comments by DTease, 6th December 2017
Ozy, could it be Geedoublya's Pappy?
Comments by . Ozymandias ., 6th December 2017
I don't think Popeye ever married did he DTease?, although that doesn't necessarily mean that he wasn't Doubleyolk's old man. The cap certainly has a nautical aspect to it, but it's the chap's muscles that I'm having a problem with. Popeye's muscles were all in his wrists. Lord only knows what these seafaring types get up to, to end up with wrists like ham shanks, or maybe the answer's in the question.
Comments by Sandra, 6th December 2017
The gentleman standing on the far right was George Parker, originally from Lower Ince. He married my aunt,and they lived in Fowden street, off Caroline street. Then he moved into the Brookhouse flats at Scholes. where he died in 1973 aged 68. He went to work at Liveseys after he left the army after the war.
Comments by Howard P, 6th December 2017
I suspect osy is right. A bit of interest to a boring photo.
Comments by . Ozymandias ., 6th December 2017
Nice to hear from you Sandra, and I'd just like to apologise on behalf of DTease, for his inappropriate comment, and by the way, get that build-up knocked off them blades.
Comments by DTease, 6th December 2017
Ozy, remind me never to do a robbery with you.
Comments by GW., 6th December 2017
Ha...Keep to your life of crime DTease rather than dabbling in the murky waters of my family ancestry.
Comments by DTease, 7th December 2017
You're not fooling me GW, I never did believe that story about Sweetpea being Olive's nephew.
Comments by GW., 7th December 2017
Crikey DTease. Sweetpea was my childhood nickname well into my 50's. Sweetbuggerall according to my ex wife. Now back to osy's boring photo.
Comments by . Ozymandias ., 10th December 2017
When days are grey, at four it's dark, when transport stops, and all things freeze, and winds bring snow from Anglezarke, I dream of the Antipodes.

Where jasmine scented nights are short, the days are dusty, hot and long, it's times like these, I wish I'd bought that little place in Tittybong.

It's not too late, I've done my figures, Christmas dinner on the beach, and ice cool tinnies with the Diggers, these things are within my reach.

In the Nullarbor I'd play, although I'm not of native birth, my footprints in the dust would say, that I'm the last bloke left on earth.

But wait, that dust cloud in the distance, could it be a herd of roos ?, or feral camels ?, common here,.....in Blighty, only seen in zoos.

Through the haze, a shimmering figure floats above the dusty trail, it's a bike, or something bigger, ridden by an ageing male.

Rhythmic thumping of an engine, British, judging by the sound, seconds later, all doubts vanish, clouds of blue smoke all around.

Wait a minute !, flying jacket ?, could it be the very bloke ?. Duct tape...badges...." Corker " helmet ?. Lord, it's Sweetpea Doubleyolk.

" Wait ! just let me jump on't back, and we'll go down to Sheila's bar, take a left at that squashed dingo, after that, it's not too far ".

But life quite often has a way of playing really cruel tricks, the sign said ......" NO HEN DROVERS SERVED, AND SAME THING GOES FOR LUNATICS ".
Comments by GW., 11th December 2017
You've ticked all the boxes Ozy.The outback calls. Perhaps you missed your calling as the romantic wandering poetic swagman come 10 pound pom. You'd be welcome on my drovers run. Good on ya'. Happy (winter) Christmas mate.
Comments by DTease, 11th December 2017
Ozy, if you could only get Bob Dylan to put that to music you would soon have enough money to get a new top set.
Comments by . Ozymandias ., 11th December 2017
Think of us all, stuck here with icicles hanging from our long johns while you're enjoying your Christmas barbie on the beach at Portarlington won't you GW ? All the best cobber, and give my regards to all at Batman St. What a top name for a street eh? Who wouldn't want to give that as their address?....I'm just off to put another log on the AGA now, I take it you've heard about my AGA?
Comments by . Ozymandias ., 11th December 2017
It's funny you should mention the old top set DTease, as I was watching that old James Bond film ' Moonraker ' the other evening, and that guy Jaws suddenly gave me a light bulb moment....Eureka!..... I decided to fashion a full set, using Horlicks tin lids. Unfortunately, after a couple of unsuccessful attempts with the tin snips and the oxy-acetylene torch, I appear to have exhausted my supply of Horlicks lids and have reached something of an impasse, and as I'm growing a bit weary of having soup, or milk pobs for every meal, I wondered if you could offer any advice.....other than purchasing a Kenwood blender?.
Comments by DTease, 11th December 2017
Fray Bentos Pies Ozy, I've seen the future Ozy and, God help us it's Fray Bentos Steak and Kidney pies.
Remove the lid, scrape out the half cooked pastry and the brown gunge underneath, burn of the putrid remnants with the Oxy Burner and you should have enough metal for a full set and some left over.
Comments by Veronica, 11th December 2017
Well done Wigan World's own wandering (toothless) minstrel! Good to see that GeeDub reached Tittybong after all. !!!
Comments by . Ozymandias ., 11th December 2017
Excellent idea DTease, absolute genius, I knew I could rely on you to come up with an answer. Fray Bentos Kate and Sydney pies eh? now why on earth didn't I think of that?.....As a matter of fact, I saw a photograph just recently of a first world tank that had Fray Bentos written on the side of it, so I reckon if it's good enough to use to construct tanks for the War Department, then it's good enough to make a set of gnashers for me. And as a bonus, I could donate the contents of the tins to ' The Brick ', although I doubt that even they would be able to find anyone hungry enough to eat it. You'd need a stomach made from empty Fray Bentos tins just to digest the pastry in them things.
Comments by GW., 11th December 2017
Unless Billinge becomes a hotspot for global warming i'll be shivering along with you all this (hopefully white) Christmas. Warm summers and roast emu are highly overated anyway. As far as a set of falsies goes i'd try an old bush tucker trick. Just drink amber liquids.
Comments by GW., 11th December 2017
Ah' as if i should ask. What's an AGA Ozy?
Comments by . Ozymandias ., 11th December 2017
The Wreck of The Chocolate Bounty. ( a pome wot I rote )

In pleasant Jordans village stands a barn that's made of wood,
of timber salvaged from the Mayflower, so it's understood.

She took the Pilgrim Fathers to New England's Plymouth Rock,
then, shortly after coming home was broken up in dock.

There was another vessel, Chocolate Bounty was her name,
that suffered quite a similar fate, although, not quite the same.

Built locally, with pride, by time served shipwrights in the main,
at long established shipyards at the end of Coppull Lane.

Her hull was made from sturdy drums of seasoned English plastic,
together bound with duct tape and then sealed with roofing mastic.

Her deck was of the finest pallets only Chep supply,
with a tent from Singer's Army Stores to keep the Skipper dry.

Her hull was blue, her deck was too, and so was all her riggin'
she was the bluest vessel that did ever sail from Wiggin'.

The day arrived, the vessel launched, the crew were still in bed,
or ironing, and listening to Andrew Marr instead.

Just one brave soul turned up, his name was Sweetpea Doubleyolk,
he cast the line from Wigan pier to cheers from all the folk.

He had his work cut out , I'd say, to get to Tittybong,
but somewhere close to Burscough, things went seriously wrong.

He could have made it, easy, with a fair wind up his chuff,
but with no outboard motor, maybe this just weren't enough.

There were reported sightings that proved totally unfounded,
at first, I feared the vessel upon Hilbre Isle had grounded.

Then followed spurious tales of drunken orgies up on deck,
on this, I will not comment, as I wasn't there to check.

The thing is, I've no boat now, yet I've loads of forms to fill,
and without proof of wreckage, Lloyds refuse to foot the bill.

Apart from blow-up tincture dolls in Fettler's Wharf marina,
and ragged scraps of silver Gaffer tape, no one has seen her.

And what became of Tina and the other female hands?,
most likely they jumped ship and caught the bus to Blundellsands.

The Skipper went and legged it, to become a chicken farmer.
All I can say is, Doubleyolk, do you believe in Karma?.
Comments by DTease, 11th December 2017
GW, an Aga is what you put in your kitchen when you want to show off to the neighbours and everybody on Wiganworld.
Comments by DTease, 11th December 2017
GW, I've had second thoughts about this Aga thing, apparently Ozy puts a log in it every now and then and there's only one thing I can think of that you would put a log in now and then and you certainly wouldn't cook anything on that.
Comments by . Ozymandias ., 11th December 2017
Oh dear, oh dear, stoppit off DTease, I can't get my breath for laffin'. Oh Lordy Lordy.
Comments by DTease, 11th December 2017
The Wreck Of The Chocolate Bounty, brilliant Ozy. I really enjoy your poems. I think I'll open a new file and put them all together, that's if you don't mind of course.
It makes me smile when I think of what any latecomers to this story must think. It's truly amazing where you finish up sometimes when you let your imagination run free. Everybody should try it now and then.
People like Edward Lear and even Spike Milligan saw how ridiculous humans could be and celebrated the fact.
"they sailed away for a year and a day to the land where the Bong-tree grows
And there in a Wood a Piggy-wig stood with a ring in the end of his nose"
That takes some imagination.
Comments by Veronica, 12th December 2017
All these 'pomes' need copyright on 'um,,,! Somebody Somewhere might pinch 'um!