| | | |
| --- | --- | --- |
| Clarington Haulage | | Views: 852 |
| Clarington Haulage Arctic | | Comments: 12 |
| Photo: RON HUNT Item #: 29351 | | |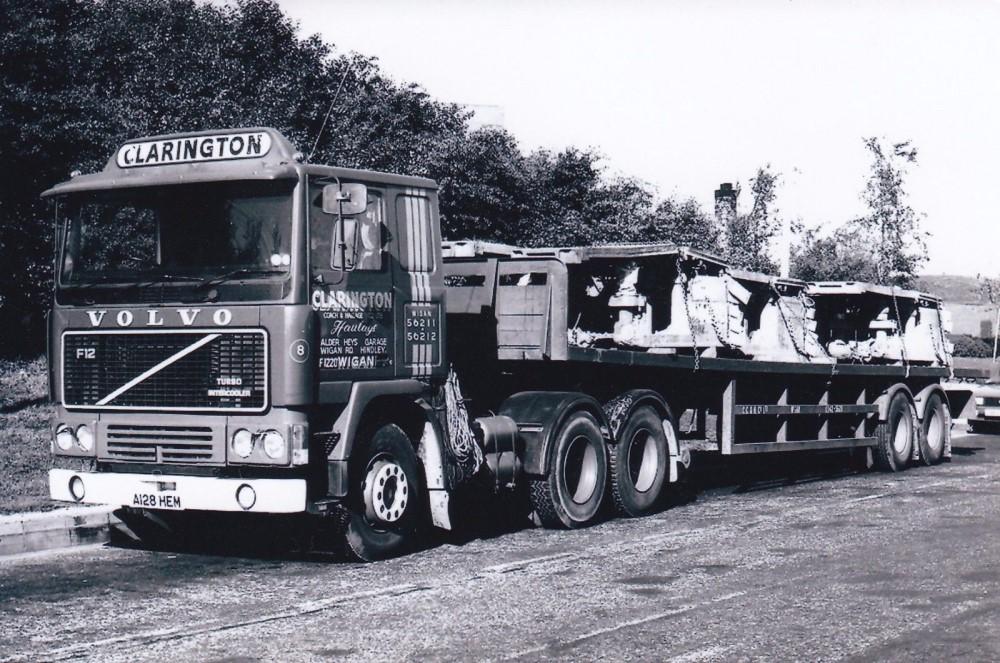 | | | |
| --- | --- | --- |
| | Image scaled down from 1000px to 663px wide | Click here, or click the photo to view original |
| | | |
| --- | --- | --- |
| | An Arctic truck( no doubt someone will know what exactly this is) loaded with what appear to be mining chocks, most likely from Gullicks | |
Comments by Colin Harlow, 13th May 2017
Volvo F12 launched in 1977, this photo was taken around the early 1980s and indeed they are mining chocks from Gullick-Dobson, at Ince. The firm was called Clarington Coach and Haulage Ltd and the owners where Arthur/Harold Bibby, the family lived around the Clarington Brook area, hence the word Clarington Haulage. In later years the company took over the Ferry Masters depot on Wigan road Hindley. The site today is occupied by a care home. The trucks/trailers and coaches were well looked after as many family firms did.
Comments by Ray, 13th May 2017
Hi Ron, Just a little remark regarding your comments in
brackets in your title header. It should read "Artic",
which is short for "Articulated". Kind Regards, Ray.
Comments by Keith, 13th May 2017
Clarington coach and haulage in the early 1950's had their offices in Birkett Bank facing on the other side of the road the Crispin Arms where I lived. Harold Bibby was a friend and we were in the same class at St Catharines, he had two other older brothers, Norman and Walter. Their father also Norman was at one time Chairman of Wigan Rugby League - Harold now retired lives in the Dalton area.
Comments by Howard P, 13th May 2017
I suspect a proper Wigan based HGV, hauling Wigan made goods. Thank you Ron, this is what Wigan Worlds about.
Comments by AP, 13th May 2017
Comment not about the truck, but the load. It must have been a nightmare manoeuvring such a heavy and bulky piece of equipment into working position underground.
Comments by Albert., 14th May 2017
Ince forge, also manufactured the very heavy parts, and equipment, that was required for the propelling of ships. I suppose this has now been lost, and is now a past memory.
Comments by Alan, 14th May 2017
Ray, we got the jest of it!!
We knew what you meant Ron.
Comments by Alf, 14th May 2017
There is sutch a thing as a Forklift.
Comments by AB, 14th May 2017
In the forties J Bibby & Sons ran tipping wagons based in Birket Bank they worked mostly for Fnglish Tools and Parks Forge. A friend or mine worked for them on leaving school in 1946 thry acquired s couple of coaches in 1946and Ran them As " Clarington Coaches" from a garage built on land adjacent to ST Catherines Rec. and their repution as hard task masters Was not enhanced By the infamous advert in the Wigan Observer" Wanted Coach Drivers Must be able to use Spade"
Comments by chris southworth, 15th May 2017
Alf, your comment about the forklift, was it directed towards the comment by AP?
Comments by Maurice, 15th May 2017
There was always a notice at the front of the workshop,"the man who lends tools is not in,but will be back tomorrow".I think Parkside was the first pit to use Gullick chocks,I remember them being installed,about 1963.
Comments by AP, 19th May 2017
So, did you get many Forklift trucks at the coalface?