| | | |
| --- | --- | --- |
| Connals Transport (Wigan Depot) | | Views: 1030 |
| Connals Scania 110 | | Comments: 16 |
| Photo: Ray Smyth Item #: 29175 | | |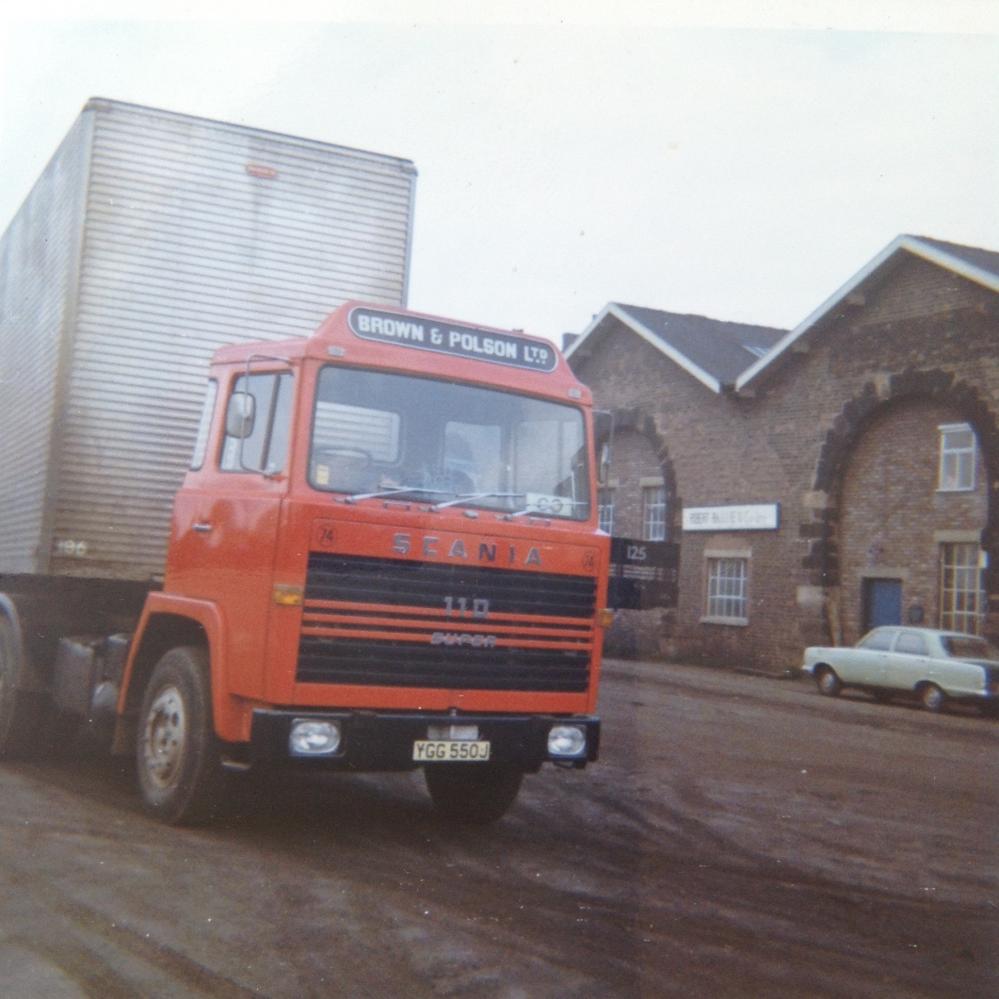 | | | |
| --- | --- | --- |
| | Image scaled down from 999px to 999px wide | Click here, or click the photo to view original |
One of Connals Scania 110 Artic units at their
operating depot,in the Railway Goods Yard at
the rear of King Street. The building on the
right was the Wigan Depot of Robert Baillie
Transport of Portsmouth. Connals was a Transport
company from Maryhill,Glasgow. Picture courtesy
of Ozymandias.
Comments by Garry, 19th March 2017
Another Swedish truck that put our British truck makers to shame, we couldn't match them ie Volvo, Scania, Daf and Mercedes. We never kept up with the times. I can't think of any British truck makers today. If we have, they'll have some sort of Foreign connection.
Comments by Howard P, 19th March 2017
Nothing Aerodynamic about this lorry.
I thought we'd seen the last of this subject.
Comments by Ken, 19th March 2017
Well said Garry worked at Daf Eindhoven for 30 years we tested Layland trucks when Daf took them over rubbish 20 years behind the times.
Comments by puddle, 19th March 2017
Gary,
All DAFs copied from Leyland trucks.
Comments by Alan, 19th March 2017
Where is Eddie (AKA Ozymandias) these days.
Thought he would have had to say a word or two.....lol.
Comments by Colin Harlow, 19th March 2017
Some models sold with the Daf brand were designed and built by Leyland trucks at Farington, Preston. In 1987, Daf merged with Leyland and became Leyland Daf trucks and was floated on the Dutch stock exchange as Daf NV. The company then traded as Leyland Daf in the UK. In 1993, Leyland Daf became insolvent and Layland Daf went into receivership. Now Daf trucks parent company is Paccar holding BV.
Comments by Alan, 19th March 2017
You can say that about cars aswell.
DTease don't make sense??
Comments by DTease, 19th March 2017
Alan, I think Ozymandias as gone to cast his seed on more fertile soil.
Comments by . Ozymandias ., 19th March 2017
Matron, I wonder, could you run a quick check on Alan ?, as he appears to be rambling incoherently and may possibly have OD'd on his Temazepam.
Comments by Veronica, 19th March 2017
DTease/Alan our friend Ozy has probably gone in search of even older pictures of wagons for his portfolio...going back to when the wheel was invented! That should cheer Howard up!
Comments by GW., 20th March 2017
The Laxey wheel was invented in Wigan......Just sayin'
Comments by Ray Smyth, 20th March 2017
Hi Howard P, If you click on "Upload Your Photos", the red
writing says "No recent photos", only old photos please.
This photo is from 1972, so I feel that it is quite old and the location is OK. Behind the building in the picture is King Street, To the left of the lorry is Wigan North Western Station.
Comments by puddle, 20th March 2017
Ken,
Leyland Trucks were never TAKEN OVER by DAF they merged.
Comments by MikeW, 21st March 2017
Ay-up
Put your anoraks on again.
Comments by Alan, 21st March 2017
Beeb beeb vrom vrom this is a 10 4 good buddy.
Comments by C.W. McCall, 26th March 2017
This Here rubber duck and i about to put the hammer down, CONVOY.LOL.