| | | |
| --- | --- | --- |
| Woodfield School | | Views: 716 |
| Woodfield class of 1963/4 | | Comments: 5 |
| Photo: Karl Winnard Item #: 31209 | | |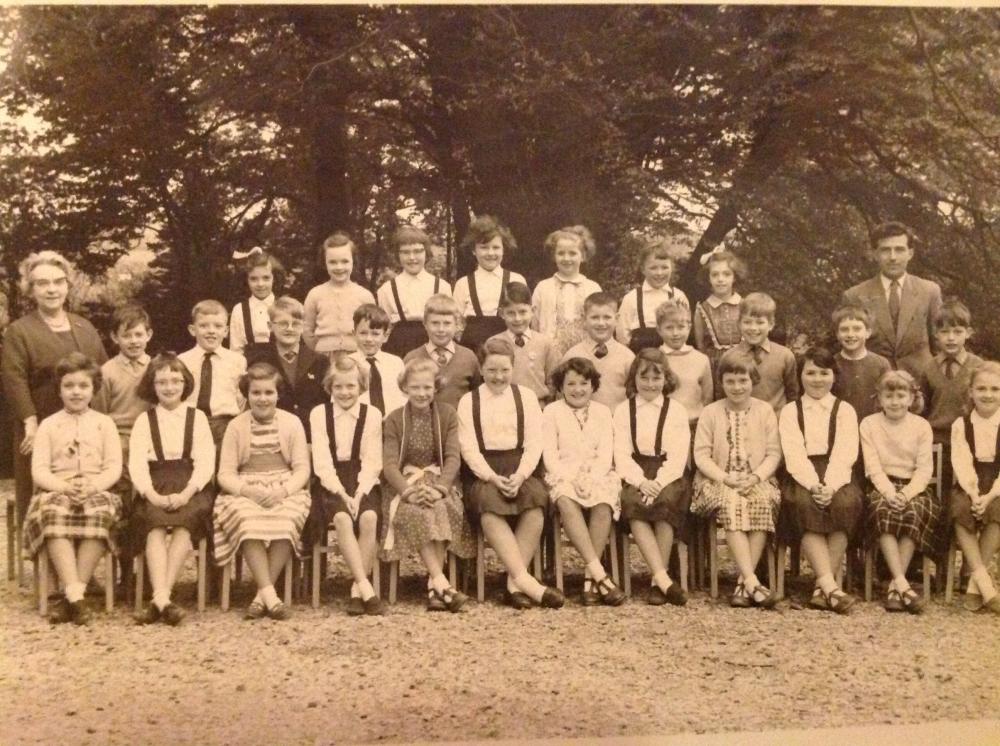 | | | |
| --- | --- | --- |
| | Image scaled down from 1000px to 746px wide | Click here, or click the photo to view original |
I think this is the final class photo taken 1964. I think we had Mr Woodcock in our last year. Our classroom was at the top of the main stairs in the old house. I don't remember many names but here goes:
Back row: none
Middle row: x, Lesley?, Peter Walker,x,x,x, Jeremy B?, Timothy Lineacre, x, Alan Worthington, Karl Winnard(me) on the end
Front row: Janet Martindale?,x,x,x,x, Janice McCreery, x,x,x,x,x, Carol Booth?
Ms Parkinson and Mr Woodcock. A number of the boys including me went to WGS in 1964.
Do you recognise anyone?
Comments by MartinW, 12th May 2019
That's not Mr. Woodcock, but who it is I can't help you I'm afraid.
Comments by Philip Cunliffe, 20th May 2019
Could it be Mr.Briggs ?
Comments by Karl Winnard, 10th June 2019

Thanks for your comments. Hi Philip, did we meet at a WGS reunion some years ago? Sadly my father Nigel Winnard passed away in 2013. I really hope some class members can help.
Comments by Classmate, 28th August 2019
It's Mr Briggs and Miss Parkinson (Head Mistress). My best guess...
Back row (L to R): one of the Jones twins (Kathryn I think),Linda Marsh, Edah Boardman, Sally Dickinson, Helen Gillespie, Janet Livesey, Susan Jones (twin of Kathryn).
Middle row: X, David Thompson, Peter Walker, Tony Cowpe, Nicholas Ince, Ian (or John) Murray, Jeremy Booth, Timothy Linacre, X, Paul?, Karl Winnard.
Front row: Janet Martindale, Louise Burney, Nicola Kershaw, Sheila McKinley, Patricia? Janice McCreery, Anita Gee, Carol (H?), Ffion Bibby, Susan Ellison, Janet Bretherton, Carol Booth.
Would be good to know the 'x's and if any of above are wrong - to complete the set.
Think Mr Briggs had a Morris Minor Traveller with wooden frame and went very red when he was annoyed.
Mr Woodcock (Harry) was stockier and used more Brylcreem.
Mr Woodcock was already at Woodfield before Mr Briggs joined.
Comments by Karl Winnard, 5th September 2019

Hi Classmate, thanks so much for all the info. Its really taken me back, but which one is you?