| | | |
| --- | --- | --- |
| St Thomas More, Newtown | | Views: 1820 |
| Assembly 1966 | | Comments: 10 |
| Photo: Lisa Item #: 30935 | | |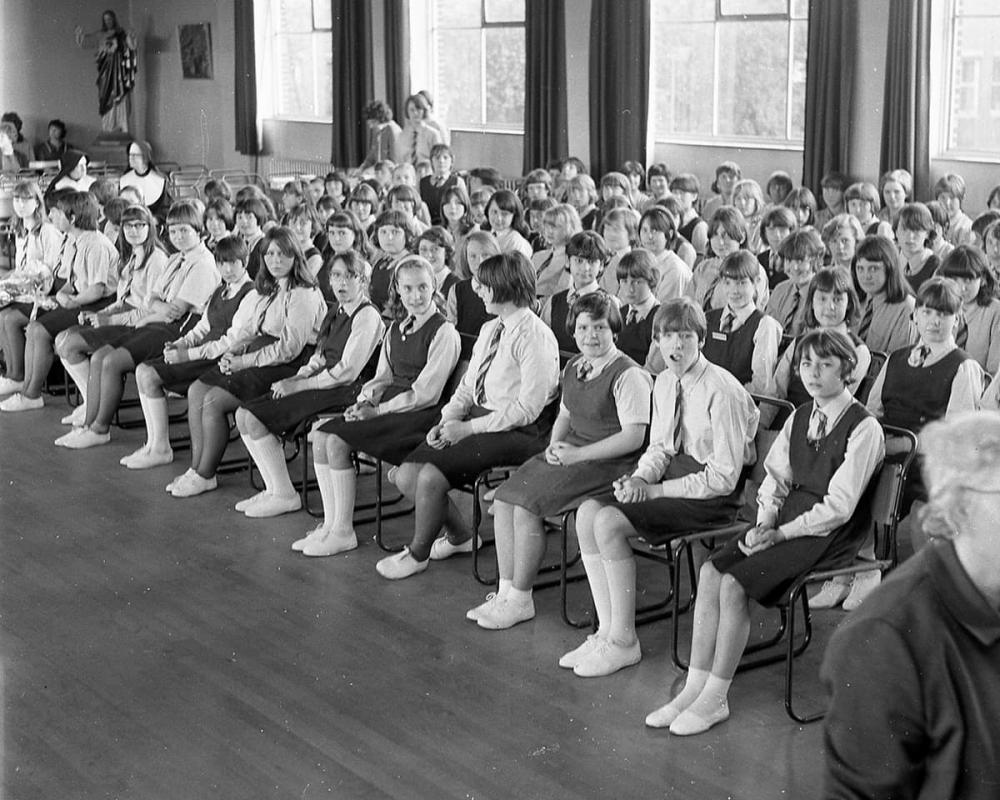 | | | |
| --- | --- | --- |
| | Image scaled down from 1000px to 800px wide | Click here, or click the photo to view original |
| | | |
| --- | --- | --- |
| | 1966 class assembly.i think my mum's on this Margaret cottom. | |
Comments by Arthur, 10th February 2019
No computers, no colour TVs no mobile phones, just to mention a few, but they were happy and content. School children then would look forward and be occupied with games like hopscotch, rounders, tennis, going to the park with mam and dad and being social. These important days seem to have gone..sadly.
Very nice photo of such innocent days.
Comments by Veronica, 10th February 2019
I recognise the statue of the Sacred Heart in the corner he seemed to be in most Catholic schools. It wasn't unusual for children who misbehaved, that were told to leave the class and stand in front of the statue to reflect on their behaviour! I wonder if that still happens - probably not.
Comments by Veronica, 10th February 2019
Just noticed the two nuns from Notre Dame Convent! They would make sure the school was kept open in winter. Another punishment was to stand behind the blackboard in class. It worked in my case as it was really embarrassing to have to do that!
Comments by Alan, 10th February 2019
Detention today!
Comments by john, 10th February 2019
When girls looked like girls.
Comments by Teresa Tighe, 11th February 2019

Wot a blast from the past l recognise lots faces ....pretty sure I'm in far back row next to Christine Hyland ?pls let .e know to confirm if you can!Thnx in advance e 😁😁
Comments by Lisa, 11th February 2019
Hi im wondering if my mum is on this picture .Margaret cottom
Comments by Jarvo, 12th February 2019
No sign of your mum, Lisa. I lived next door in Lambton Street. My sister, Ingrid and your mum were best friends.
Comments by viv, 13th February 2019
im thinking this photo is of a prize day going of the white pumps,i'm on the back row 5th vivien leigh,(pigtails)going to give it ago at naming a few,
Back row from right 1st maureen todd,4th christine howarth,me viv,standing ann griffiths(griffin).
3rd row from front Right to left 1st bernadette santus,9th jean peters,10th jean foster,11th theresa o'loughlin.
Front row from right,3rd thinking margaret barns,7th mary fitzsimmons,cant make out who the nuns are,(sister julie and sister michael)? can anyone fill the gaps
Comments by Ann, 3rd May 2019
3rd row 4th from right Angela Whalley next to her Ann Mcguire on the row in front Susan Hickey