| | | |
| --- | --- | --- |
| UpHolland County Secondary School | | Views: 1303 |
| Upholland Secondary School report | | Comments: 26 |
| Photo: John Peters Item #: 30571 | | |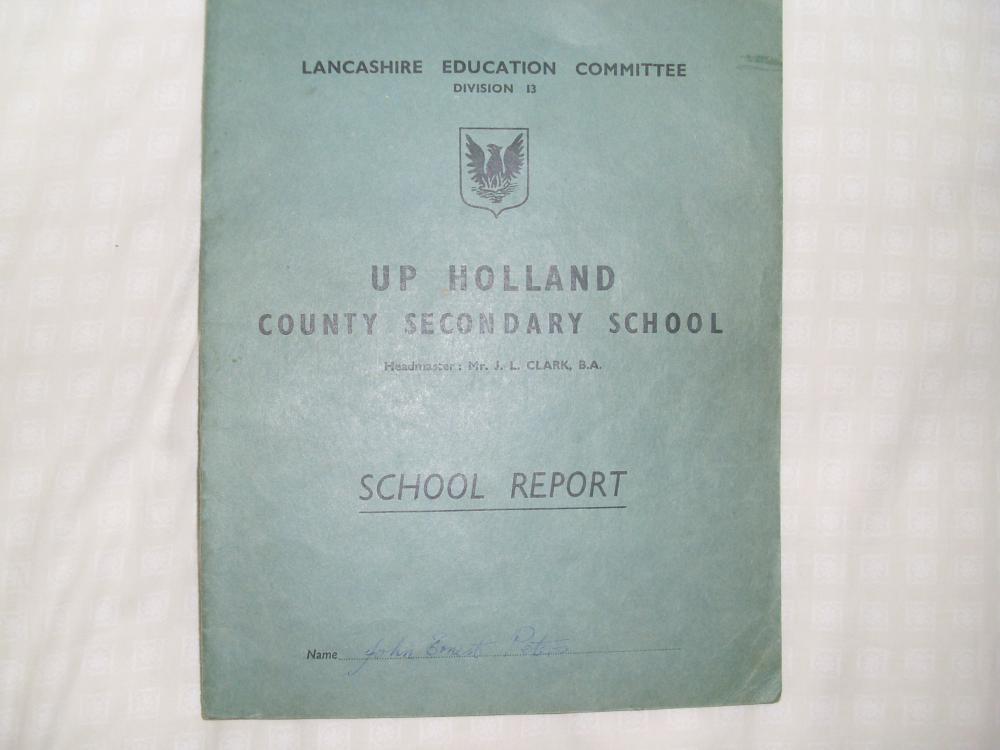 | | | |
| --- | --- | --- |
| | Image scaled down from 1000px to 750px wide | Click here, or click the photo to view original |
Comments from teachers on my report -
"John is a likeable boy but he must try harder".
"John is often a bad influence on some pupils".

Because they were around my house listening to Beatles records instead of doing homework!

Happy schooldays!
Comments by A.W., 1st June 2018
Still got mine somewhere, remember a comment from Donald Green "I have not seen a single piece of homework"
Comments by P.G., 1st June 2018
It is a pity that a boy with real ability like Philip is content to do the absolute minimum of work.
Comments by DTease, 1st June 2018
John, I still have my report book from Aspull S. M. I sometimes get it out when I want to depress myself.
Actually, it wouldn't have been too bad if it wasn't for the fact that we had a Headmaster, Mr F.A. Firth who couldn't resist adding his own tuppenceworth.
Form Teacher; "A lively boy who should do well if he is prepared to work"
Fair comment, but the Headmaster thought otherwise. He wrote over the top "BUT HE IS NOT ALWAYS PREPARED TO WORK!"
On another occasion my Form Teacher wrote;"Fairly good, works well" to which Mr Firth added "HIS INTELLECT IS WORTHY OF GREATER USE".
I think they call that Damning with faint praise.
I never did work out what he had against me. I did once fall asleep during his French Lesson but I'm sure that wouldn't have influenced is opinion, after all, any one could fall asleep during a French Lesson.
Comments by Brian, 1st June 2018
Many children sail through school and treasure it as wonderful experience . For me it was an utter trial . Must try harder resonates with me . From childhood we progress to adulthood with a bag overflowing with childhood school memories . All the report cards, and every tiny thing I personally held in my school days bag , I happily donated to a chap named Guy Fawkes on November the 5th , with grateful thanks of good riddance! Thankyou John for reminding me of this glorious event , which always overpowers the 'must try harder ' every time .Ps I am aware of the counter argument here
Comments by Veronica, 1st June 2018
I think teachers in those days had us all weighed up! One comment I got was 'Veronica's sense of humour carries her too far!' indeed I was always up to mischief then.
Comments by Poet, 1st June 2018
Geography." Surprised he finds his way home".
Comments by Brian, 1st June 2018
After failing my 11 plus , for some strange reason , never explained , I was
offered a 12 plus in my secondary school . Even though in a A class I failed this as well . My teacher on seeing my result , thought I failed on purpose!
Quite extraordinary! Today , I will complete this test and fill in the wrong answers for a lark! I can still see his face of how dare you fail the test given to you ..
Comments by . Ozymandias ., 1st June 2018
Don Green taught science at Ashton Grammar, if it's the same Don Green that A.W. mentions. I recall he had a tendency to walk with an ambling gait, and a propensity for wearing tweed jackets adorned with the obligatory leather elbow patches...... We didn't really get on all that well if I'm being honest.....must try harder Don.

Belated regards. Ozy.
Comments by Broady, 1st June 2018
Bernie Stock ( well known around Wigan I believe) wrote on mine " Bone idle" when I went for my first ever job interview they were not over impressed. Still got the job. 😂😂
Comments by RON HUNT, 1st June 2018
When the careers master and the headmaster,asked me what I wanted to do when I left school, and I told them I wanted to be a Pantomime Horse. They both agreed my 5 years at Grammar School had been wasted. I never got to be one, but I was a Gorilla. so the 5 years weren't all wasted.
Comments by DTease, 1st June 2018
When you think about it, we didn't ask for much did we? All that John wanted was to be a bad influence and listen to the Beatles. A.W just wanted to avoid any kind of Homework. P.G was content to keep his head above water. I just wanted to serve my time and then get a job. Brian wanted them to stop pestering him with 11plus's and 12 plus's and Broady, like most of us just wanted to be bone idle. In fact, up to now the only one with any ambition seems to be RON who aimed for the dizzy heights of wanting to be a Pantomime Horse! Mind you he did go to Grammar School. Who says education is wasted on the ignorant?
Comments by Broady, 1st June 2018
I did get to play a horse. I was Alfred the horse in Toad of Toad Hall at TLS. As it transpired the guy that was my " back end" couldn't take the weight of Toad jumping on him so I became a " talking back end"
Comments by Veronica, 2nd June 2018
I got to play one of four rabbits in 'Toad of Toad Hall' all we had to say was 'Here! Here!Here! Here!'. We were part of the jury judging the boasting Toad! At least we never forgot who wrote the book!
Comments by RON HUNT, 2nd June 2018
When I told my dad I wanted to be a Pantomime horse, he said "NEIGH lad get yourself a stable occupation"
Broady, I'm envious of your attainment.. That particular school play was unfortunately before I started.
Comments by DTease, 2nd June 2018
At least you didn't get SADDLED with the rear end RON. You just had to REIN your ambition and settle for a BIT part.
Comments by DTease, 2nd June 2018
Broady, when you went for that first job, did you mention that you had experience of talking through a horse's backside?
I'll bet that's what tilted the decision in your favour given that most British employers would be well versed in the kind of language that comes from the equine's orifice.
Comments by John G, 2nd June 2018
P.G: You say in your post Philip has real ability but puts in minimum effort, please for give me but which Philip are you on about.
Comments by P.G., 2nd June 2018
John G. The sentence ('verbatim'), is from the School Report belonging to the eponymous. C'mon 'brid'.
Comments by John G, 2nd June 2018
Ok Philip I get it that you are using word for word, but you don't need to be Acerbic about it.
Comments by John Peters, 3rd June 2018
Thanks for your comments all.
I remember a French lesson (don't snigger) at another school and me and Trevor Caunce shared a text book. On one page was a pic of a donkey with a straw hat with its ears protruding. Well me and Trev started laughing which prompted the teacher to dismiss us from the class.
"Wait outside" she bellowed. Me and Trev didnt wait. We went to the games room and retrived a football, duly went to the playground and kicked about (Phil G would appreciate this) in front of the French class. The teacher looked annoyed knocking on the window but our male classmates looked envious!!
Comments by John Peters, 3rd June 2018
A.W.......Was it because my friend who does it forgets to hand it in!!
Which reminds me. At Upholland, I dated a plain looking girl but she was a real swot and brainy. At her house homework was a joy!!
Comments by P.G., 3rd June 2018
John G.
My most recent post is certainly short, and also free of all bitterness. P.G. sending acerbic wit to J.G. would never do, … c'mon 'brid.'
Comments by John G, 3rd June 2018
Philip: It's ironic but I was about to defend you, you don't normally sign on with just your initials I.E: PG, that's why I asked which Philip I was talking to, it was confusion on my part, please accept my apology.
Comments by Philip G., 3rd June 2018
No problem John G.
I'm afraid the confusion began the moment I started to write in what I now deem to have been 'a piccolo state of mind' - my use of P.G. attests to this.
It's Philip G., from now on - I prefer seven furlongs, to a mile and five.
I must mention just one of the many escapades, or to be more precise 'misfortunes, to have occurred during my time at Up Holland Sec'. During our first attempts at grappling with Athletics equipment, one of our lads - a non sporty type -, had been handed a javelin, and then launched it inexplicably into the lower-calf of one of the girls, causing a superficial wound. He didn't half get a good telling-off. I remember both of their names, but prefer not to mention either, however, the lad lived not far from you. Take care.
Comments by ken hesketh, 2nd December 2018

Bit of a long shot i know but wondering if there are any photos kicking about from 1956/ 1957 .I was at the school at that time and played for the school football team run by David Peet, a terrific teacher and person.