| | | |
| --- | --- | --- |
| Whit Walks | | Views: 1022 |
| Market Square | | Comments: 21 |
| Photo: David Brown Item #: 31250 | | |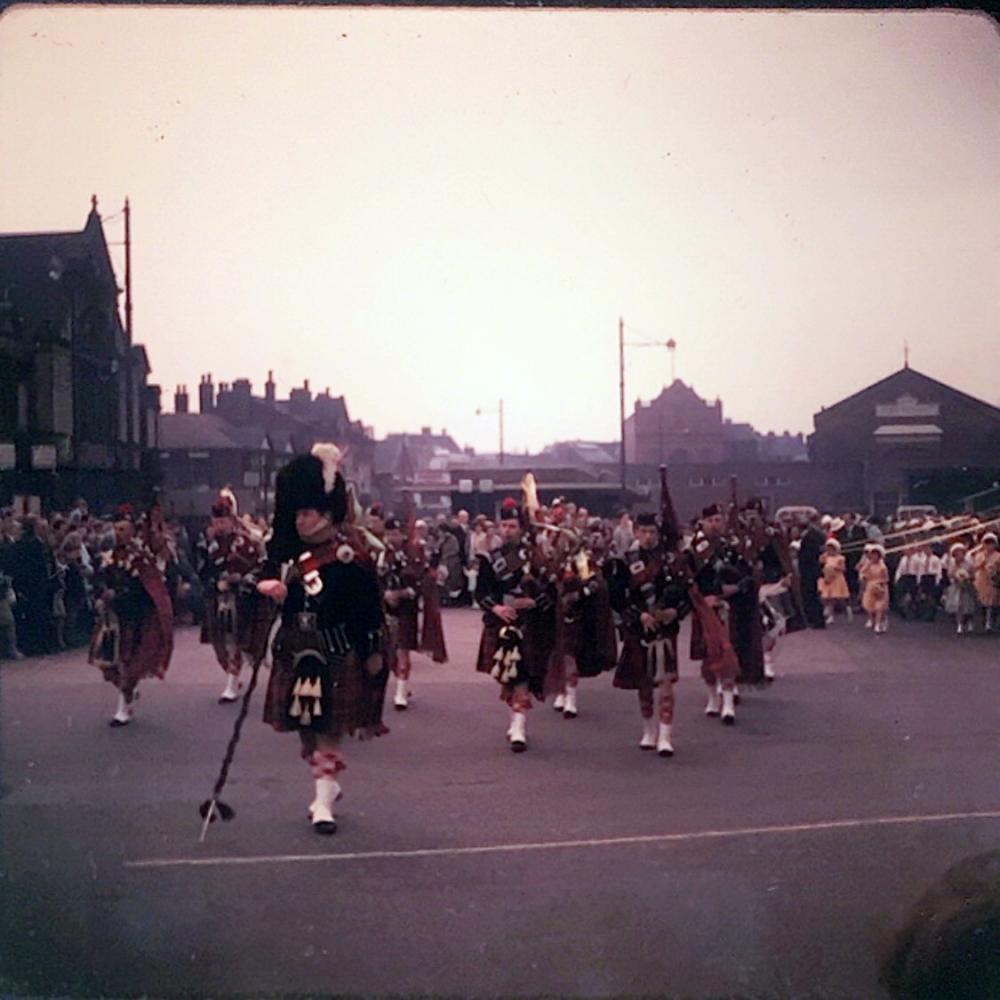 | | | |
| --- | --- | --- |
| | Image scaled down from 1000px to 1000px wide | Click here, or click the photo to view original |
Comments by Veronica, 2nd June 2019
Aye the skirrrrl 'o the pipes on Whit Monday was certain to make the heart flutter and swell with pride. I loved walking behind them, with their kilts swishing from side to side and the tap tapping as they rested from playing. When they struck up again playing the familiar tunes you would automatically keep in step with them. The Irish bands were better still as they would start dancing unexpectedly and the crowds used to cheer - more so when approaching St Pat's and the 'Wearing O' The Green' was being played. A different world then....
Comments by Helen of Troy, 2nd June 2019
Can anyone tell me why Walking Days ended ?
Comments by Albert.S, 2nd June 2019
A great enjoyable event for many, many people, Now, long in the past, Never to return.
Comments by Albert.S., 2nd June 2019
Helen of Troy. The ever vast increases in the volume of vehicular traffic.
Comments by Jonno, 2nd June 2019
Insurance and policing problems Helen, money in other words, carnivals suffered the same plight.
Comments by Maureen, 2nd June 2019
What lovely days they were..someone once said that when we all sang "Faith of our Fathers" the hair stood up on the back of his neck..the thrill of having a new dress made in satin.I still get emotional when I hear the bagpipes...memories that can't be taken away ever.
Comments by WN1 Standisher, 2nd June 2019
Probably ended due to 'Elf and Safety, the need to close roads for hours on end, Police resource and more than anything, dwindling parish numbers and volunteers. But the roads get closed for the 10k and the like. shame really.
Comments by . Ozymandias ., 2nd June 2019
Well Albert, harking back to a previous post, and at the risk of labouring the point, it won't be returning to Wigan's market square anytime soon, that much is a racing certainty.
Still, I suppose it's a small price to pay for ' progress ', and the infinitely exquisite pleasure to be derived from meandering around those largely abandoned retail outlets that comprise ' The Galleries '.
Comments by john, 2nd June 2019
Used to sit on the pavement(or on a chair if I was lucky) in Greenough St to watch the walks, in the late 50s. I loved the snare-drum players best of all, though I liked the pipers too.
Comments by Albert.S., 2nd June 2019
Many of us have the advantage to reminisce, in the nostalgia of such splendid occasions. Alas many do not. We have to be satisfied with such pleasures..
Comments by Helen of Troy, 2nd June 2019
A great pity, the North was famous for its Walk Sundays. I lived at Holland Moor & my sister & I always took part...as Maureen says, a nice new frock to wear, a basket of flowers completed the look. There was never any trouble, a few Bobbies about but nobody spoiled the day, everyone was happy. I am glad I have the memory of the tradition & some photos to go with it.
Comments by Tony, 2nd June 2019
Some walks still take place.
Saw one around Orrell/Billinge Higher End, earlier (Sun 2/6/2019). St Luke's, I think.
Comments by Veronica, 2nd June 2019
I remember folk putting chairs and forms out all along the route the night before the walk. We had to go to bed early - my mother put rags in my hair. Going to bed early was pointless as the rags with knots in hurt my head. In the morning we would awake to the pipers tuning up and the excitement was palpable. The streets around the church were buzzing with people wearing their finery. Others staking their claims on the chairs - it's hard to believe the thousands of people lining Hardybutts. I remember the scent from all the posies that children carried - it was lovely. Best of all for me was the pipe bands! It would be impossible today for those events to happen -hard to believe they went on for years.
Comments by Elizabeth, 2nd June 2019
I loved walking days as a girlin Ince,it always seemed to be lovely and sunny and I remember tarmac melting in the roads,getting some on brand new white shoes.After walking we got refreshments,a little meat pattie,cake and bottle of pop ,which went down a treat and then went to Ince Park.It When the Catholic Whit Walks were held,my friend Christine,who lived next door but oneand myself were taken by her Dad to watch near Birkett Bank.Great days !
Comments by Maureen, 2nd June 2019
Hello Eliabeth,Ive said it before I know,but as a child every day seemed to be sunny,I cant honestly remember a day of rain..isnt that strange.
Comments by Veronica, 2nd June 2019
I only remember one Whit Monday when it rained - I think it may have been the year the Queen was crowned. I can even remember what I was wearing, it was a turquoise taffeta dress with a Dutch hat in the same material. Elizabeth/ Maureen I'm sure you are both right - it didn't rain as much in those days as it does now.
Comments by tuddy, 2nd June 2019
Veronica, According to the St, Patrick's 150th anniversary book, on the 7th of June 1954 the Whit Monday walk was rained off after reaching the Market Square.
Comments by Veronica, 3rd June 2019
Thanks Tuddy I knew it was early fifties. It's surprising what you remember as a child- it was awful that day and it was cold as well.
Comments by Albert.S., 4th June 2019
Veronica. As sure as eggs, or eggs. The rain will never again interfere with another Whitsun Procession.
Comments by Veronica, 4th June 2019
Sadly Albert you are right...but I think some churches still walk outside and around the church on a day in May and continue up and down the aisles - but it's not the same.
Comments by tuddy, 4th June 2019
Never say never, the new priest at St. Patricks has re introduced some of the old traditions.