| | | |
| --- | --- | --- |
| Railway | | Views: 41008 |
| Railways | | Comments: 8 |
| Photo: Thomas Sutch Item #: 4966 | | |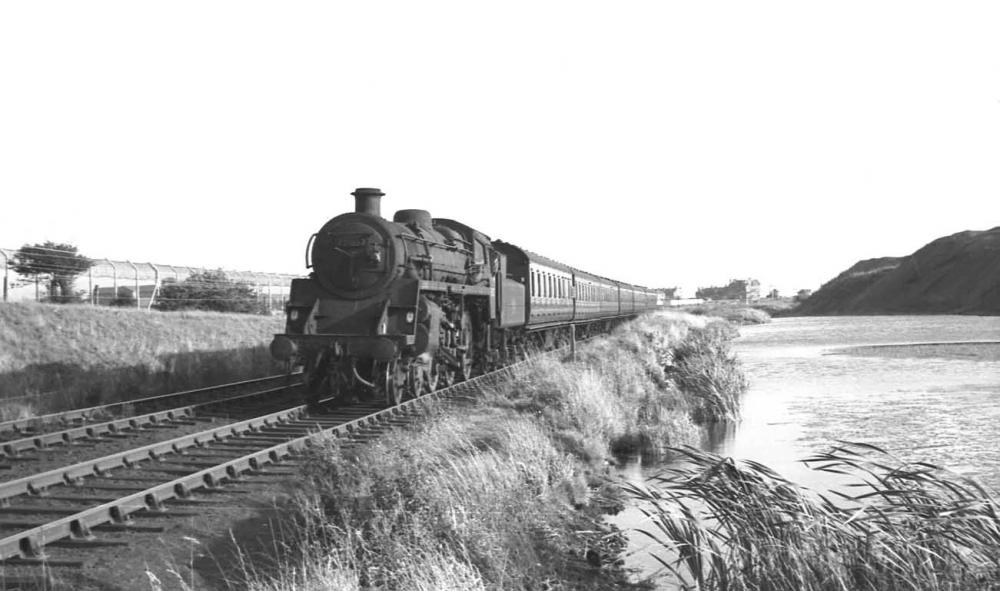 | | | |
| --- | --- | --- |
| | Image scaled down from 1000px to 591px wide | Click here, or click the photo to view original |
| | | |
| --- | --- | --- |
| | 75057, on the old GC line passing the flash we used to call the gee sea (GC).Soon after leaving Bickershaw and Abram station September 1964 | |
Comments by dk, 12th February 2008
A beautiful picture Mr Sutch
Comments by Eric Turner, 20th May 2009
This photo' has reminded me to tell you that just across the GC about level with the loco', is where a delayed action,German bomb went off, just as my Dad,who was an ARP warden, arrived on the steel sided bridge that the train is about to go under. The bomb made a new bay in the side of the GC and killed one of Billie Eatocks cows. I was at the iron bridge at Bickershaw Junction with my Dad's flask and sandwiches but the police wouldn't let me go any further. E.T.
Comments by GEOFF GASKELL, 4th November 2009
GREAT SHOT THOMAS USED TO SWIM HERE IN THE HOT SUMMERS OF THE 50,S & 60,S , JUST SEE THE QUEENS ON THE LEFT HAND SIDE
Comments by dansdad, 1st January 2010
Brilliant photo of the (now sadly long gone) GC line,it must not have had long to go before it lost its passenger service when you took this photo.
Thanks for uploading.
Comments by P south worth, 11th March 2013
Great picture.Used to go fishing in the gc and the raft.lodge and the brick hills.Did not know about the bomb but fished where it landed many times
Comments by Peter westhead, 31st August 2013
Never thought I would see a photo of the GC.Fished from this bank many times catching loads of roach and gudgeon.Happy days.
Comments by Ph, 4th August 2017
My old local in the background the queens bickers haw . My brother tore his shin open req 8 stitches in this spot were the photo was taken