| | | |
| --- | --- | --- |
| St Thomas's Walking Day | | Views: 9647 |
| Walking Day, early 1950s. | | Comments: 10 |
| Photo: Lynn Healy nee Adams Item #: 3677 | | |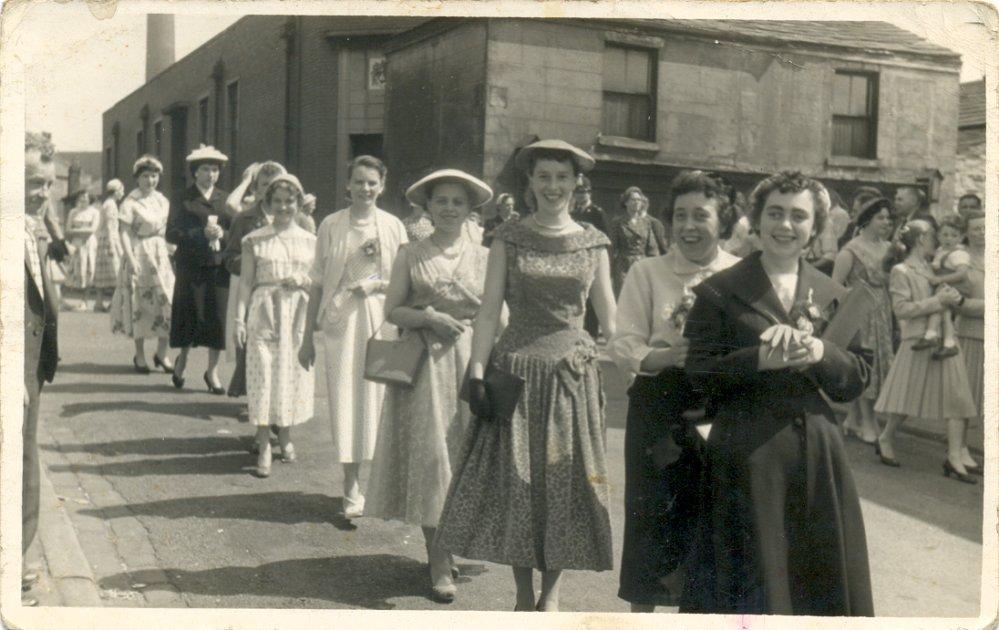 | | | |
| --- | --- | --- |
| | Image scaled down from 999px to 630px wide | Click here, or click the photo to view original |
| | | |
| --- | --- | --- |
| | Mum (Joan Adams) walking with the mothers from Saint Thomas Church, Wallgate around the early 1950s. | |
Comments by 1934granada, 4th July 2007
Hi there. Have you any more old photos associated with St Thomas's ? My late father used to attend there
Comments by Lynn, 4th July 2007
What was youre fathers name? will have a look my mum was married at saint thomas church
Comments by 1934granada, 5th July 2007
He was born in 1933 so I don't know if he attended St Thomas school the same time as your mother. He would have been 73/74 years of age had he been alive.
Comments by peter frost, 6th July 2007
were`nt they stylish dressers in them days.
if only we could go back to them days.
good pic. thanks
Comments by Anne, 20th January 2008

Really good to see the pictures of St.Thomas's.We went to the day school and to Sunday school and used to walk on walking days.
Comments by amy, 8th October 2008
ilove the dresses xx
Comments by gladys sykes, 29th September 2013
its it joan adams who worked at gus and used to mate with doreen calland
Comments by Lynn Adams Healy, 6th April 2014

yes same Joan Adams who worked at gus
Comments by Elizabeth, 6th May 2018
I agree, what lovely stylish ladies. No overweight issues here, they all look very elegant.
Comments by Veronica, 3rd January 2019
When you think not a lot of money to spare on clothes in those early days of the fifties. But people were thrifty and some clever with a needle or sewing machine - the ladies always managed to turn out elegantly by keeping their 'good' clothes for best. A habit hard to break from!