| | | |
| --- | --- | --- |
| Railway | | Views: 40288 |
| Passenger train | | Comments: 18 |
| Photo: Thomas Sutch Item #: 10681 | | |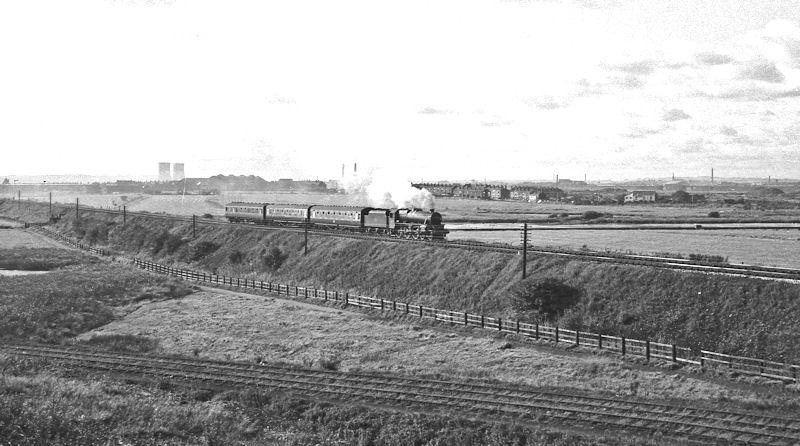 | | | |
| --- | --- | --- |
| | Image scaled down from 800px to 446px wide | Click here, or click the photo to view original |
| | | |
| --- | --- | --- |
| | Afternoon train from Wigan North Western to Manchester Exchange between Platt Bridge and Bickershaw Junction in 1964. The lines in the foreground went down to Low Hall colliery( Moss Hall ) in Platt Bridge from Bickershaw Junction. | |
Comments by John B, 10th May 2009
Nice pic Thomas
Comments by Dennis Miller, 11th May 2009

Would that be Liverpool Road in the distant background?
Comments by John Jarvis, 11th May 2009
What a wonderful photograph. Brings back memories of just gettin' on mi bike and heading for the railway to escape...
Can't do that thses days...there's no railway to escape to....Sad...
Comments by Tom, 11th May 2009
Yes Dennis,Sammys flood just behind the engine, and Liverpool Road running along the background,Westwood power station's cooling towers right background.
Comments by Tom, 11th May 2009
Sorry, left background ( cooling towers )
Comments by tony, 11th May 2009
This is just something else! A life gone by, mores the pity! Not even a tower block not seen towards Scholes! What lovely days!!!
Comments by John Jarvis, 12th May 2009
You could write a poem about this picture...Heaven, pure heaven...
Comments by geoff, 12th May 2009
another very good photo,great composition.i reckon that engine is exactly in the centre.black&white as well,perfect!.
Comments by Eric Turner, 13th May 2009
Is the number of viewers correct? At5532 is this a record for such a short time, or has it been on before? E.T.
Comments by Dennis Miller, 16th May 2009

I have just noticed the large waterpipe that used to run towards The Strangeways... it is along the top edge of the flat field just over the line.

I never had any clue as to what it was about, but I can remember we used to walk along it as kids.
Comments by jim holding, 16th May 2009
Is that eric turner who used to live at the bottom of Birkett Bank,,,next to Bibbys Office??
Comments by Eric Turner, 22nd May 2009
Sorry, No Jim.I was born at 71 Lord Street, Hindley,in 1928 close to the Drill hall,then lived in Park Road Hindley, before going into the Army. E.T.
Comments by Eric Turner, 27th May 2009
Hi, Dennis. Yes that big black pipeline was walked along by me also. We went that way to Springs Branch when collecting "Namers". This was during the War and we had to carry our gas masks, when we went along this pipe, the wat er alongside used to stink and we put our masks on. I also walked along the footpath you can see along the fence from right to left then it went under the railway in the distance and came out near St Nathaniel's. These photo's seem to have more viewers than any others Thomas. E.T.
Comments by Alan Darbyshire, 19th July 2010
great photo tom, brings back loads of memories of playing care free in the late 60's without adult supervision. Just went out for the day and returned for tea. Yes i remember the black pipe i think all the children walked along it, even though it had a footpath made from huge yorkshire stones flags running adjacent to it. Wonder if those flags are still around be worth a small fortune these days.
Comments by geoff k, 21st July 2010
The side of the Raft Lodge flash is just visible midway up the left side, big perch! Photo must have been taken from the slag heap, behind camera would be the bay on the GC flash caused by the WW2 bomb.
Comments by Lumper, 12th March 2013
The black pipe was a sewer pipe.It carried sewage to platt bridge sewerage works I think it still does
Comments by Lumper, 20th March 2013
If you fished on the side shown in the photo it was very weedy but if you fished in the weeds with a lob worm you did catch lots of big perch.The bank opposite this was railway track where you caught carp roach and hybrids using bread punch.When it was netted prior to it being filled I was surprised at the number of big pike caught.These waters were filled in to landscape the area.What a complete waste this was .they would be worth a fortune as fisheries.t
Comments by Derek rudd, 12th October 2015
I can remember hearing the coal wagons being on this part of the line from 1983 until the late 80's. The line was already gone from Bickershaw junction heading towards Hindley Green long before that and only went off to Bickershaw colliery.